5 Ways To Make Your Spiritual Practices More Sustainable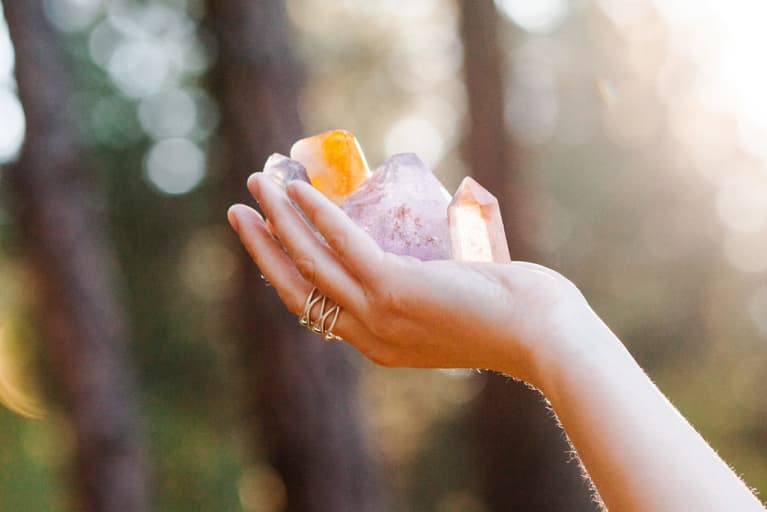 Like many people on a spiritual journey, I meditate daily, practice yoga and reiki, and regularly cleanse my home with herbs. Over the years, I've amassed quite a collection of stones, jewelry, Palo Santo, and the like.
But as a public health advocate, I have been shocked and saddened to learn about the environmental damage we can sometimes cause in pursuit of these spiritual objects. For example, Palo Santo (Holy Wood) is indigenous to South America and is currently under government protection in certain countries. Long used in ceremony by indigenous cultures, the resource has historically been sustainably sourced—taken only from branches and trees that fell to the ground. But the wood is now being illegally harvested in some places, with the government unable to control it.
White sage (Salvia apiana), too, has been used by Native Americans for medicine and in ceremony for hundreds of years. The supply of the plant has taken a hit recently, thanks to droughts in California, where it grows wild. While there are farmers who grow white sage sustainably, others have been caught selling illegally harvested sage from private land and preserves.
Even some essential oils on the market are from plants on the critically endangered or threatened list, including sandalwood and cedar. Like essential oils, stones are taken from mines from countries with vast natural resources and little-to-no protections in place—for the land or the humans who harvest them.
What can we do to make sure our spiritual practices are sustainable?
The last thing I want to do is discourage anyone from seeking a deeper spiritual connection. All the stones, sage, and trips I have taken have enriched me beyond measure and everyone who owns them should treasure and value them. But there are ways to tread more lightly—here are some changes I have made in my own practice:
2. Use found objects for your talismans.
My most precious talismans and stones are the ones I found on the street, the beach, and the woods.
Pay attention to what in nature draws you in. For me, it's shells in the shape of hearts and feathers on the ground. For you it may be a leaf, a special stick or maybe a dried flower. From these objects I have collected, I have made dream catchers, necklaces, wands for clearing energy, and little altars all over my home and my office. Last year, I made a dream catcher for my bedroom using shells and feathers I found washed up on the beach in Rockaway, Queens, New York. I made the necklace I'm wearing out of a shark's tooth I found at the beach—a powerful object that represents the power of the oceans to me.
Now, I know that these are all very personal objects for me—and they may be meaningless to others. But I think we could all benefit from thinking about why we came across the natural treasures in our lives. They are dear gifts from nature, and far more powerful than a store bought bracelet or charm.
If you're not the crafty type, there are so many artisans on Etsy (I love @thegroveapothica) who can take your finds and use them to create something beautiful.
3. Cleanse with essential oils instead of sage.
I'm saving my remaining supply of sage for special occasions. For my daily meditation, instead I'll use incense or a spray I created myself with my own blend of ethically sourced essential oils.
To make something similar, use a 4 oz bottle or smaller and fill it halfway with witch hazel, which acts as a natural preservative, and the other half with water. Now add your oils: 8-12 drops total, max. Rosemary is great for clearing. I also love to use tree oils such s cypress and balsam fir needle. Finish off your spray by adding dried herbs and flowers that have meaning to you.
4. If you are going to buy something, make sure it was sourced responsibly.
When people ask me about companies working hard to prioritize sustainability, I recommend Energy Muse crystals, Sage Winds sage products, and Mountain Rose Herbs Palo Santo, and Sacred Elephant incense.
Ask yourself, how can your next ceremony be more sustainable? Remember, at the end of the day, going within requires only you.