What Reversals In Tarot Really Mean & How To Read Them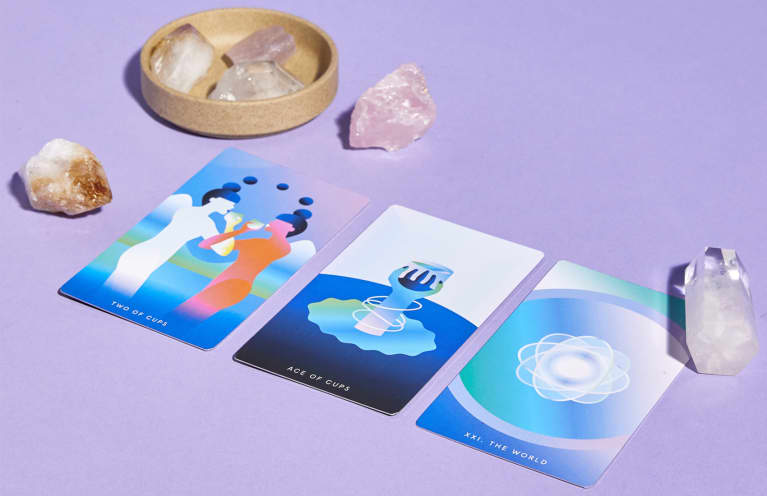 Our editors have independently chosen the products listed on this page. If you purchase something mentioned in this article, we may
earn a small commission
.
If you're familiar with tarot and have experimented with your own tarot readings, you may have noticed each card has a general meaning, as well as a "reverse" meaning, should you pull it upside down. But the truth is, people disagree on how important reversals really are. Here's what you should know the next time you pull a card in reverse.
What's the deal with reversals?
Whether you decide to go by a card's reverse meaning is ultimately up to you and your intuition. There really isn't a right or wrong way to go, as tarot reading is all about how you relate the cards to your own life and questions. Some people believe a reverse pull totally reverses the meaning of the card, while others think it's a bit more complicated.
As astrologist and tarotist Bess Matassa previously explained to mbg, "A reversed card doesn't necessarily reverse the meaning," she says. "It texturizes and adjusts the experience. It may be that you're being called to work actively with that card to turn it right side up, and can signal resistance to the energies of the card."
If you pull a card in reverse, one thing's for sure: It's an invitation to look at the card a little more closely. Only then can you determine whether the reverse meaning actually resonates.
Take the Fool card, for example. As the first card in a traditional tarot deck, it's about new beginnings, leaps of faith, and expansion when pulled upright. Pulling it reverse, however, doesn't necessarily mean those themes aren't still present—you just might not want to take it completely at face value.
Tarot reader and founder of Witchy Wellness Leah Vanderveldt previously told mbg, in the case of a reversed Fool pull, it's a call to check in with your intentions and intuition. Maybe you need more concrete plans before you embark on a new journey, or you have to review what's in front of you before taking that leap.
Again, as Matassa explained, it's about looking closely at what needs to change or be adjusted, in order to get that card upright—as well as figuring out how you might be resisting positive aspects of whichever card you pull.
Tarot is a deeply personal and introspective practice. If you pull a card in reverse, and the reversed meaning you find in your deck's handy booklet doesn't resonate, you don't have to force it. But if it does, reversed cards can offer a new way of looking at a card and the questions you've asked, shedding light on areas that might need some adjustments.