The Best Sleep Gifts Of 2022: Supplements, PJ Sets & More
mbg Sustainability + Health Director
By Emma Loewe
mbg Sustainability + Health Director
Emma Loewe is the Senior Sustainability Editor at mindbodygreen and the author of "Return to Nature: The New Science of How Natural Landscapes Restore Us."
Last updated on May 27, 2022
Our editors have independently chosen the products listed on this page. If you purchase something mentioned in this article, we may
earn a small commission
.
The best gifts are the ones that your recipient will actually use. And considering that most people could stand some help in the sleep department, snooze-promoting presents are almost always a great way to go.
Here at mbg, we work with trusted sleep specialists to sort fads from fundamentals and deliver sleep advice that actually works. Here are the best sleep gifts you can buy your tired friend or snooze-loving family member this year.
Advertisement
This ad is displayed using third party content and we do not control its accessibility features.
Why a good night of sleep is so crucial to your health.
It's no secret that sleep is essential to overall health. Spending enough time asleep each night (the exact number varies, but seven to nine hours is considered the gold standard for most adults) gives your body and brain the opportunity to recover and pays off for your long-term heart health, brain health, weight management, immune response, and more.
Most of us know what it feels like to wake up from a deep, high-quality sleep: We get out of bed feeling mentally sharp and positive about the day ahead. Unfortunately, factors like stress, distractions, and uncomfortable bedroom environments can all keep us up at night and make energized mornings a distant dream.
Experts agree that the single most important way you can improve your sleep is to stick to a consistent bedtime and wake-up time. (Learn why that's so essential here.) If your sleep timing is always off, buying your way to a better snooze will not be possible. However, there are definitely products that can help people stick to their schedules, achieving more consistent and reliably restorative sleep in the process.
Over the years, I've interviewed dozens of physicians, psychologists, and neuroscientists who specialize in sleep to get their intel on the tools and techniques that will actually help people achieve their deepest rest. These are the products that they recommend again and again, and each one would make a dreamy sleep gift.
Advertisement
This ad is displayed using third party content and we do not control its accessibility features.
Our picks.
These sleep gifts can all support a healthy night's rest and help your giftee wake up feeling more refreshed.
No two sleepers are the same, so we split our sleep list into a few categories. Your tech-obsessed co-worker might swoon over a sleep tracking ring, while a lavender dream mist might be just what your spiritual friend needs on her bedside table.
For the holistic sleeper who loves a natural remedy: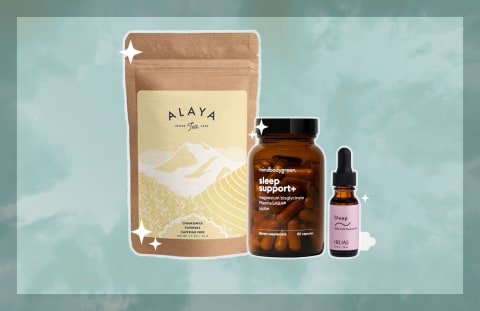 Advertisement
This ad is displayed using third party content and we do not control its accessibility features.
1.
sleep support+ by mindbodygreen.
mindbodygreen's No.1 bestselling supplement harnesses the sleep-promoting power of three clinically studied ingredients: magnesium bisglycinate, jujube, and PharmaGABA®.* Together, they help people fall asleep faster, stay asleep longer, and easily doze off after midnight wakeups.* And unlike hormonal sleep aids like melatonin, sleep support+ will help your giftee feel energized—not groggy—the second they wake up.*
mindbodygreen sleep support+ ($49/month); mindbodygreen.com
2.
Skin Regimen Night Detox overnight face mask.
Of course, sleep time is also an essential time for any beauty regimen. As mbg's beauty director Alexandra Engler explains, your skin is most permeable when you're sleeping, making overnight masks a quick ticket to beauty sleep.
This mask from Skin Regimen, formulated to nourish even the most sensitive of skin, ranks as one of her top favorites.
Skin Regimen Night Detox overnight face mask (starting at $95); comfortzoneskin.com, amazon.com
Advertisement
This ad is displayed using third party content and we do not control its accessibility features.
3.
Helias sleep essential oil.
Smelling the luscious scent of lavender and the sweet notes of Roman chamomile before bed can help your mind calm down from a busy day. Aromatherapy has been shown helpful for both easing stress and promoting relaxation, after all.
This offering from Helias combines both aromas, plus soothing atlas cedar, vetiver, and ylang-ylang, into a soothing blend that your giftee can use in the shower, drop onto their pillow, or massage onto their skin with a carrier oil for a fragrant nightly ritual.
Helias Sleep Essential Oil Blend (starting at $28); anthropologie.com, helias.com
4.
Alaya chamomile flowers tea.
As far as sleep teas go, chamomile is a popular pick for a reason. "Chamomile is calming, relaxing, and soothing. [It] is one of the great teas to drink after dinner to help you unwind from the day," herbalist Kami McBride previously told mbg.
This organic and sustainably harvested loose-leaf tea from Alaya will deliver 25 cups of fresh chamomile to elevate your giftee's evening routine.
Alaya Chamomile Flowers tea (starting at $14); alaya.co, farmshop.com
Advertisement
This ad is displayed using third party content and we do not control its accessibility features.
For the sleeper who craves all things cozy.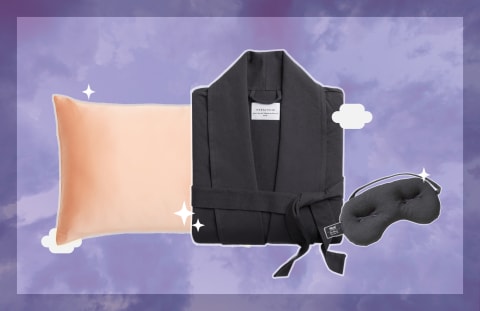 5.
Good Side silk pillowcase
Beyond being incredibly smooth to the touch, silk will also create a breathable and moisture-wicking environment that's great for skin and hair health. The luxurious material tends to come at a high price point, making it the perfect gift for a friend or family member who wouldn't otherwise shell out on themselves.
This silk pillowcase from Good Side is made from the highest quality of silk, Mulberry, and OEKO-TEX certified free of harmful chemicals, toxins, and irritants that could get in the way of their restorative rest.
The Peach Silk Pillowcase ($89); good-side.co
6.
Parachute organic cotton robe.
A soft, lightweight robe will ensure a cozy nighttime or morning routine year-round. This oh-so-cozy option from Parachute is made from 100% organic cotton in a jersey knit, delivering the softness of your favorite well-worn sleep shirt.
Parachute Organic Cotton Robe ($129); parachutehome.com
7.
Lunya washable silk set.
Sleeping on a cloud might sound like hyperbole—until you try snoozing in a high-quality silk pajama set. Washable silk, sustainable dyes, and strategically placed slits for breathability make this one from Lunya a total dream.
Lunya Washable Silk Sleepwear Set ($188); lunya.co
8.
Casper weighted blanket.
Weighted blankets strategically apply weight and pressure to mimic the comforting feeling of being hugged. "It's thought that weighted blankets provide deep pressure stimulation, which activates the parasympathetic, or 'rest and digest' part of the nervous system," Nishi Bhopal, M.D., a psychiatrist specializing in sleep medicine, previously told mbg.
One downside is that some people might find them too hot to sleep in, which is where this breathable cooling weighted blanket from Casper comes in.
Casper Weighted Blanket (starting at $169); casper.com, amazon.com
9.
IMAK compression eye mask.
As circadian rhythm experts explain, bright light at night can throw off your internal clock and disrupt your all-important sleep-wake cycle. "If you have light exposure at night," sleep doctor Daniel Rifkin, M.D., previously told mbg, "it's almost like your brain is seeing a sunrise at a time when it should be seeing a sunset."
Once your giftee slips into bed and turns off their lights, this IMAK eye mask will handle the rest, keeping the sun out and lending a comfortable pressure around the eyes until their alarm goes off.
IMAK Compression Pain Relief Mask and Eye Pillow ($14.99); amazon.com
10.
SIJO french linen sheet set.
For the sleeper who's always up to try the latest gadget: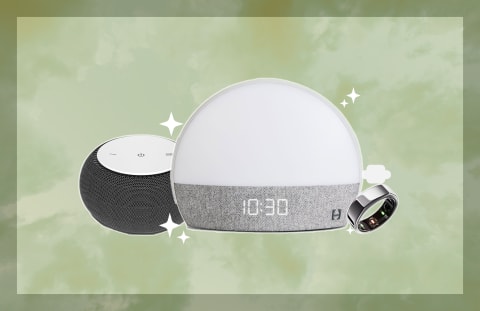 11.
SNOOZ white noise machine.
Just like light, noise can quickly disrupt the sleep experience. Sound machines can help drown out loud appliances or car horns, and this portable one from SNOOZ features 10 volume settings to help your giftee find their ideal sleep soundtrack, at home or on the road.
SNOOZ White Noise Machine (starting at $99.99); getsnooz.com, amazon.com
12.
Oura Ring Generation 3.
While the way you feel when you wake up is usually a good indication of how well you slept, high-tech sleep trackers allow you to get granular and measure the amount of time you spent in each sleep stage including REM, how long it took you to fall asleep (down to the minute), etc. By comparing your data night after night, you can get a better idea of the habits that set you up for a deeper snooze.
The Oura ring is one of the most popular trackers out there, with a unique ring design that will comfortably stay on your finger all day and night. Beyond measuring key sleep metrics, the latest version also offers period prediction, oxygen saturation sensing, and more predictors of overall well-being.
Oura Ring Generation 3 ($299); ouraring.com
13.
Hatch Restore smart sleep assistant.
Using your phone as your alarm clock can make it tempting to scroll in bed at night and check your inbox or social feeds first thing in the morning; habits that are not great for sleep (or mental health). That's why many experts recommend leaving the phone out of the bedroom and using a separate alarm clock instead.
This digital option from Hatch does so much more than just tell time. It's a sound machine, meditation app, and alarm that wakes you up with light by mimicking a warm and gentle sunrise.
Hatch Restore Smart Sleep Assistant (starting at $129.99); hatch.co, amazon.com
For the sleeper who needs time to wind down before bed: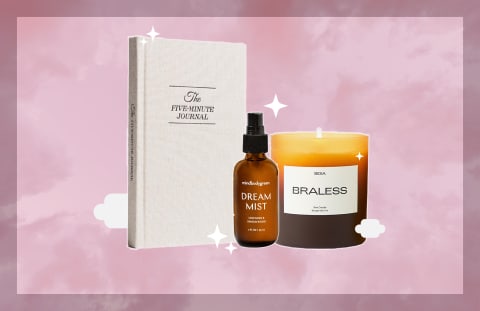 14.
dream mist by mindbodygreen.
A few spritzes of mbg's delicious new linen spray and your giftee's pillows, sheets, or PJs will be gently cloaked in the lovely scent of lavender, sandalwood, Roman chamomile, and linden blossom essential oils. One smell and they'll be sold. The aroma of dream mist can add another dimension to their bedtime (or morning!) routine.
mindbodygreen dream mist ($30); mindbodygreen.com
15.
The Five Minute Journal.
According to psychologist and behavioral sleep medicine specialist Shelby Harris, PsyD, DBSM, writing down any repetitive thoughts and to-do's before bed can free up some mental space to devote to sleep. That way, "if you think about it later, you can go, 'Nope, I already wrote it down,'" Harris previously told mbg.
This guided journal will help your giftee stick to the stress-easing practice with short prompts for reflecting each night.
Intelligent Change The Five Minute Journal (starting at $28.99); amazon.com, urbanoutfitters.com
Made to evoke the feeling of shedding your bra at the end of a long day, this warm, spicy scent from SIDIA (featuring cedar, rose, and sandalwood) is a relaxing one to burn in the hours leading up to bed. Made from soy-coconut wax and free of parabens and phthalates, your giftee can feel good about welcoming it into their boudoir.
SIDIA Braless Candle ($58); sidiathebrand.com
17.
Book of the Month subscription.
Reading a book is a wonderful way to take your mind off the day (just make sure it's nothing too scary!), and a physical copy will be less stimulating to the eyes than a digital one. Give the gift of a transportive bedtime read with a subscription to the Book of the Month club, which delivers five to seven new books to their door every month. They can choose which one to keep from there.
Book of the Month subscription (starting at $49.99); bookofthemonth.com
For the sleeper who could use a bedroom upgrade: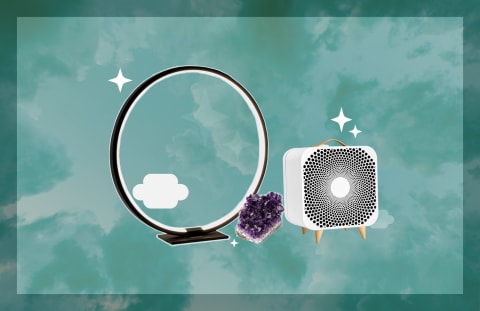 18.
Avocado Latex Mattress
If there's one thing that's worth splurging on in the bedroom, it's a supportive mattress. This nontoxic mattress from Avocado features 9 inches of natural, organic latex for a firm sleep experience that will keep them snoozing comfortably for years to come, so it's well worth going in on with a few friends.
Avocado Latex Mattress (starting at $2,399); avocadogreenmattress.com
19.
MASIVEL modern circle table lamp.
Switching over to warmer lighting can make a huge difference in the bedroom, as it tends to be less stimulating during wind-down hours. This unique circle LED lamp gives off a warming glow on a dimmer, so it can gradually wind down alongside your giftee.
MASIVEL Modern Circle Table Lamp ($49.99); amazon.com
20.
Blueair Blue Pure Fan.
We spend about one-third of our lives asleep, making the air quality in our bedrooms hugely important. This funky fan from Blueair will filter out small particles that can cause irritation while cooling your giftee's room down to a comfortable temperature and emitting a soothing noise.
BLUEAIR Pure Fan Auto (starting at $299.99); amazon.com, target.com
Dark bedrooms set the stage for deep and uninterrupted rest, making blackout shades a popular product among sleep specialists. High-end ones can cost a pretty penny, but this portable blackout curtain that installs in minutes blocks just as much light for a fraction of the cost.
The Sleepout Curtain ($89); sleepoutcurtains.com
22.
Energy Muse amethyst cluster.
Finally, for the spiritual slumber, amethyst crystals are thought to help us connect to our intuition and inner knowing. Your giftee can clutch the purple stone before bed while meditating, doing a breathing exercise, or visualizing tomorrow going exactly their way before drifting off to dreamland.
Energy Muse Amethyst Cluster ($14.95); energymuse.com
The takeaway.
As you can see, there's a range of products that sleep experts agree can help support a deep and restful slumber. Opt for one or mix and match them into a sleep bundle to help give those you care about the true gift of better sleep with fewer wakeups.