Your Guide To Buying A Nontoxic Mattress: Best Materials, Labels + Brands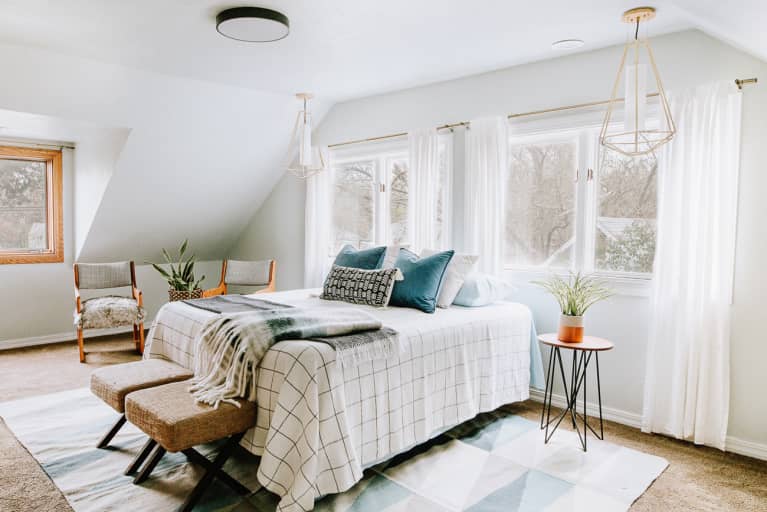 Our editors have independently chosen the products listed on this page. If you purchase something mentioned in this article, we may
earn a small commission
.
Last updated on June 29, 2021
We're living in a heyday of mattresses, with hundreds of brands vying for our attention both in stores and online. In addition to claims of comfort and support, many mattresses are now marketed as non-toxic—but what does that really mean, and is it important?
We spoke with Charlotte Vallaeys, a Consumer Reports senior policy analyst, and Tasha Stoiber, an industry expert over at the Environmental Working Group, to break down exactly what you need to know about low-toxicity mattresses.
Here's the scoop on which materials to look for (and avoid), which labels you can trust, and which brands are doing it right.
Nontoxic mattress materials:
Stoiber, an EWG senior scientist and co-author of the group's Healthy Living Home Guide, cautions against mattresses made from polyurethane foam for health and environmental reasons.
"The majority of mattresses on the market are made from polyurethane foam based on petroleum chemicals, so it can off-gas volatile organic compounds, which can cause respiratory irritation, skin irritation, etc.," she tells mbg.
Though more research still needs to be done, one study found that babies are particularly susceptible to these chemicals, and their cribs may be the source of up to 30 volatile organic compounds (VOCs) that range the gamut from phenols (often used as antiseptics) to formaldehyde (a potential carcinogen found in glues and adhesives).
Even if you don't have a child, it's probably best to avoid these chemicals where you can, especially with something you use as often as a mattress.
Look for: 100% natural latex foam
Instead of synthetic polyurethane, look for mattresses made from natural materials like latex, wool, and cotton. The EWG's top choice is 100% natural latex foam, which is extracted from rubber trees and isn't treated with as many chemicals as polyurethane during manufacturing.
These days, the rise of direct-to-consumer models have made natural latex (a historically pricey option) slightly more affordable, but you need to ask a few questions to ensure you're getting the most bang for your buck.
"You have to be careful because some brands might say it's a latex mattress, but really it is made from synthetic latex. Or, only the top inch is latex and it has polyurethane underneath, so you need to find out the composition of the mattress and know what each layer is made of," Stoiber cautions.
The best nontoxic mattress labels:
After researching 12 mattress labels to verify or dispel their health and sustainability claims, Vallaeys and Consumer Reports found mixed results: "There's a lot of variability when it comes to what the labels address," she explains.
"Some of them address just one thing while others will address everything from the farms that grow the mattress materials to the factories where the mattress is made to the likelihood that a mattress will off-gas once you start using it."
Some of the more comprehensive, holistic labels are Oeko-Tex Standard 100 and Greenguard Gold, which set strict limits on VOCs, flame retardants, and dyes.
The winners, though, are the GOTS and GOLS labels, which signify 95-plus% certified organic textiles and latex, respectively. Mattresses with these labels also have a substantial list of banned substances and were made in a way that champions the environment.
"GOTS and GOLS were very comprehensive, all the way from the farm to the final product," Vallaeys says, and Stoiber echoed that the labels holds the most weight.
Other things to look for on your mattress:
While mattress layer materials are important to pay attention to, you'll want to look into what's holding your mattress together as well: Opt for water-based glues over synthetic solvent-based ones, which can pollute the air.
Finally, make sure that your mattress has absolutely zero chemical flame retardants. A handful of states are now in the process of banning flame retardants, but until this is the norm, keep an eye out for this unsafe (and ineffective) additive.
Best firm: OrganicPedic Flora Nouveau
This mattress is made from not one, not two, but three layers of GOLS-certified organic natural latex for maximum support. It comes in medium and firm options and has a 20-year warranty.
Health perks: GOLS-certified organic natural latex
Other perks: 20-year warranty
Price: $3,975 twin to $6,595 king
Best materials: Coco-Mat Mattress Proteas
In addition to natural latex, Greek company Coco-Mat uses coconut, horsehair, cactus, and seaweed in their premium plant-based Proteas mattress. It's completely metal-free for comfort (no springs poking you here) and covered in an organic cotton shell for extra plushness. Its elasticity makes it ideal for all types of sleepers.
Health perks: Metal-free
Other perks: 25-year warranty
Price: Price available upon request, starts at $4,530
Best budget: Sleep On Latex Pure Green Organic Latex Mattress
This affordable organic latex mattress is certified safe and nontoxic by just about every standard out there, including GOTS, GOLS, Oeko-Tex, and Greenguard Gold. Available in both medium and firm, each mattress is hand sewn in Sleep On Latex's factory in Illinois.
Health perks: GOLS-certified organic natural latex
Other perks: 10-year warranty, 100-day trial, made in the USA
Price: $700 twin to $1,500 king
Best for couples: Avocado Latex Mattress
Avocado's latex mattress is made from 9 inches of GOLS-certified natural foam sourced from the company's farms in India. Its unique wave design lends plenty of support and reduces motion transfer, keeping everyone in the bed happy. This firm mattress has also been endorsed by the American Chiropractic Association and is great for active people and back or stomach sleepers.
Health perks: GOLS-certified organic natural latex
Other perks: 25-year warranty, 1-year trial, made in the USA
Price: $1,499 twin to $2,699 king
Best for hot sleepers: Harvest Green Original
This GOLS-certified organic natural latex mattress also contains a layer of organic wool insulation to help regulate your temperature as you rest. Plus, it's naturally moisture-wicking to help sweaty sleepers rest easier.
Health perks: GOLS-certified organic natural latex
Other perks: 25-year warranty, 100-night trial
Price: $959 twin to $1,699 king
Best for back and stomach sleepers: Birch Natural Mattress
Birch by Helix's natural foam and wool mattress also sneaks in a layer of individual steel coils for added support. It's firm but soft, making it ideal for back and stomach sleepers who don't want to sink into their bed at night. Birch is a New York-based company that sells a variety of mattresses, toppers, and pillows, so you can work with them to personalize your sleep setup.
Health perks: Made from natural latex
Other perks: 25-year warranty, 100-night trial, made in the USA
Price: $1,049 twin to $1,799 king
Best for side sleepers: Nest Bedding Certified Organic Hybrid Latex
Last but not least, Nest Bedding's organic option is made with GOLS-certified organic latex, GOTS-certified organic cotton, and GOTS-certified organic wool. It comes in three feels, with soft plush being ideal for side sleepers. If you aren't happy with the firmness, Nest makes it easy to trade in your mattress for a new model: Simply unzip from its reusable cover and they'll send you another one to try out. Once you're happy with your mattress, you can rest easy knowing it has a lifetime warranty.
Health perks: GOLS-certified organic natural latex
Other perks: Lifetime warranty, comes in 3 levels of firmness, made in the USA
Price: $2,149 twin to $3,999 king
Best for the planet: Brentwood Hybrid Latex Mattress
Also made with GOLS organic latex and GOTS organic certified wool, Brentwood's hybrid mattress also has a base layer made from recycled denim for extra breathability. The Los Angeles-based company, owned by another name on this list, Avocado brands, is also striving to reduce its emissions and become carbon negative. This involves calculating a product's full spectrum of emissions and offsetting them through tree plantings and investments in renewable energy.
Health perks: GOLS-certified organic natural latex
Other perks: Carbon-negative company, made in the USA
Price: $899 twin to $1,499 king