Your Definitive Guide To Buying A Nontoxic Mattress
The year 2018 might go down in history as the heyday of mattresses, an age in which hundreds of brands vied for our attention both in stores and online. In addition to claims of comfort and support, mattresses are now advertising dozens of different labels that mean little to the average shopper.
"A consumer wouldn't know what's going into a mattress just by looking at a label with a green leaf on it versus one with a shirt and a green circle," Charlotte Vallaeys, a Consumer Reports' senior policy analyst, tells mindbodygreen. "It's very confusing for someone who's shopping and wants to distinguish between different mattresses just by looking at the label."
We spoke with Vallaeys and Tasha Stoiber, another industry expert over at the Environmental Working Group, to break down exactly what you need to know about mattresses if you care about sustainability and low toxicity. Here's their take on what to look for in today's crowded marketplace:
Materials: Look for 100 percent natural latex foam.
Stoiber, an EWG senior scientist and co-author of the group's Healthy Living Home Guide, recommends looking into mattress material first, cautioning against polyurethane foam for health and environmental reasons. "The majority of mattresses on the market are made from polyurethane foam based on petroleum chemicals, so it can off-gas volatile organic compounds, which can cause respiratory irritation, skin irritation, etc.," she tells mbg. Though more research still needs to be done, one study found that babies are particularly susceptible to these chemicals, and their cribs may be the source of up to 30 volatile organic compounds (VOCs) that range the gamut from phenols (often used as antiseptics) to formaldehyde (a potential carcinogen found in glues and adhesives). Even if you don't have a child, it's probably best to avoid these chemicals where you can, especially in something you use as often as a mattress.
Instead, look for natural mattress options like latex, wool, and cotton. The EWG's top choice is 100 percent natural latex foam, which is extracted from rubber trees and isn't treated with as many chemicals as polyurethane during manufacturing.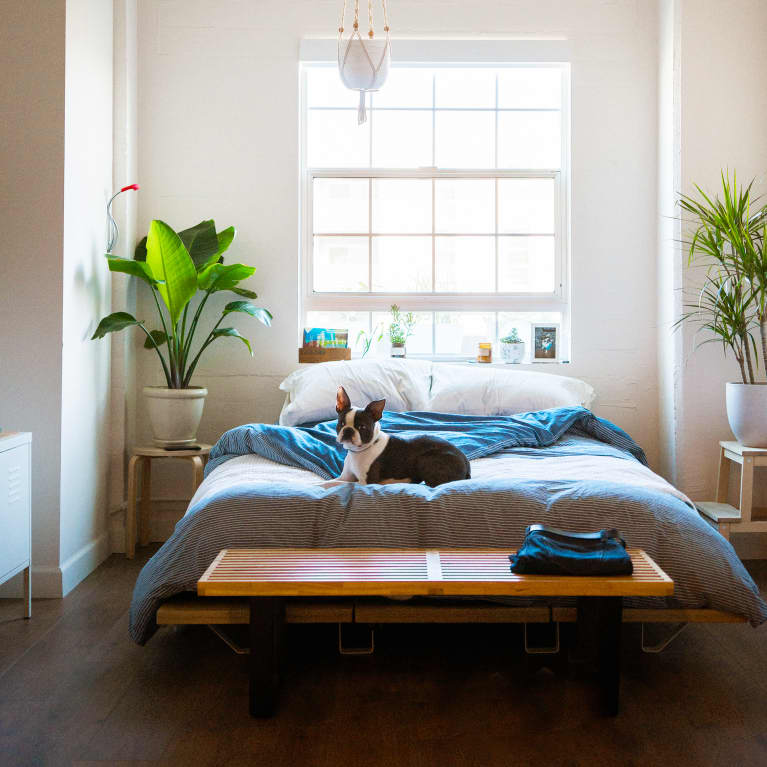 These days, the rise of direct-to-consumer models have made natural latex (a historically pricey option) slightly more affordable, but you need to ask a few questions to ensure you're getting a good value for your buck.
"You have to be careful because some brands might say it's a latex mattress, but really it is made from synthetic latex. Or, only the top inch is latex and it has polyurethane underneath, so you need to find out the composition of the mattress and know what each layer is made of," Stoiber cautions.
Pay mind to what's holding these layers together too: Opt for water-based glues over solvent-based ones. Last but not least, make sure that your mattress has absolutely zero chemical flame retardants. A handful of states are now in the process of banning flame retardants from the market, but until then, keep an eye out for this unsafe (and ineffective) additive.
Labels: Look for GOTS- or GOLS-certified mattresses.
After researching 12 mattress labels to verify or dispel their health and sustainability claims, Vallaeys and Consumer Reports found mixed results: "There's a lot of variability when it comes to what the labels address," she explains. "Some of them address just one thing while others will address everything from the farms that grow the mattress materials to the factories where the mattress is made to the likelihood that a mattress will off-gas once you start using it."
Some of the more comprehensive, holistic labels are Oeko-Tex Standard 100 and Greenguard Gold, which set strict limits on VOCs, flame retardants, and dyes. The winners, though, are the GOTS and GOLS labels, which signify 95-plus% certified organic textiles and latex, respectively. Mattresses with these labels also have a substantial list of banned substances and were made in a way that champions the environment.
"GOTS and GOLS were very comprehensive, all the way from the farm to the final product," Vallaeys says, and Stoiber echoed that the label holds the most weight.
Brands that win high marks.