What Side Sleepers Should Look For In A Mattress + 6 Top Picks

mbg Senior Sustainability Editor
By Emma Loewe
mbg Senior Sustainability Editor
Emma Loewe is the Senior Sustainability Editor at mindbodygreen and the author of "Return to Nature: The New Science of How Natural Landscapes Restore Us."

Medical review by
Bindiya Gandhi, M.D.
Physician
Dr. Bindiya Gandhi is an American Board Family Medicine–certified physician who completed her family medicine training at Georgia Regents University/Medical College of Georgia.
Last updated on February 1, 2022
Our editors have independently chosen the products listed on this page. If you purchase something mentioned in this article, we may
earn a small commission
.
The position you sleep in will affect the mattress that's best for you. Side sleeper? You'll likely want a mattress that is soft enough to be comfortable (particularly on your hips and shoulders), but firm enough to give your body the support it needs to sleep soundly.
We spoke with licensed chiropractors and physical therapists to learn why this middle ground is so important and how to find it. Led by their guidance, we sifted through the many, many mattresses on the market to find the ones that will be best for side sleepers looking to rest easy and wake up without pain.
Advertisement
This ad is displayed using third party content and we do not control its accessibility features.
What to look for in a mattress.
Tracking down your perfect mattress can take a fair amount of time and money, but Joshua Park, DPT, an Olympic physical therapist and the founder of MOCEAN, says it's well worth it since sleep plays such a vital role in overall health. "Finding the right mattress is essential because we spend one-third of our lives in bed," Park tells mindbodygreen.
Waking up refreshed and pain-free is a good sign that your mattress is helping you sleep deeply. The wrong mattress may cause you to toss and turn in the middle of the night, aggravate existing pain, and potentially cause new discomforts to form.
This tends to become more common with age. While kids can basically sleep anywhere, physical therapist and founder of Aletha Health Christine Koth, PT notes that as we get older and develop muscle tension and various aches and pains, we'll need to find a sleep solution that's more customized to our unique needs.
Factors like weight, gender, and sleep environment can all influence the type of mattress you'll find most comfortable. However, chiropractor Kevin Lees, D.C., of The Joint Corp says that most side sleepers will want to look for one that is supportive but not too firm.
"A mattress that is too firm may cause shoulder and hip pain, as well as change the spinal alignment," he notes, pointing to a 2011 study in the journal Ergonomics that found that mattresses that are too soft or saggy can negatively affect side sleepers' sleep quality.
However, Lees notes, "Side sleepers tend to have more pressure on their shoulders and hips, and usually need a slightly softer mattress to accommodate that extra pressure," so finding a middle ground is key.
Advertisement
This ad is displayed using third party content and we do not control its accessibility features.
How side sleeping affects your body.
Side sleeping is the most common sleep position, and experts agree that it's typically also the healthiest. Lees explains that sleeping on one's side provides relief from back pain and may reduce one's risk of breathing problems like sleep apnea, while Park notes that it tends to promote good circulation. However, the sleeping position also comes with some potential downsides.
The key to restful, restorative sleep is to keep your spine, neck, and shoulders all in good alignment. But picture the shape of someone sleeping on their side: The widest parts of their body, their shoulders and hips, will naturally want to sink deeper into a mattress.
If your mattress is super firm and doesn't have enough give, you might wake up with shoulders and hips that feel sore or stiff in the morning. If it's really soft, your shoulders and hips may sink too far into your mattress and throw off that ever-important alignment, which can irritate your joints and ligaments and contribute to low back pain.
"If you have too soft of a mattress, regardless of your sleep position, your body kind of gets absorbed into that," Koth says. "It might feel good, but your body has to do absolutely no work. Without a little bit of muscle contraction to stabilize you, you actually lose some of the support that your body needs."
From head to toe, experts say side sleepers should aim for the following alignment when sleeping:
Head: Keep your head in a neutral position. It should be no higher or lower than your shoulders. This will help prevent neck cricks and shoulder discomfort. (The right pillow can really help here.)
Hips: Your hips should feel supported, and there shouldn't be any gaps between your mattress and your side body. (If there are, placing a rolled-up beach towel in the area may help.) This should help prevent hip pain and tightness.
Knees: The legs aren't parallel when we sleep on our sides, which Park says can alter pelvic positioning, affect spinal alignment, and increase muscle tension. Place a pillow between your knees and ankles to promote better alignment and relieve potential hip and low back pain.
Advertisement
This ad is displayed using third party content and we do not control its accessibility features.
Here's how to find a mattress that comfortably fits your body's curves and supports this ideal alignment.
Is there a type of mattress that's best for side sleepers?
The most popular mattress materials are memory foam, latex, metal springs, or some combination of these materials. Let's go over the pros and cons of each mattress type for side sleepers:
Advertisement
This ad is displayed using third party content and we do not control its accessibility features.
Memory foam:
Pros: If you've ever felt like you were sleeping on a cloud, you were probably dozing on memory foam. This material is usually made of polyurethane, a plastic polymer that has been processed to be super soft, absorbent, and good at evenly distributing weight. This makes it easy to sink deeply into memory foam and move around without waking up a bed partner.
Cons: Since memory foam tends to be so soft, it might not provide the support you need as a side sleeper. Heavier sleepers also might find the feeling of sinking into the bed uncomfortable. Park also notes that memory foam tends to trap heat, which may be uncomfortable and cause sleep disruption. Plus, it's a highly processed material, which may dissuade those looking for a more natural mattress.
Natural latex:
Pros: Park notes that natural latex—a type of foam that is made from rubber tree sap—tends to be more breathable than memory foam, making it more comfortable for hot sleepers. It also tends to be a bit firmer, which side sleepers should appreciate. A bed that is made from 100% natural latex will also have been treated with fewer harsh and potentially irritating chemicals, especially if it's GOLS (Global Organic Latex Standard) certified.
Cons: Natural latex mattresses can be on the pricey side, and they still might prove too soft for side sleepers looking to keep their whole body in alignment.
Advertisement
This ad is displayed using third party content and we do not control its accessibility features.
Spring:
Pros: The original mattress design, spring mattresses are firm and supportive. They are also typically more breathable than memory foam and tend to be relatively affordable.
Cons: Since spring mattresses don't absorb movements like softer foams do, those who share the bed might find that they can feel their sleep partner's every move on a spring. Depending on the spring design, these mattresses can also be loud to sleep on. And since they are so firm, they may put too much pressure on side sleepers' hips and shoulders.
Hybrid:
Pros: The experts interviewed for this piece agree that hybrid mattresses will be most comfortable for the majority of side sleepers. Hybrid mattresses combine springs with foam or latex, making them supportive yet soft.
Cons: Hybrid mattresses tend to be on the pricey side. They can also still have the cons of non-hybrid foam or spring beds, like noisiness, motion transfer, and heat absorption. This makes it important to shop around and try out a hybrid mattress before committing.
While our experts say hybrid mattresses can provide the right balance for most people, they stress the importance of trying out a mattress yourself before committing to it.
Koth urges you to look for mattress companies that offer trial periods of at least 30 days, so you can really see how your body adjusts to the bed over time. One reason is that while firmer models may feel uncomfortable at first, that doesn't mean they aren't right for you. Your muscles are just under more pressure than they're used to. You need to give your body some time to adjust to the new sleeping experience.
"People also have different budgets for their mattress, so it helps to make sure there is a return policy or guarantee that comes with that investment," Lees adds.
How we chose.
With so many mattress options out there, I set out to whittle down your search down to a handful of options. The following mattresses tick all the expert's boxes: They are comfortable yet supportive, great at supporting side sleeping alignment, and come with an (at least) 30-day trial period and generous return or warranty policy.
When searching, I also kept mindbodygreen's criteria for environmentally friendly, nontoxic mattresses top of mind. You'll see those health and eco perks listed under every mattress.
While I couldn't test out all of these mattresses myself (I sleep a lot—but not that much), I combed through user reviews to find the ones that earn the highest marks from users around the country and further narrowed the list down to the best option for various needs that people expressed often.
After that, I was left with six options that are fit for any side sleeper.
Our recommendations.
Best splurge: Nest Certified Organic Hybrid Latex
Nest's Certified Organic Hybrid Latex mattress features a breathable coil system topped with a layer of GOLS-certified natural latex and wrapped in an organic cotton cover. Each mattress is made-to-order and comes with a 365-night trial period. If you don't find the comfort level quite right, you can adjust the firmness using removable comfort layers. There is also a return option.
It has a 5-star average rating from side sleepers as well as combination sleepers for its comfort and commitment to organic ingredients. Those who share the bed with a partner also appreciated that you can split the King and California King size up into different firmness levels. Reviewers do note that the mattress takes a while to ship (six to seven weeks) and is delivered in multiple boxes so it requires some light assembly.
Eco perks: Made with organic cotton and GOLS-certified natural latex, made in the USA, made to order
Price: $3,599 / Queen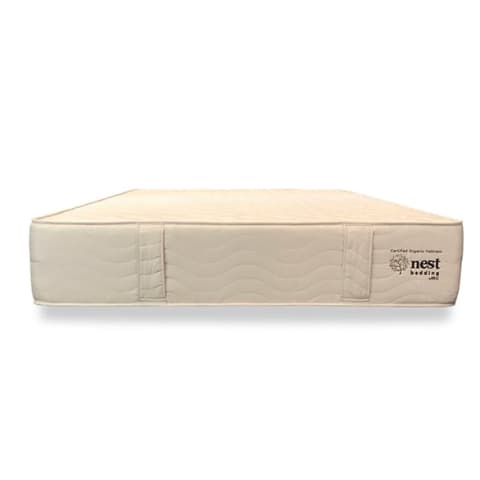 Nest
Best ergonomic: Casper Nova Hybrid Mattress
Koth appreciates that Casper's Nova Hybrid mattress is split into different zones based on where side sleepers tend to need more support. (It's softer under the head and feet and firmer under the shoulders, hips, waist, and lower back.)
Since it's made from a mix of polyurethane foam and memory foam, it's on the softer side ("sleeping on a cloud" is a review you'll see often) but still supportive enough to minimize aches and pains according to nearly 600 users who give the mattress an average of 5 stars on Casper's site. It also has special perforations that are meant to make it more breathable and less heat-trapping and comes with a 100-night trial.
While we don't love that it's made from polyurethane foam and not natural latex, it has been tested for volatile organic compound (VOC) emissions that can affect air quality.
Eco perks: Tested for VOCs, cover incorporates 70 recycled plastic bottles
Price: $2,295 / Queen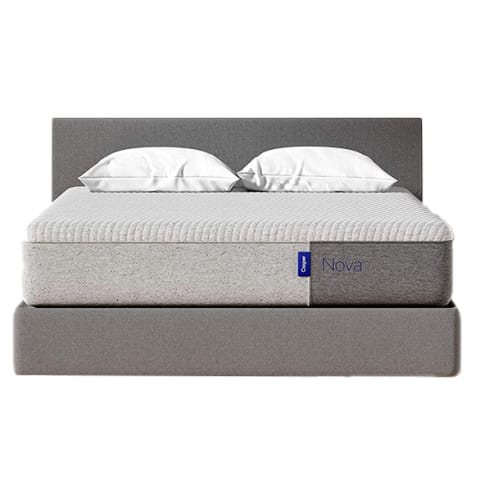 Casper
Best budget: Birch Natural Latex Mattress
The Birch Natural Latex mattress is made from natural and hypoallergenic latex and coil springs, with a layer of wool thrown in for natural temperature regulation. Its cotton cover is certified organic. This mattress also comes with two pillows that get their cozy neck support from foam made from recycled polyester.
Reviewers note that this commitment to natural materials means that the mattress doesn't come with that strong "new mattress" smell. They also commend Birch for its quick and easy shipping and kind, responsive customer service.
Though it's the most affordable on the list, Birch's mattress doesn't skimp on quality and comes with a 100-night trial and 25-year warranty (though you probably shouldn't keep a mattress for that long!).
Eco perks: Certified organic cover, natural latex, comes with recycled poly pillows
Price: $1,299 / Queen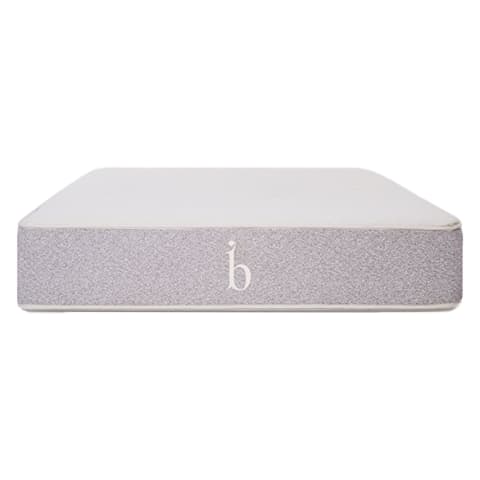 Birch
Best eco-friendly: Avocado Green Mattress
The Avocado Green Mattress owes its medium-firm feel to layers of coils, wool, and GOLS-certified organic latex. Each bed features five ergonomic zones for back and spine alignment and even weight distribution. It comes with a one-year trial period. Side sleepers who are looking for a slightly softer feel can choose to add one of Avocado's soft latex toppers.
Avocado is a standout company for its commitment to creating healthy products. In this mattress, organic wool replaces the potentially irritating chemical flame retardants you'll find in many mattresses. The mattress is also certified MADE SAFE®, meaning its ingredients are not known or suspected to harm human health or the natural environment.
Furthermore, Avocado is transparent about its ambitious sustainability goals, and the company is working to achieve them through initiatives like carbon-negative shipping and donations to environmental nonprofits.
Eco perks: Natural latex, organic wool, carbon-negative shipping
Price: $1,599 / Queen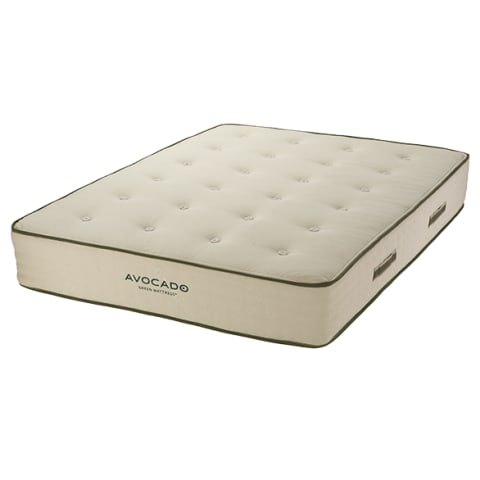 Avocado
Best for back pain: WinkBed Luxury Firm
The WinkBed was designed with back pain in mind. It's a hybrid bed (innerspring and a poly foam) that has a "lumbar" layer in the middle for added support along the back region. It's been named the best bed for back pain sufferers by many third-party sites including Wirecutter and the Sleep Foundation.
The WinkBed comes in one soft and three firmer designs—all of which seem to help reviewers who note back problems and pain. It's a popular pick among those preparing for or recovering from back surgery. Those who don't have back pain find it a pleasant sleeping experience too, thanks to a foam layer treated with a special gel to reduce motion transfer and increase breathability. The mattress comes with a 120-night trial period.
However, those looking to avoid highly processed foams will want to skip past this one. While this mattress doesn't have as many eco-credentials as the others on the list, we appreciate that its spring coils are made from recycled material.
Eco perks: Recycled steel coils
Price: $1,499 / Queen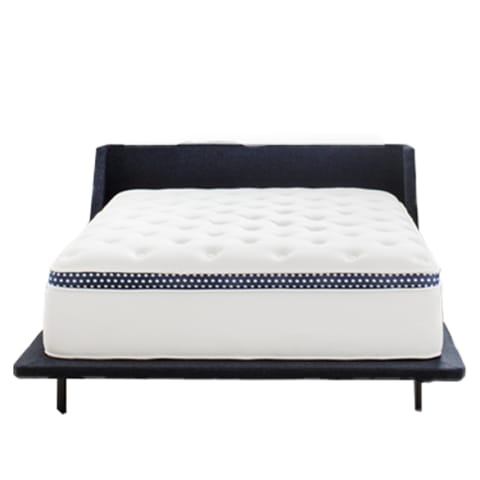 WinkBed
Best for shoulder pain: Saatva Latex Hybrid
Saatva's Latex Hybrid mattress is also made from organic wool, natural latex, and a coil layer. Reviewers with shoulder problems, arthritis, and various aches and pains have been able to sleep comfortably through the night on this hybrid that's soft on the shoulders and upper body but still offers support.
Each mattress is made to order, and reviewers rave about the company's fast and easy delivery service. This one doesn't come in a box, but Saatva's team will set up your new bed for you and take your old mattress off your hands for free.
Eco perks: Natural latex, organic wool
Price: $1,699 / Queen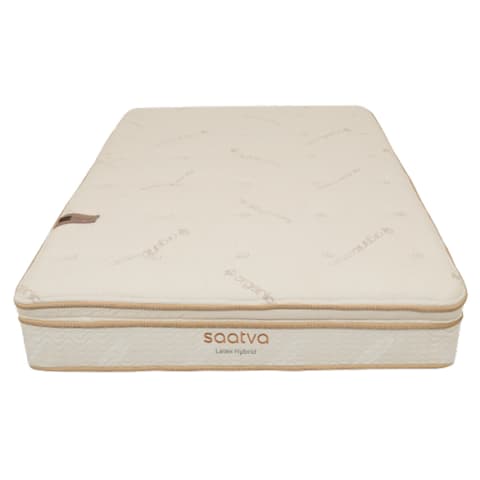 Saatva
The bottom line.
Of all the products that can help improve your sleep, the right mattress definitely tops the list. Side sleepers will want to look for one that is soft on their shoulders and hips but still firm enough to support those key areas through the night (especially if they're prone to pain). Hybrid mattresses that combine foam or natural latex with springs tend to be best for this sleep type, but everyone's different, so be sure to take advantage of those trial periods before committing to a mattress you'll be able to happily dive into night after night.