5 Creative Ways To Use Your Pillow Mist (That Have Nothing To Do With Bedtime)

Beauty & Health Editor
By Jamie Schneider
Beauty & Health Editor
Jamie Schneider is the Beauty Editor at mindbodygreen. She has a B.A. in Organizational Studies and English from the University of Michigan, and her work has appeared in Coveteur, The Chill Times, and Wyld Skincare.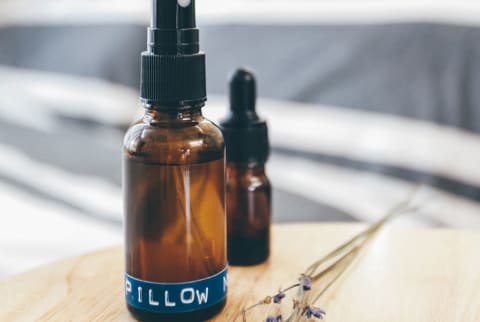 Image by Magida El-Kassis / Stocksy
May 14, 2022
Pillow mists, room sprays, linen sprays—whatever you like to call them, they can do so much more than get you in the headspace for rest. Yes, most restorative blends will call on specific aromas to help chill out the mind and promote a general sense of relaxation, which does lend itself well to bedtime. But I (and I'm guessing many of you) cherish a moment of pause at any hour, especially during a hectic workday. Not to mention, there are plenty of underrated places to spritz, so you can enjoy surprise whiffs wherever you go.
Below, find all the different ways you can repurpose your pillow mist and create a calming atmosphere, no matter the time of day:
A personal favorite room spray hack: I like to give my shower a quick spritz for an extra-soothing rinse. The steam from the shower holds those volatile oils in the air, enveloping you with aromas known for their mind-easing abilities. It's similar to dropping essential oils onto the corner of your tub or hanging a bundle of eucalyptus on your shower head—but doesn't a single spritz sound so much easier?
mindbodygreen's dream mist is perfect for the job, as it includes lavender, sandalwood, roman chamomile, and linden blossom essential oils for their research-backed relaxing abilities and soft, pleasing scents. Especially if you're partial to evening showers, these aromas can help soothe your senses as you wash off a long day.
To make your meditation practice even more peaceful, spray the air around you with an aromatic mist before letting your eyes flutter closed. Not only will the scent help ground you in the present moment and help you find a quiet headspace, but you'll also catch a pleasing aroma every time you inhale. Focusing on your breath has never been more enjoyable.
3.
To freshen up your loungewear.
Fabrics hold on to fragrance—that's why perfume experts recommend spritzing your clothes (not your skin) to help the juice last longer. While room sprays are not intended for use on the body, they can easily freshen up those old clothes lingering in the back of your closet. Additionally, instead of tossing a sweet-smelling sachet into your dresser drawers, you can give your garments a mist every once in a while; that way, they'll be marinating in lavender instead of growing stale.
A spritz of room spray can quickly elevate your home's atmosphere, but if you'd like to help the scent linger just a little longer, give your curtains a mist. See, fabric already holds on to fragrance much longer (as we mentioned above), but spraying sun-drenched curtains will also give the formula a boost as the heat diffuses the scent. Bonus: If you crack the window, you'll have a rejuvenating experience every time the fragrance catches the breeze.
In addition to spraying directly into the shower steam, you can also spritz your bath towels to quite literally wrap yourself in chamomile, lavender, et al. Again, a nice, soothing shower helps ground you after a long, busy day, and a quality room spray can further elevate the experience. If you have friends or family in town, go ahead and give their bath towels a spritz before they arrive—your houseguests will be very impressed.
The takeaway. 
Pillow sprays have a place outside the bedroom—feel free to use yours in your shower, on your old clothes, on your curtains, and before meditation to elevate every aspect of your home. Browse the dreamiest blends here, and mist away.

Jamie Schneider
Beauty & Health Editor
Jamie Schneider is the Beauty Editor at mindbodygreen. She has a B.A. in Organizational Studies and English from the University of Michigan, and her work has appeared in Coveteur, The Chill Times, and more. In her role at mbg, she reports on everything from the top beauty industry trends, to the gut-skin connection and the microbiome, to the latest expert makeup hacks. She currently lives in Brooklyn, New York.