Close Banner
Advertisement
This ad is displayed using third party content and we do not control its accessibility features.
The 9 Best Pillow Sprays For A Soothing Bedtime Experience

Beauty & Health Editor
By Jamie Schneider
Beauty & Health Editor
Jamie Schneider is the Beauty Editor at mindbodygreen. She has a B.A. in Organizational Studies and English from the University of Michigan, and her work has appeared in Coveteur, The Chill Times, and Wyld Skincare.
We carefully vet all products and services featured on mindbodygreen using our
commerce guidelines.
Our selections are never influenced by the commissions earned from our links.
A good pillow spray can help set you up for rest. Just like how you might sip on some herbal tea or crack open a book before your eyes grow heavy, a quick mist can help calm your senses and prepare your mind for slumber.
Now, is pillow spray an absolute need-to-have item? No, not really. But how lovely does it sound to sink into bed with a cloud of lavender (or chamomile, neroli, patchouli, et al.) lulling you into dreamland? At the end of the day, pillow sprays help you create a calming evening experience—and we've got quite a few recommendations for a bedtime blend.
What to consider in a pillow spray.
Here's how we compiled our vetted list:
Scent profile: Pillow sprays are meant to be used at night right before you tuck into bed, so most will call on restorative blends as opposed to invigorating scents. However, some mists include specific aromas to help calm the mind, elevate mood, or promote a general sense of relaxation.
Strength: Some pillow sprays also last longer than others, depending on how concentrated those EOs are in the formula. Some people prefer a subtle whiff of lavender before they hit the pillow; others wish to practically bathe in chamomile. Ultimately, it's up to personal preference, and we include a wide range of options in our list below.
Fine mist: When you spray the mist, does it provide a soft veil of hydration? Or does the juice leave water droplets? We suggest opting for a fine-mist spray—no one wants a wet pillow.
Best pillow sprays. 
Best overall: mindbodygreen dream mist
The soft notes of our dream mist blend together oh-so beautifully to gently nudge you into a restful headspace. Sandalwood grounds the formula and provides a warm, rich aroma, while lavender, Roman chamomile, and linden blossom offer delicate, herby notes to soothe the senses. The aroma itself is light and airy, yet you'll notice a whisper of scent lingering on your pillow—a quick reminder to let your mind and body relax.
dream mist, mindbodygreen ($30); mindbodygreen.com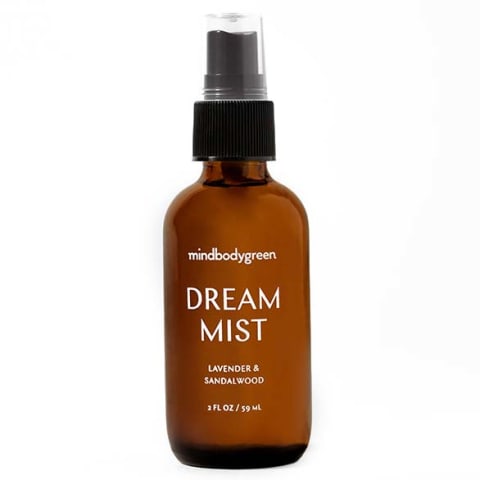 mindbodygreen
Best for relaxation: OSEA Vagus Nerve Pillow Mist
If you're looking to unwind after a long, busy day, look no further than this chamomile-infused mist. You might be familiar with sipping on a mug of chamomile tea before bed, and you can use this wonderful spray for all of your calming needs.
Pro: Chamomile is great for pre-bed relaxation.
Con: Contains lemon tree oil, which can be irritating.
Vagus Nerve Pillow Mist, OSEA ($32); Oseamalibu.com, Credobeauty.com, Nordstrom.com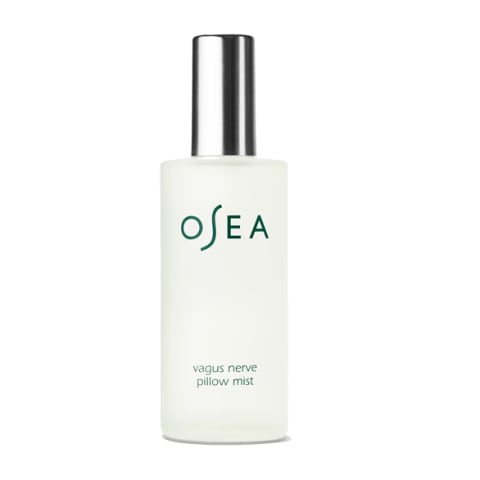 OSEA
Best for subtle scent: REN Clean Skincare & Now To Sleep Pillow Spray
Frankincense, hops, and lavender oils are the stars of this soothing formula. In terms of strength, it falls on the more subtle end of the spectrum, perfect for those who prefer a light whiff as they drift off to sleep.
Pro: Great for sensitive noses.
Con: Some people may want a stronger scent.
& Now To Sleep Pillow Spray, REN Clean Skincare ($29); Amazon.com, Renskincare.com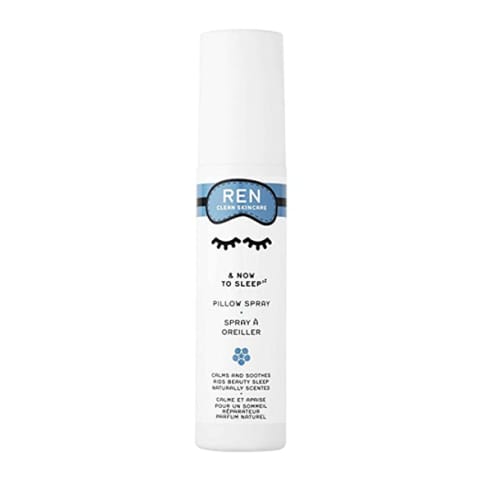 REN Clean Skincare
Best stronger scent: Indie Lee Sleep Pillow Spray
This scent has tons of staying power—even when I wake up in the morning, I can faintly smell the chamomile, vetiver, patchouli, and lavender blend lingering on my pillow. It's a smaller-sized bottle, but a little spritz really goes a long way. Bonus: Pair it with the Indie Lee Sleep Soak to maximize the calming aroma even further.
Pro: Lasts very long on linens.
Con: Some people may want a subtler scent.
Sleep Pillow Spray, Indie Lee ($15); Amazon.com, Indielee.com
Indie Lee
Best for the whole room: Slip Silk Sleep Mist
You might know Slip for their luxurious silk pillowcases and sleep masks, but allow us to introduce you to their equally elegant room spray. A blend of chamomile, lavender, and honeysuckle envelops your senses as you curl into bed; although, the brand recommends you avoid spraying directly onto your silk pillowcase, as it has the potential to leave a watermark. That said, the stunning scent is strong enough to linger in the air.
Pro: Stronger scent that lingers in the air for longer.
Con: Cannot directly spray on fabric.
Silk Sleep Mist, Slip ($32); Amazon.com, Sephora.com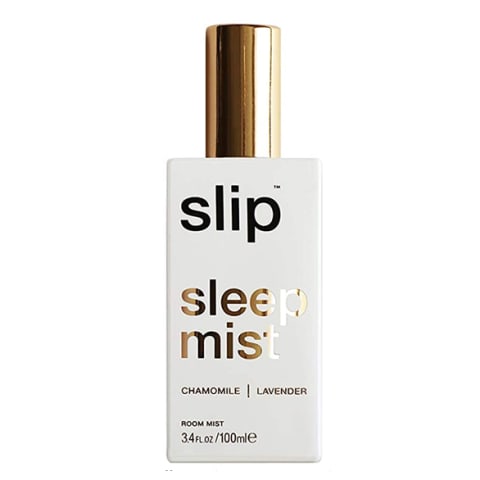 Slip
Best for sensitive skin: Aurelia Probiotic Skincare Perfect Sleep Pillow Mist
This mist features calming ingredients both for the mind and the skin: Lavender oil, neroli, geranium oil, and chamomile are all gentle flower extracts appropriate for drier, more sensitive skin types (as opposed to citrus essential oils, which are far more potent). Of course, you should still proceed with caution if your skin runs super sensitive, but generally, these EOs are way more tolerable.
Pro: Gentler for sensitive skin.
Con: A bit pricier than other options.
Perfect Sleep Pillow Mist, Aurelia Probiotic Skincare ($36); Skinstore.com, Aurelialondon.com
Aurelia Probiotic Skincare
Best mood-boosting: Sunday Riley Slumber Party Restful Sleep Pillow Spray
A soothing yet uplifting mist that's sure to brighten your mood. In addition to relaxing scents, like the aforementioned lavender and neroli, this number includes lemon verbena for a rejuvenating feel.
Pro: A brighter scent is perfect for mornings, too.
Con: Citrus oils can be irritating for sensitive skin.
Slumber Party Restful Sleep Pillow Spray, Sunday Riley ($22); Sundayriley.com, Urbanoutfitters.com
Sunday Riley
Best size: thisworks Deep Sleep Pillow Spray
Lavender, chamomile, and vetiver oils help clear the mind and help you melt into bed. Countless reviewers note the subtle, never-overpowering scent, making this a great option for all the sensitive noses out there. Feel free to spray on your pillows, your sheets, your pajamas, etc., for a cloud of relaxation that never feels too fragrant. And if you fall in love with this formula, it also comes in a larger 250-milliliter bottle.
Pro: Lots of size options to choose from.
Con: Some may prefer a longer-lasting scent.
Deep Sleep Pillow Spray, thisworks ($19); Amazon.com, Ulta.com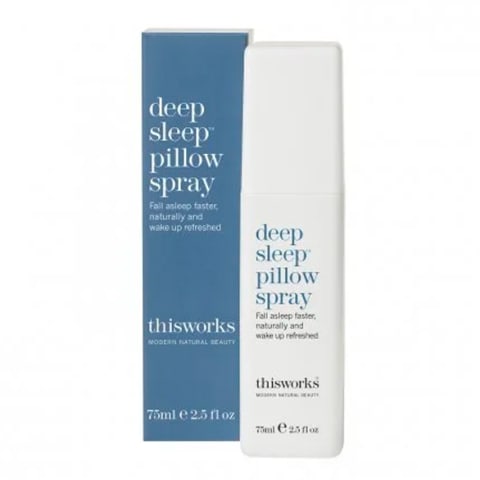 thisworks
Best for the shower: YUNI Sleepy Beauty Tranquility Pillow Spray
Who doesn't want to drift off to a hint of rose? In addition to the classically elegant ingredient, this spray includes sage and petitgrain, both of which are known for their calming properties. This one also doubles as a shower spray since sage is also associated with promoting mental clarity—so it's A+ for a morning rinse.
Pro: Has a warm, floral scent profile.
Con: Small size.
Sleepy Beauty Tranquility Pillow Spray, YUNI ($12); Amazon.com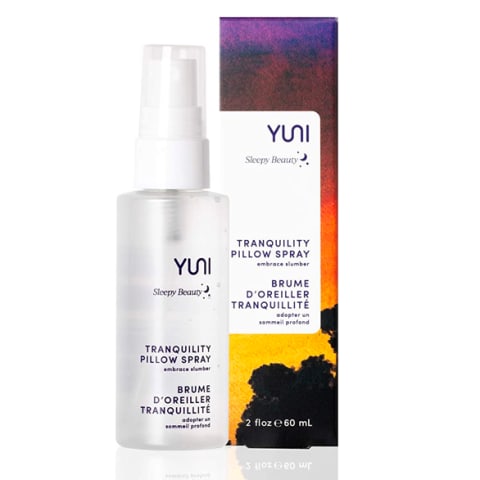 YUNI
mbg review process. 
At mbg, high standards are earned—and there are no shortcuts. Our beauty editors stay up to date on the latest ingredient research and innovation. It's a dynamic, continuously evolving space, and it's important we look into the science so we can make informed choices about which formulas earn our stamp of approval (figuratively speaking).
Our high standards also come from testing products—many, many products. Our editors and writers rigorously test and research the products featured in our roundups to offer you the best, most informed recommendations. When we write reviews, you can trust we spend quality time with the formulas: We don't simply rave about products we've slathered on the back of our hand. We endorse products we've tried and loved.
Learn more about our testing process and clean beauty standards here.
The takeaway.
Not all pillow sprays are the same; some provide mood-enhancing properties, some last longer on linens, and others double as a morning shower spritz. Find the scent you adore, and follow our other expert-backed steps for beauty sleep.

Jamie Schneider
Beauty & Health Editor
Jamie Schneider is the Beauty Editor at mindbodygreen. She has a B.A. in Organizational Studies and English from the University of Michigan, and her work has appeared in Coveteur, The Chill Times, and more. In her role at mbg, she reports on everything from the top beauty industry trends, to the gut-skin connection and the microbiome, to the latest expert makeup hacks. She currently lives in Brooklyn, New York.