Stop The Night Sweats With These 9 Breathable & Eco-Friendly Sheets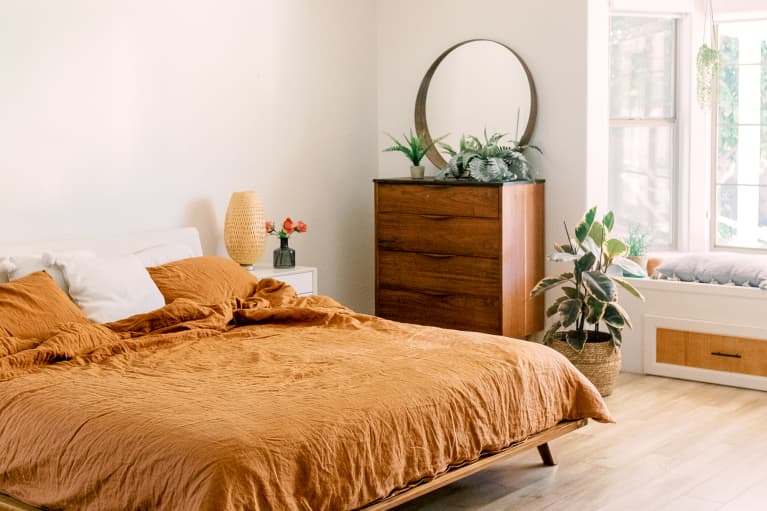 Our editors have independently chosen the products listed on this page. If you purchase something mentioned in this article, we may
earn a small commission
.
Last updated on October 3, 2021
Not only is being a hot sleeper uncomfortable; it can mess with sleep quality too. Our bodies are hardwired to drop in temperature slightly at night, making cool conditions ideal for falling and staying asleep.
As such, experts recommend turning the thermostat all the way down to 65 to 67 degrees Fahrenheit in the evenings. If you've done this and still wake up sweating (and don't have a diagnosed medical condition), switching out your sheets is the logical next move.
When looking for cooling sheets, you'll want to ditch fabrics like sateen, flannel, and jersey in favor of ones that are more breathable and moisture-wicking. These will allow more heat and sweat to escape the bed, leaving you feeling cooler.
Here are the best materials to look for, and nine highly-rated, non-toxic sheet sets that will help you nick the night sweats for good.
The best cooling materials:
Linen, tree fibers, and some cotton are the most popular materials for cooling sheets, as they are lightweight with loose weaves that won't trap heat or sweat. Here's what to know about the pros and cons of each, and how to shop for them responsibly.
Linen: Linen is a naturally breathable and moisture-wicking fabric. Its long, robust fibers can be temperature-regulating in the winter, too, making them comfortable to sleep in year-round. However, like silk sheets, linen ones tend to be on the pricey side. If 100% linen sheets are out of your budget, linen-cotton blends can also give you a feel for the material.
Tree fibers (bamboo, eucalyptus, pine): Yep, these rough materials can be turned into soft and breathable sheets—though it often takes a lot of chemicals. As such, it's important to look for ones made from Tencel yarn, which is produced using a closed-loop chemical process that tends to be gentler on factory workers and the planet.
Cotton (percale, Supima): Cotton is a versatile material that can be woven into a few different textiles—some of which are cooler to the touch than others. Those who run hot will want to avoid flannel, sateen, and jersey and opt for lighter weaves like percale or Supima. Look for the GOTS organic certification to ensure your sheets are free of harsh chemicals. For those looking to save, cotton sheets tend to be less expensive than Tencel and linen ones.
Searching for a new sheet set? These nine are all made from earth-friendly, cooling materials and come with rave reviews. You can't go wrong snuggling up in any of them.
Organic Relaxed Linen Sheet Set & Pillowcases
Material: Linen
Price: $548/ Queen
Coyuchi's relaxed sheet set (flat sheet, fitted sheet, and 2 pillowcases) earns high marks for being super soft and less wrinkly than other linens. Made from 100% GOTS certified linen from Europe, each eco-friendly set is shipped off in a reusable, organic cloth bag.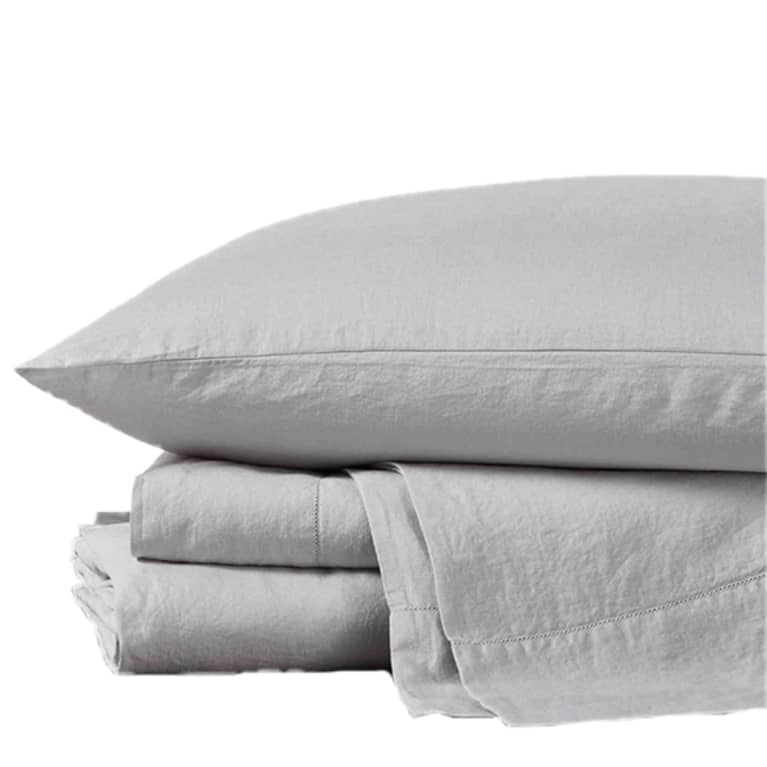 Coyuchi
Avocado Organic Linen Sheets
Material: Linen
Price: $409/ Queen
These linen sheets from Avocado live up to the company's strict environmental standards. Loomed in France, they're GOTS certified organic and carry the Made Safe seal that designates products free from any chemicals that could harm human or ecosystem health. They also feature a special pre-wash that aims to make them extra comfortable and shrink-resistant.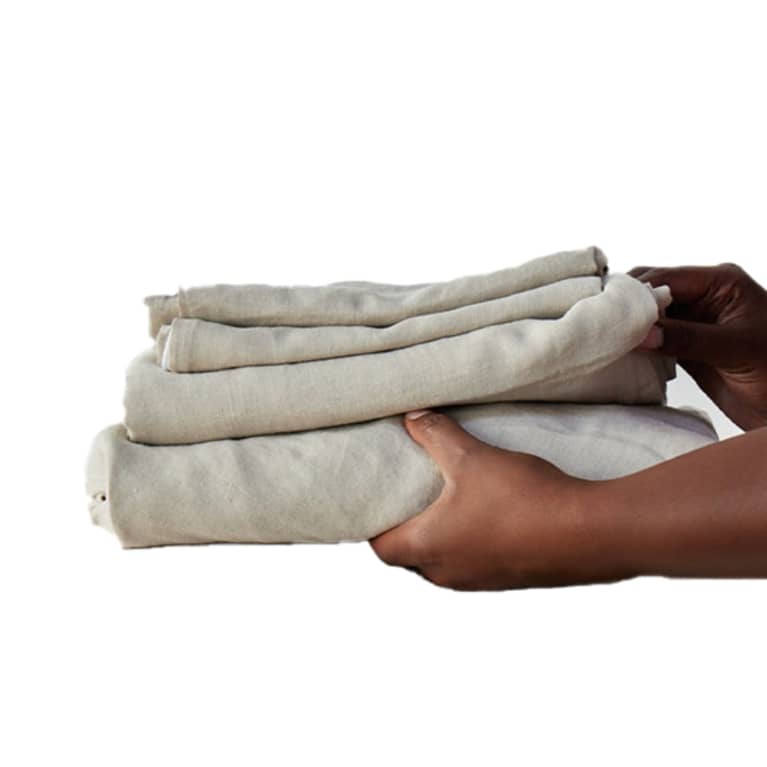 Avocado
Boll & Branch Percale Hemmed Sheet Set
Material: Percale
Price: $238/ Queen
These sheets from Boll & Branch get their smooth, cooling factor from organic percale cotton woven in ethical, Fair Trade Certified factories. With hundreds of five-star reviews to their name, nightly users report that they're perfect for the hot summer months.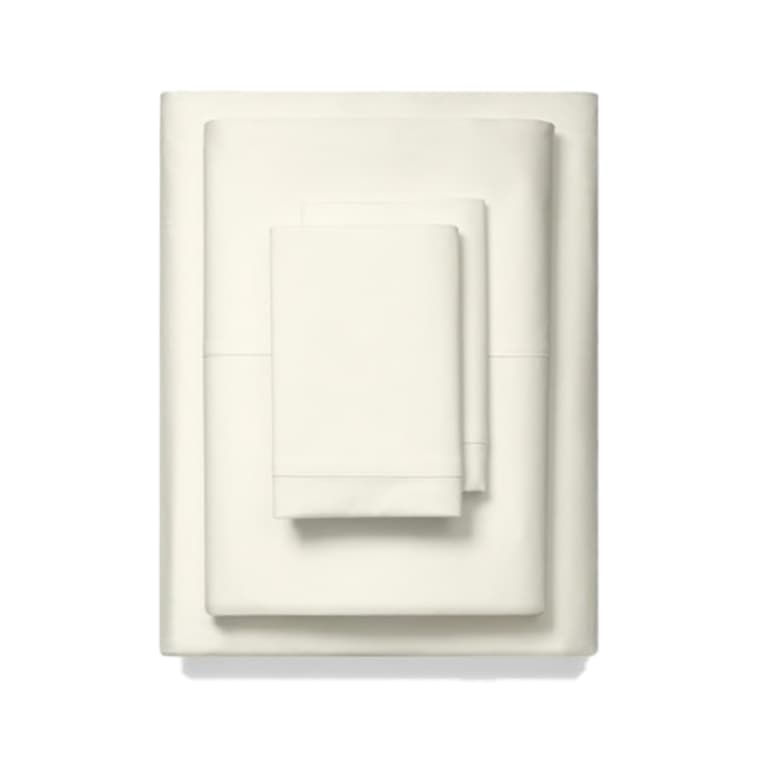 Boll & Branch
Under The Canopy Organic Percale Sheet Set
Material: Percale
Price: $118/ Queen
Beyond being GOTS certified organic, these percale sheets from Under the Canopy earned the Oeko-Tex Made in Green certification, meaning they have been tested for harmful substances and were made in worker-safe, environmentally-friendly facilities. All this to say, you can sleep easy in 'em.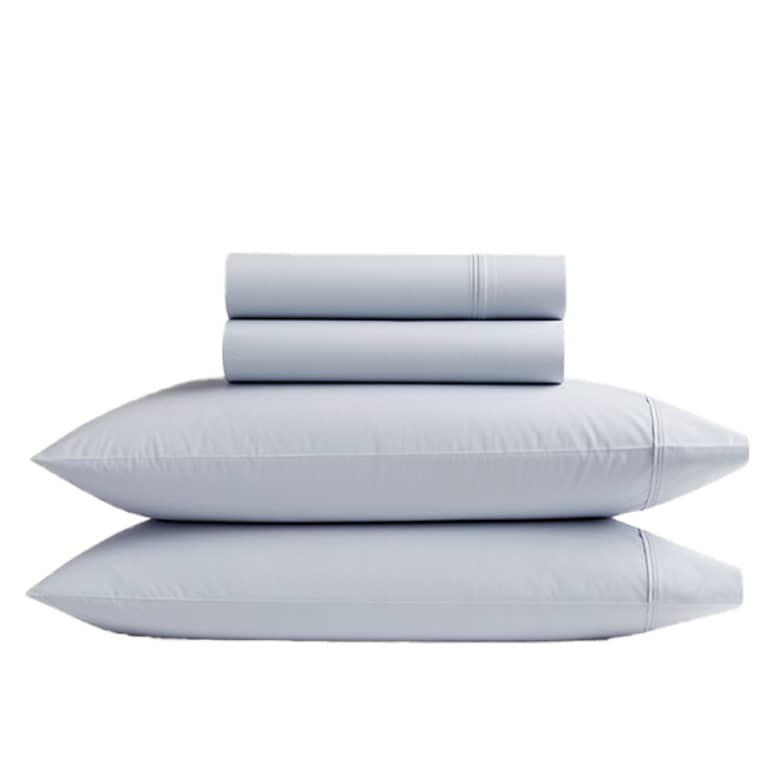 Under The Canopy
Brooklinen Classic Core Sheet Set
Material: Percale
Price: $134/ Queen
GOTS and Oeko-Tex certified, these Brooklinen cotton sheets are as sustainable as they are snuggly. They're also one of the most affordable sets on the list, to, as Brooklinen puts it, "give you that hotel-sheet feel without the price tag." Hop on them quickly to snag the last of their fun, limited edition colorways. (Banana stripe, anyone?)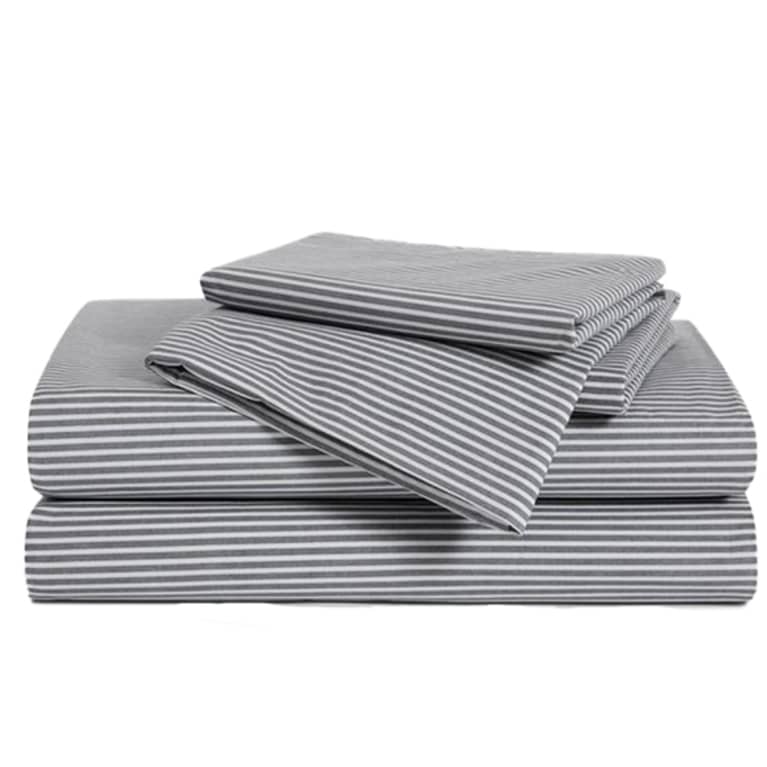 Brooklinen
Casper Hyperlite™ Sheets
Material: Tencel
Price: $139/ Queen
Mattress company Casper is now getting in on the sheet game, and this set is their coolest to date. Made from 100% Tencel, they're super breathable for hot sleepers. A standard set comes with a fitted sheet, flat sheet, and 2 pillowcases, but you can bump it up with a duvet cover, too.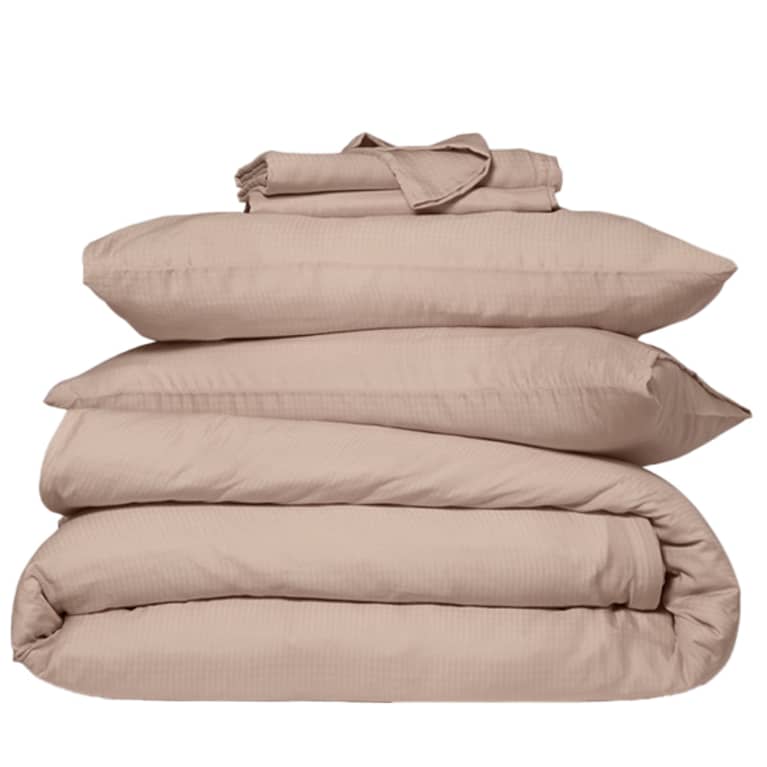 Casper
Buffy Eucalyptus Sheets
Material: Tencel
Price: $199/ Queen
Buffy's cooling Tencel sheets are made exclusively from eucalyptus responsibly harvested in the Czech Republic. The real selling point is their colors: Light blushes and pale blues that get their hues from plant-based natural dyes.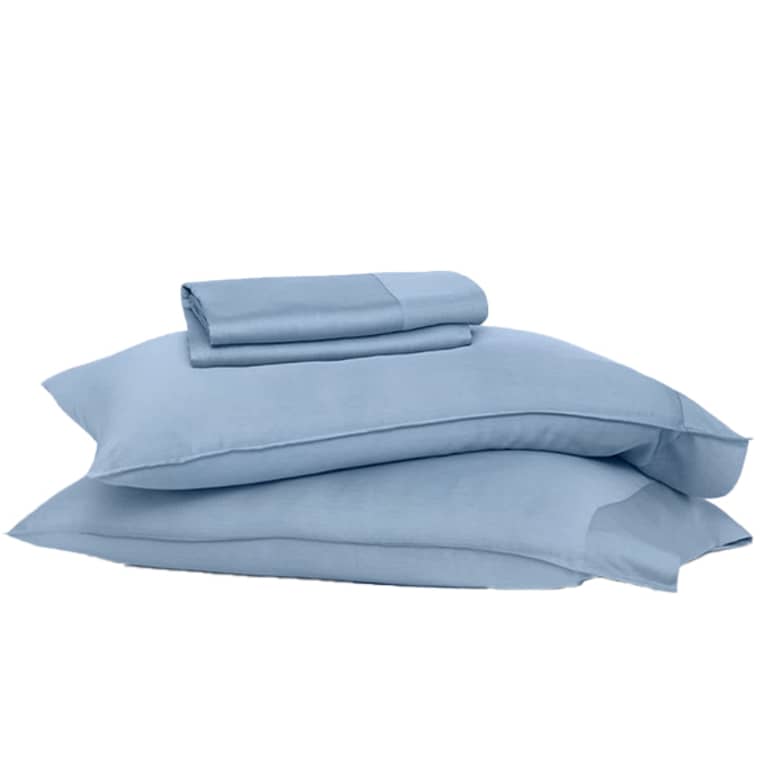 Buffy
Sijo Eucalyptus Sheet Set
Material: Tencel
Price: $165/ Queen
Another company that champions eucalyptus fibers, Sijo churns out cooling sheets that are Oeko-Tex certified. These sheets also come with a 30-night trial period, so you can try them out and return them if you're not sold.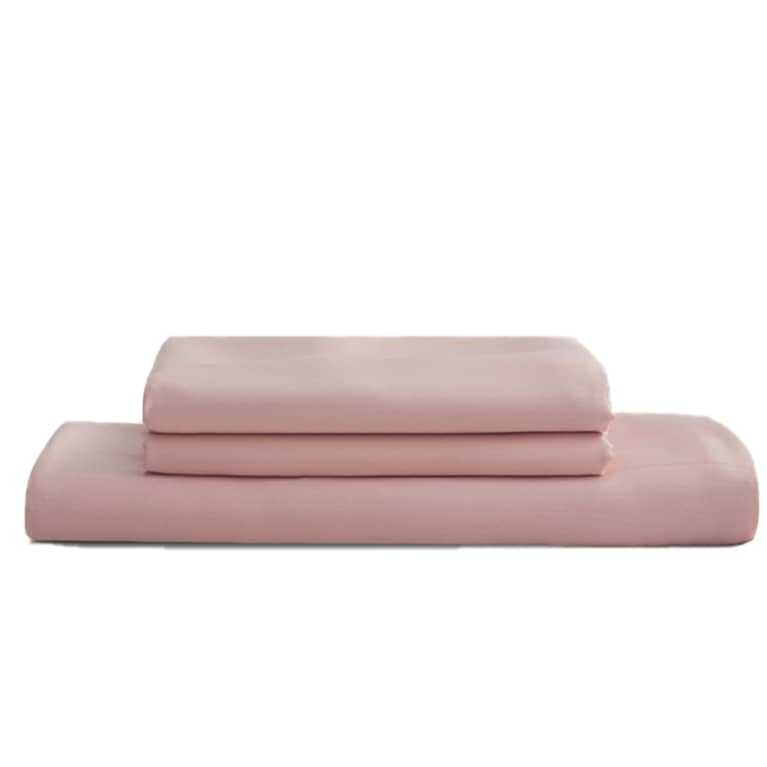 Sijo
Eucalypso Home Eucalyptus Classic Sheet Set
Material: Tencel
Price: $169/ Queen
The final Tencel sheet to make the list, Eucalypso's signature set is treated using a proprietary method that they claim makes their fabrics even silkier and cooler to the touch. After 500+ 5-star reviews, the sleepers have spoken: these are some cozy sheets.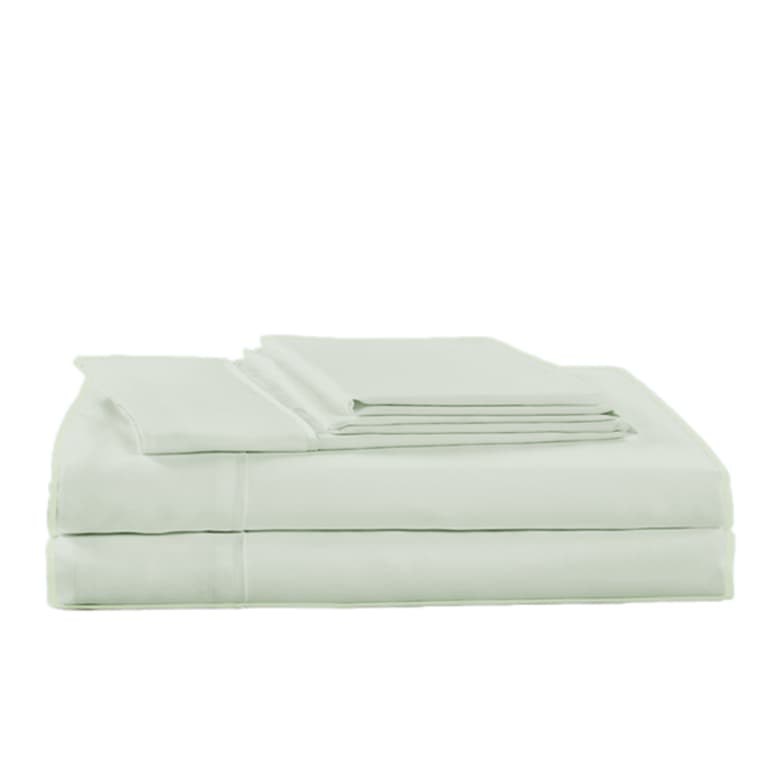 Eucalypso Home
If you tend to run warm when you sleep, you'll want to look for sheets that are made from breathable materials like Tencel tree fiber, percale or Supima cotton, or linen. Drape them over your non-toxic mattress, grab your silk eye mask, and prepare for the cooling sleep of your dreams.