Why You Need To Think About The Dye In Your Clothes + 5 Brands Doing It Right

mbg Sustainability + Health Director
By Emma Loewe
mbg Sustainability + Health Director
Emma Loewe is the Senior Sustainability Editor at mindbodygreen and the author of "Return to Nature: The New Science of How Natural Landscapes Restore Us."
March 29, 2019
The fashion industry is in the midst of a makeover, with more designers finally cleaning up their (often lengthy) supply chains. For some, this means making textiles using natural crops like hemp as opposed to petroleum-based ones like polyester, while others are skipping over raw materials altogether and reusing old fabric to make new pieces.
And the innovation doesn't end there. As more consumers start to realize how resource-intensive it can be to color garments, the dying industry is undergoing a cleanup of its own.
Advertisement
This ad is displayed using third party content and we do not control its accessibility features.
What's the harm in traditional dyes?
Many of the clothes we wear today get their hue from synthetic dyes, which are often made using petroleum or coal. Beyond being taxing on the environment, some of these, such as azo dyes, are suspected carcinogens1.
mbg has been following the rise of plant dying as a more eco-friendly alternative since we first visited Fragmentario, a Brooklyn studio that uses natural and edible material like onion peels and avocado pits as coloring agents, in 2017. While less than 1 percent of clothes on the market are currently made using natural dyes, the practice is slowly starting to gain mass appeal. Large brands like Patagonia are experimenting with ways to incorporate it into its product line; there's now an entire festival devoted to the craft; and celebrities the likes of mbg Collective member Gisele Bündchen are rocking naturally dyed clothes on the press circuit.
"Environmental and personal health concerns are the main reasons people switch to natural dyes," Katherine Quigley, the founder of plant-dyed organic clothing company Sustain, speculates of the rise in interest. "Conventional clothing uses thousands of chemicals derived from petroleum and is responsible for 17 to 20 percent of global water pollution—a number that is just staggering to think about. And this doesn't even account for air and other types of pollution released in creating the 140 billion articles of clothing made every year."
Quigley also suspects that the health benefits of natural dyes are swaying public opinion. She herself was inspired to start Sustain after realizing that her wardrobe may have been responsible for her chronic skin rashes. Andrea Crouse, the maker behind another plant-dyed line called Gaia Conceptions, agrees, saying, "Folks are making the same connection around their clothing as they do their food. What you put on your body is just as important as what you put in it."
While natural dying typically requires a lot of plant material and is difficult to implement on a mass scale, a handful of small but mighty companies are championing the eco-friendly practice. Here are a few that will have you going green (or navy, or pink!):
1. Anthemia
Barrie Cohen, the farmer and herbalist behind this Brooklyn-based line, was drawn to natural dyes for many reasons. She colors her clothing with plants because, yes, they tend to be healthier and better for the planet but also because she suspects they carry healing properties of their own. "For example, roses can calm the nerves as well as encourage love. By wearing clothes that are dyed with rose petals, you are wearing that energy and bringing it with you throughout your day," Cohen says. To make her pieces, each one infused with its own intention, Cohen works primarily with vintage fabrics to reduce her footprint and uses food scraps like avocado pits and onion skins as coloring agents when she can.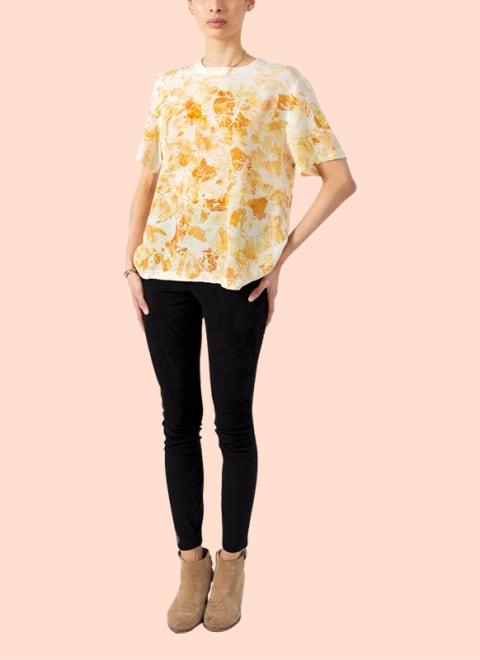 Anthemia
Advertisement
This ad is displayed using third party content and we do not control its accessibility features.
2. Gaia Conceptions
Crouse of Gaia Conceptions also opts for natural dyes because of their energetic properties. "Many plants used for natural dyes have medicinal properties such as indigo's calming effect on the nervous system," she says. Crouse uses blends of organic cotton and hemp, dyed with interesting materials like indigo, sandalwood, and pomegranate, in her pieces that are handmade in North Carolina.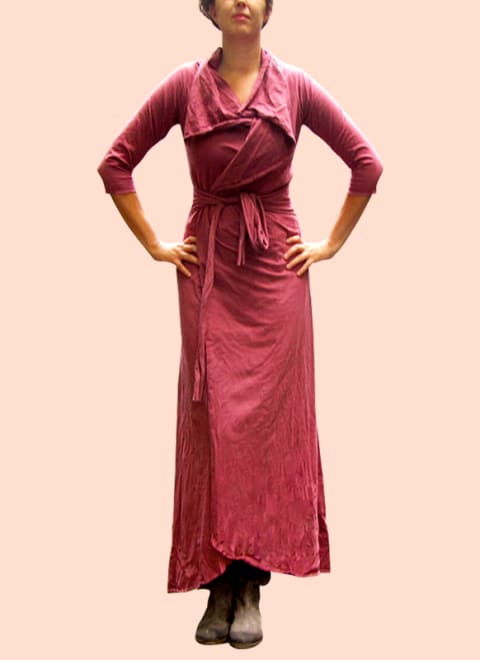 Gaia Conceptions
3. Olderbrother
Gisele's aforementioned natural dye brand of choice, Olderbrother, makes chic, gender-neutral clothing for the modern-day plant lover. Founders Bobby Bonaparte and Max Kinger sell limited-edition lines based on the material they have to work with that season to create the same kind of buzz around their clothes that you'd find around the first ripe farmer's market tomatoes of the year. Right now, they're using indigo and saffron, but they've also done color stories using chaga mushrooms and coffee—all shared in their signature whimsy, tongue-in-cheek marketing campaigns.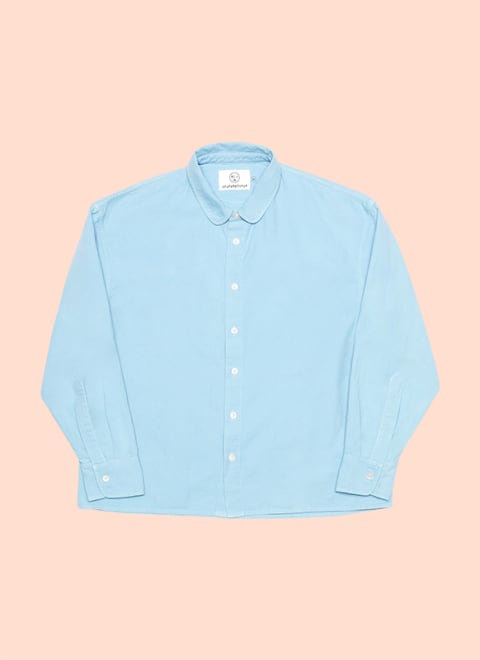 Olderbrother
4. Sustain
You can't necessarily tell that Sustain's simple basics are colored using plants just by looking at them. Quigley is able to extract rich, dark hues out of her materials of choice—pomegranate peels, rhubarb, and oak galls, among others. Most of her clothes are made in the United States, with the exception of her Ayurvedic-inspired collection from makers in India.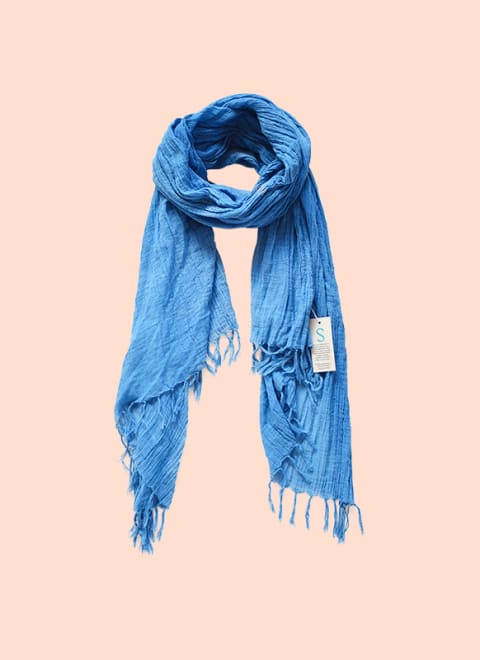 Sustain
Advertisement
This ad is displayed using third party content and we do not control its accessibility features.
5. tentree
tentree is using all sorts of innovative, eco-friendly practices to make its outdoor gear: The brand is using sustainable materials like hemp, creating clothes out of recycled plastic bottles, and championing philanthropic causes (for every item sold, they plant 10 trees). It's natural dye collection is just another step in tentree's mission to become "the most environmentally progressive brand on the planet" and features tees dyed using beets, chebula, and cutch.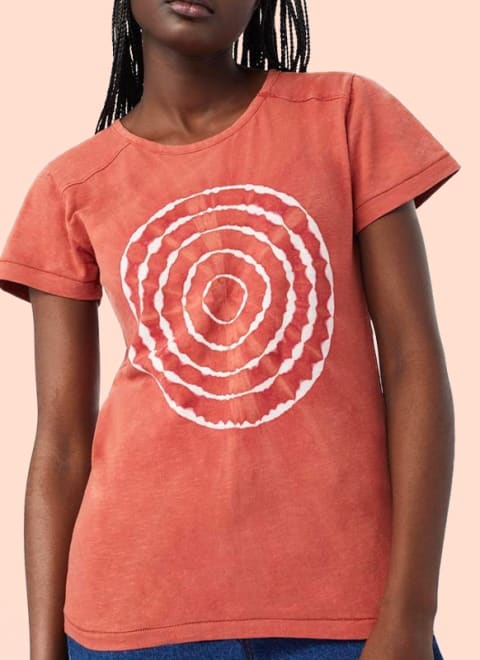 Tentree
Advertisement
This ad is displayed using third party content and we do not control its accessibility features.