Seasoned Gardeners Share The 7 Best Seed Starter Kits + How To Use Them

mbg Senior Sustainability Editor
By Emma Loewe
mbg Senior Sustainability Editor
Emma Loewe is the Senior Sustainability Editor at mindbodygreen and the author of "Return to Nature: The New Science of How Natural Landscapes Restore Us."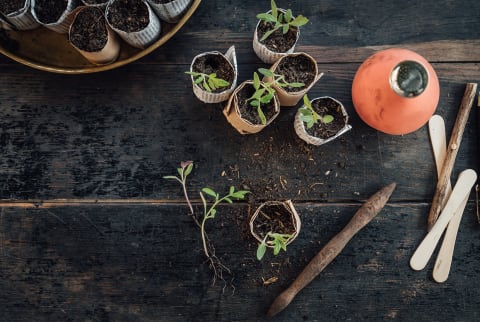 Image by Ina Peters / Stocksy
Our editors have independently chosen the products listed on this page. If you purchase something mentioned in this article, we may
earn a small commission
.
July 29, 2021
The idea of getting a head start on gardening every year is pretty appealing—especially for those who live in colder climates. But anyone who's tried starting seeds indoors knows it can be quite an undertaking. Here, gardening experts share their favorite seed starter kits that make the process quick, painless, and rewarding.
Advertisement
This ad is displayed using third party content and we do not control its accessibility features.
Seed germination.
Seed starter kits give you a leg up on the growing season. In late winter and early spring, when the conditions outside are still unpredictable, you can use them to start sprouting your vegetables, fruits, herbs, or flower seeds in a steadier indoor environment.
The process by which a seed sprouts into a little baby plant is called germination. In order to break through its seed coat and successfully germinate, a plant needs plenty of light, oxygen, moisture, and heat—and that's exactly what these kits are designed to deliver.
While you can go the au naturel route and grow seeds outdoors from the start, indoor kits give you more control over the germination process and make it so that you don't have to worry about pests, extreme temperatures, or storms ruining your harvest before it's even gotten started. Ultimately, they increase the likelihood that your seeds will grow to become full-grown plants one day.
Advertisement
This ad is displayed using third party content and we do not control its accessibility features.
What to consider when choosing a kit.
Most seed starter kits contain a tray for collecting water, a tray or cell system for holding seeds, and a clear cover for trapping heat and moisture but letting in light. It's a simple design, but there are many ways to riff on it. When deciding on your ideal kit from all the options out there, consider the following criteria:
Your experience level: The first decision you'll have to make is whether or not you want to use a kit that comes with a growing medium; usually, peat pellets that expand when you water them. Kits that come with these pellets tend to be better for beginners: They're more straightforward to use and less messy to set up. If you go with a soil-free kit, you'll have to buy your own seed starting mix or whip one up from scratch.
Your home's size and conditions: As mentioned earlier, most seeds need plenty of heat and moisture to get started. If your home is really chilly or dark, you might want to go with a kit that has a built-in grow light and/or heating pad. Seed kits also come in many different sizes, so you'll want to make sure you get a size that will fit in your home. Placing your kit next to a sunny window is best, but you can pop yours near a heat source like a fireplace, too.
Your plants: Consider what you like to grow before choosing a kit: Deep-rooted plants will need more space to get started and should be placed in a kit that is specifically designed for leggier seedlings.
Your budget: Some reusable kits can cost a pretty penny, so you'll want to consider how much you're willing to shell out for yours. For those looking to save, DIYing your own seed starter out of egg cartons, plastic containers, or cardboard boxes is also an option.
Advertisement
This ad is displayed using third party content and we do not control its accessibility features.
Our picks.
When we asked avid gardeners about the kits they rely on year after year, these were the ones that were mentioned most:
Advertisement
This ad is displayed using third party content and we do not control its accessibility features.
Best for beginners: Super Sprouter Deluxe Propagation Kit
This kit by Super Sprouter takes all the guesswork out of starting seeds. Allison Vallin Kostovick, the organic gardener behind Finch & Folly farm, appreciates that it comes with a built-in heating mat to keep seeds' early days nice and warm. Its fluorescent grow light ensures sunny conditions, and its adjustable vents make it easy to control humidity. This kit also comes with a booklet on successful seed starting, making it a true beginner's dream. The only thing that's missing is soil: You'll have to provide your own if you go with this model.
Super Sprouter Deluxe Propagation Kit ($46.50)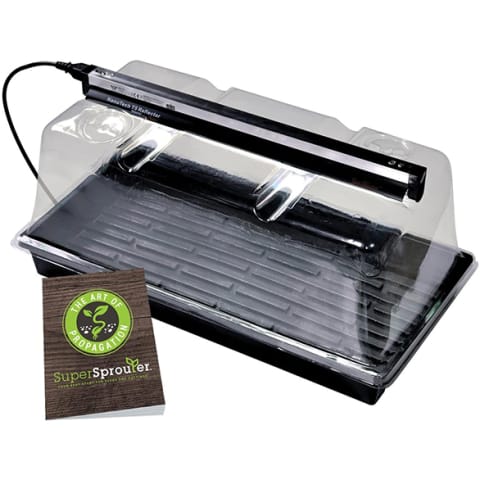 Super Sprouter
Best budget: Window Garden Seed Starting Kit
For people who have smaller spaces or want to keep their seeds out of the way, Kostovick recommends this kit that's designed to fit on a wide sill. Once its soil starter has nurtured your seedlings to life, it's easy to just pop them out and transfer them to the garden mess-free. This kit doesn't come with a heat mat, but since it's designed for a window, it should give your seeds plenty of heat and light. At $18.99 for three containers that can be reused, this kit is also one of your more affordable options. It probably isn't strong enough to last forever, but most reviewers have managed to get a few seasons out of it.
Window Garden Seed Starting Kit ($18.99)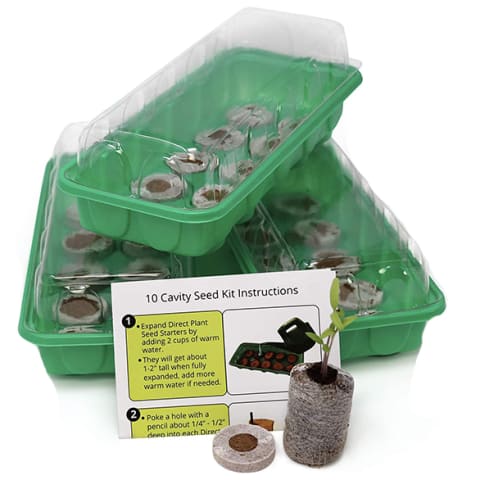 Amazon
Best budget: Jiffy 72 Peat Pellet Pro Seed Starting Greenhouse
Sometimes, the simpler the better: Multiple green thumbs agreed that this bare-bones kit does the job of nursing seeds to life very well.
Simply water the peat discs, pop on the cover, keep your seeds damp, and with any luck, you'll have up to 72 germinated plants on your hands by spring. "The pots provide the plants ample room to establish strong root systems," Ashlie Thomas, a North Carolina–based organic grower, raves of this affordable system.
"When it comes time to plant, you will need to cut the bottom of the mesh that holds the growing medium together to provide more root development space," adds Kevin Espiritu, the founder of Epic Gardening, "but they're very effective."
Jiffy 72 Peat Pellet Pro Seed Starting Greenhouse ($8.49)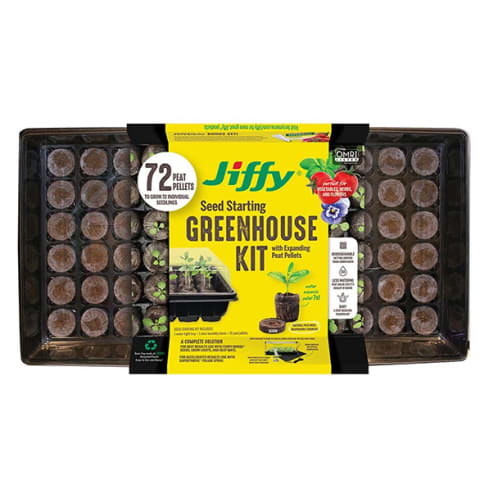 Jiffy
Advertisement
This ad is displayed using third party content and we do not control its accessibility features.
Best biodegradable: Jiffy Strips
While most seed starter kits use plastic trays, you can also find biodegradable ones, like these Jiffy packs made from peat moss and wood pulp. Kostovick says that beyond being more eco-friendly, biodegradable cells are great for seedlings that don't like to be transplanted, like pumpkins and cucumbers. Since you can just stick these cells directly in your garden once the seedlings are ready, there's less chance of shocking or damaging the plant's roots. Jasmine Jefferson, the founder of Black Girls With Gardens, adds that they also "allow the plant roots to get an ample amount of air and create healthy root systems," compared to plastic pots that can restrict roots.
This kit comes with soil, but you'll need to provide a water tray and cover yourself. (A clear plastic bag would work well!)
Jiffy-Strips 10, Biodegradable Seed Starting Peat Strips ($24.99)
Jiffy
Best for starting lots of seeds: Bootstrap Farmer 50 Cell Seed Starter Kit
When Angela S. Judd, master gardener and author of How To Grow Your Own Food, wants to start a large number of seeds indoors, she opts for the 50-cell kit from Bootstrap Farmer. "Most seed starting kits available in big box stores or online are flimsy and only last a season or two. The Bootstrap Farmer kits are well made and durable," she says. While their trays are on the pricier side and don't come with starter soil, Judd appreciates that they are available in different sizes that are suitable for any plant on her roster.
Bootstrap Farmer 50 Cell Seed Starter Kit ($46.99)
Bootstrap Farmer
Best for vegetables: Rootrainer
For starting the seeds of plants that really like to stretch their roots, like corn and sweet peas, Kostovick suggests root trainers like this one from Haxnicks. Its cells are grooved to promote downward root growth and hinged to make it easy to remove seedlings when the time comes. The kit comes with a holding frame and cover but no soil or water tray. And while its plastic is technically reusable, most reviewers have only been able to get a season or two out of this option.
Haxnicks Rootrainer™, Deep ($24.95)
Rootrainer
Best to reuse: Modern Grower Epic 6-Cell Seed Starting Trays
Finally, if you're looking for a seed starter to last a lifetime, these trays from Modern Grower are a worthy investment. Made from recycled, UV-treated plastic, they're sturdy yet flexible and designed to be easily stacked and tucked away when not in use.
Modern Grower Epic 6-Cell Seed Starting Trays ($59.99)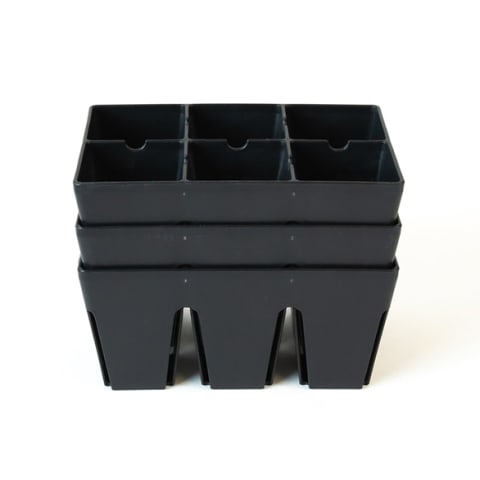 Epic
Pro tips for seed starting.
Once you've got your seed starting kit sorted, these pro tips can help you use it more effectively:
Read your seed packet: Jefferson says it's essential not to skip this initial step since the seed's instructions will tell you "how many seeds to plant, how far apart to plant each seed, how deep, and when to plant your seeds," she tells mbg. "There is typically a plethora of information on your seed packet that will help you avoid tons of seed starting mistakes."
Label everything: This is another simple step that really shouldn't be skipped: "Not completing this task can cause a lot of issues, for obvious reasons," says Jefferson. "I like to use wooden Popsicle sticks to mark my seedlings."
Don't overwater: Once they're in soil, you'll want to water your seeds consistently to promote growth but also be careful not to overwater. "This will help you avoid the occurrence of diseases, root damage, and stunted growth," says Thomas. Master gardener and author of Gardening Hacks Jon VanZile adds that those who are using peat soil should use an extra-light touch, as this material can hold a lot of water. He recommends always watering from the bottom instead of the top to further avoid overwatering.
Use nutrient-rich potting soil: Starting your plants in the right soil is key: If your kit doesn't come with pellets, use an organic seed starting mix. Once you start to see small leaves, Thomas says you'll also want to give your seedlings a low dose of balanced fertilizer (equal amounts of nitrogen, phosphorus, and potassium).
Adjust for temperature and humidity: Once you see that first bit of sprouting, Kostovick says you'll also want to remove or adjust your kit's cover to reduce the humidity. "Also, just as some seeds need warmth to germinate, others need cold before they'll sprout," she adds, giving poppies, oregano, catmint leeks, and many wildflowers as examples. "It's best to not use a heating mat when starting those specific seeds."
The bottom line.