How To Find Silk Sheets That Are Worth The Money + 6 Great Options

mbg Sustainability + Health Director
By Emma Loewe
mbg Sustainability + Health Director
Emma Loewe is the Senior Sustainability Editor at mindbodygreen and the author of "Return to Nature: The New Science of How Natural Landscapes Restore Us."
January 11, 2023
We carefully vet all products and services featured on mindbodygreen using our
commerce guidelines.
Our selections are never influenced by the commissions earned from our links.
Yep, sleeping on a bed of silk is just as appealing as it sounds. Silk makes for a luxurious fabric that's cool, breathable, gentle on skin and hair, and baby-soft to the touch.
These perks come at a price, though, and silk tends to be one of the most expensive bedding options. Read on for the top six silk sheets that will give you the most bang for your buck.
The benefits of silk sheets + how to shop for them.
Humans have been domesticating silkworms (baby Bombyx mori moths) for their silk for thousands of years.
When they reach the larva, or caterpillar, stage, these worms feed almost exclusively on the leaves from mulberry trees. Once full, the silkworms construct impossibly intricate cocoons out of the fine silk threads of their saliva.
Those threads are what we eventually turn into silk: Producers will place these cocoons out in the sun to kill off the larvae (silk isn't vegan!) and then begin the process of spinning their fibers into yarn.
The process to turn their silk into usable yarn is also time- and energy-intensive, further ratcheting up the price.
Mulberry silk, which is made using this traditional process, is considered the highest quality silk you can buy because of its uniform color and soft feel. If you want the real deal, and are willing to pay for it, look for 100% mulberry silk.
Silk's weight and density are measured in momme (a Japanese unit of weight equal to 3.75 grams). The higher your mulberry silk's momme (mm), the thicker and more durable—and likely, more expensive—it is. Silk usually falls between 15 to 30 momme, with 19 mm being the average starting point.
If you're on a budget but still want the lush feel of silk, go for a lighter-weight option. You can also opt for a silk mix or satin instead.
Satin is a weaving technique that leads to a smooth and glossy fabric that feels similar to silk but can be made from synthetic materials like polyester and rayon.
Those who are concerned with the environmental impact of their silk sheets should look for ones that were made in an energy-efficient factory (remember, they take a lot of water, power, and resources to make) and/or dyed using natural materials instead of environmentally damaging synthetic colors.
Here are the best silk sheet options on the market these days, depending on whether you're looking to save, splurge, or protect the planet.
Best mulberry silk sheets:
Mulberry Park Silks 22 Momme Silk Sheet Sets
This set includes one flat sheet, one fitted sheet, and two double-sided pillowcases—all made from 22 momme 100% mulberry silk. It's also OEKO-TEX certified to be free of chemicals and dyed (in seven color options) with environmentally friendly dyes.
Mulberry Park Silks 22 Momme Silk Sheet Sets ($473 for Full, $604 for Queen, $656 for King)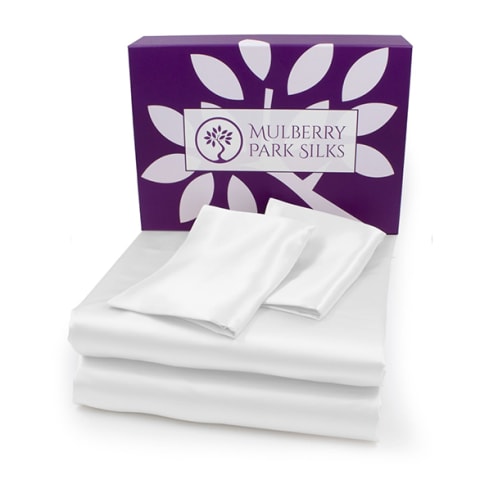 Mulberry Park Silks
Mommesilk 22 Momme 3PCS Fitted Sheet Set
Like Mulberry Park's option, Mommesilk's is 22 momme and made from 100% mulberry silk. This set contains a fitted sheet and two pillowcases but no top sheet, making it slightly more affordable. It is also OEKO-TEX certified.
Mommesilk 22 Momme 3PCS Fitted Sheet Set ($4099 for Full, $499 for Queen, $539 for King)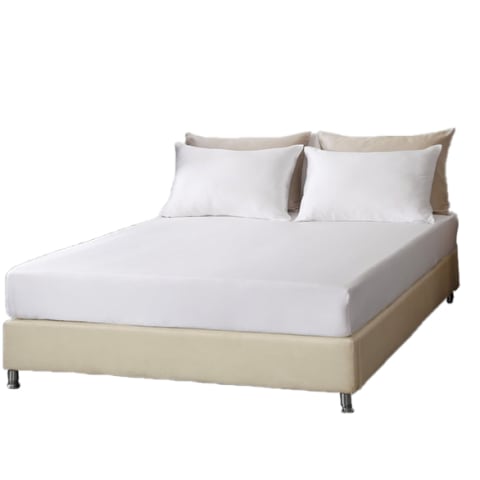 Mommesilk
Best affordable silk sheets:
Lilysilk 19MM 3PCS Fitted Sheet Set
Though its weave is slightly less thick at 19 mm, this more affordable set is designed without seams to be more resistant to wear and tear. Lilysilk's set comes with one fitted sheet and two pillowcases and is OEKO-TEX certified.
Lilysilk 19MM 3PCS Fitted Sheet Set ($219 for Full, $249 for Queen, $305 for King)
Lilysilk
Elle Silk Fitted Sheet
For those who aren't ready to splurge on a full silk set, Elle Silk's fitted sheet can give you a taste of what the material's like to sleep on. This 22 mm mulberry silk sheet comes in dozens of colors and U.S., E.U., and Australian sizes, so you can easily find one to match your bedroom.
Elle Silk Fitted Sheet ($279 for Full, $349 for Queen, $379 for King)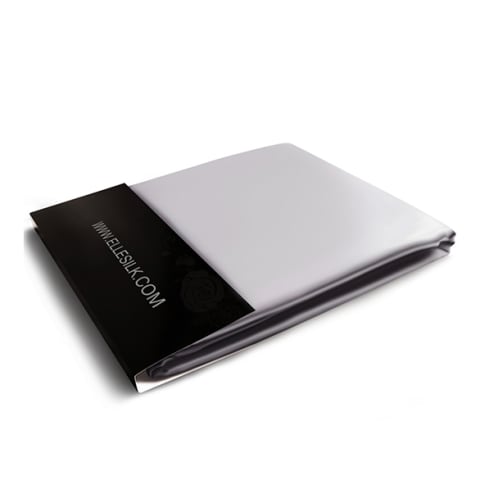 Elle Silk
Brave Era 100% Silk Travel Sheet
Designed for more comfortable travel, Brave Era's one-size mulberry silk travel sheet folds into a small pouch that's about the size and weight of a cellphone. It's shaped like a (very luxe) sleeping bag so you can slide right in without having to worry about whether your hotel's bedsheets are actually clean.
Brave Era 100% Silk Travel Sheet ($94.99)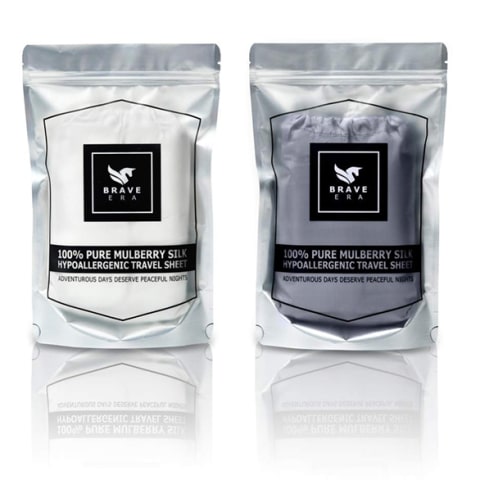 Brave Era
Best sustainable silk sheets:
Lucia LaFerme Botanical Silk Sheet Sets
Lucia LaFerme is a California-based natural dye house that creates one-of-a-kind colors using sustainable plant materials like poppy, rose, indigo, and yarrow. So while their silk sheets are pricey, you're essentially paying for a work of art that's hand-dyed to order. If you're not ready to splurge, head on over to peep their silk eye masks.
Lucia LaFerme Botanical Silk Sheets (Inquire for pricing, starts at $400)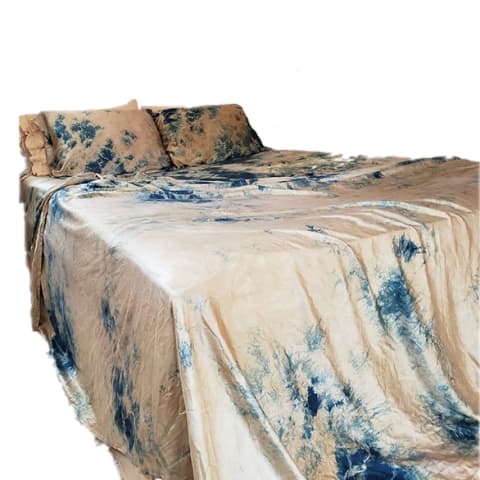 Lucia LaFerme
How to clean silk sheets:
While they require some upfront investment, with proper care, silk sheets should last you well over a decade.
Since silk is moisture-wicking, you can get away with washing them slightly less frequently than cotton sheets, but you should still tend to them every two weeks or so to prevent stains.
Most silk can be machine washed on a cold, gentle cycle and hung out to air dry, but always check with the manufacturer to be sure.
Washing your silk sheets by themselves will help them stay in good shape for longer. If you do need to throw other laundry items in with them, towels and T-shirts are typically less abrasive than things like denim.
The bottom line.
Silk sheets are pricey, but you get what you pay for. Invest in a mulberry silk sheet set that is at least 19 mm, and you'll have some durable, beautiful, super-soft bedding on your hands and under your head.