The Complete Guide To Online Meditation Resources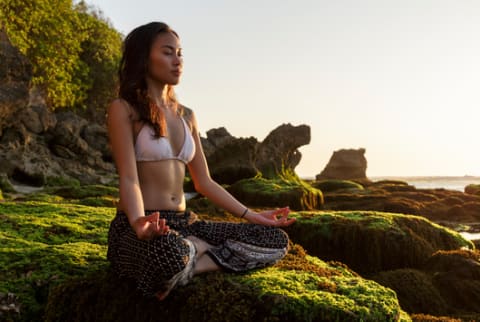 July 25, 2017
I've been studying and practicing meditation and mindfulness for 10 years. I've taken courses, read articles, and practiced for countless hours. Over these years, I've discovered there are a lot of sources for meditation guidance out there, but some are better than others. Having done the legwork, I can share with you my favorite apps, videos, blogs, online courses, and free resources to help you start or deepen your practice.
Western thought-leaders.
One of the best teachers out there for approachable secular meditation and mindfulness is Elisha Goldstein. He writes and teaches in such a way that anyone who wants to understand these practices can get started right from where they are. His six-month online Course in Mindful Living offers accountability pods and monthly zoom sessions with a mentor. His Center for Mindful Living also has a live online weekly meditation on its Facebook page. If you're looking for daily inspiration, sign up for his Now Moments newsletter.
Meditation for children.
If you're looking for ways to help your children get into mindfulness, I'd recommend a few potential resources. Dr. Charlotte Reznick has spent her career helping children and teens heal through the power of imagination. Mindful Schools is the leader in teaching educators how to implement mindfulness practices in schools. They also have a Fundamentals Course, perfect for anyone trying to get a practice started or wanting to bring these practices into their home. Inward Bound Mindfulness Education offers great retreats for teens.
Informational online meditation content.
Mindful.org is an amazing resource for all things meditation and mindfulness. It can be read in digital or print form. It focuses on making these practices accessible with content on mindful living, mindfulness in the workplace, and practices for both beginners and advanced meditators. It offers inspiration by featuring stories of meditators from every walk of life.
Sounds True has published more than 500 titles on everything from the spiritual journey and meditation to psychology, creativity, health and healing, self-discovery, and relationships. These programs, ranging between one and five hours in length, can be purchased in audio format, CD, or book form.
Mrs. Mindfulness has a wisdom-rich website packed with simple teachings and tips for anyone and everyone interested in meditation. One highlight of her work is the monthlong mindfulness summit, featuring 31 leading teachers and a neuroscientist. You can participate in many elements of the summit for free.
Western Insight Meditation (Vipassana).
If you're interested in Western Insight Meditation (or Vipassana), the type of meditation taught by Gotama the Buddha, Dharma Seed offers access to over 20,000 talks—for free. Dharma Seed's origins can be traced back to 1983, when founder Bill Hamilton started making recordings of meditation hall teachings on cassette tapes. The talks and meditations come from centers like the Insight Meditation Society (IMS), Spirit Rock Meditation Center, Gaia House, and New York Insight. You might find a talk from last night or from 30 years ago.
The science of meditation.
For those of you looking to link practice and science, Berkeley's The Greater Good is your site. This site aggregates scholarly articles, videos, quizzes, podcasts, and more to help bridge the gap between science and practice.
Meditation apps.
We can't forget to dig into meditation apps. If you're looking for a free app, Insight Timer has many different types of meditations to choose from. PausAble app is an interactive meditation app designed to bring you straight into the moment. Headspace is a popular app for beginning meditators. And for folks looking for deeper content, Evenflow combines insights with specific subjects to target stress points in real time for when you need help most. Its goal is to help you take your mindfulness tools off the cushion and into daily life.
These practices are simple but not easy. With these resources, you will be on your way to weaving the practices into your everyday life. My advice: Consistency, support, and always remembering to breathe are the keys to a fulfilling meditation practice.

Ashley Graber
Ashley is a curriculum co-director and teacher at Evenflow. Ashley is a licensed psychotherapist and certified mindfulness and meditation teacher with a private practice at Yale Street Therapy in Santa Monica, California. Ashley also co-runs the families mindfulness program at the Center for Mindful Living. She works with young children, teens, adults, and families as a psychotherapist and meditation and mindfulness teacher.