The Shortcut To True Intimacy You'll Want To Try Immediately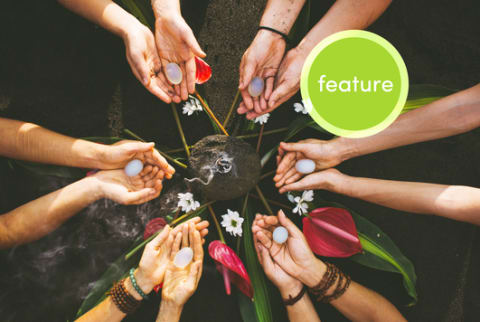 July 13, 2016
In a dimly lit room behind a busy restaurant in Berkeley, California, eight women sit cross-legged on pillows. Outside we can hear the restaurant chatter and traffic, but as soon as the door closes, it's quiet—like we're in another world. The leader has a purple crystal draped around her neck and gives me a long hug when I arrive. "Welcome, Blaire," she says. A few minutes later, a woman across from me in a snug green top and yoga pants is choking back tears. She recently lost a close friend and needs to heal, she says, wiping her damp eyes. The group, mostly thirtysomethings, collectively takes a deep breath. "And so it is," we chant.
This is my first women's circle, loosely defined as a small gathering of women who are looking to connect with each other in a deeper way. Our first exercise tonight is to introduce ourselves and explain why we came. The woman next to me says she's going through a divorce. Another recently had a number of friends move away and wants companionship. As we move around the circle and my turn approaches, I panic, not sure how to answer. Why am I here?
Then I realized that, since leaving my childhood home at the age of 18, I've lived in five different cities in four different states and had nine different apartments (plus that one time I lived in a camper). I've moved for jobs, for love, for adventure—and I'm not alone. This nomadic way of life is common among my friends in their late 20s and early 30s. One friend has lived in 12 cities since high school. The constant change and U-Haul rentals make for an exciting life, but at the same time, we're realizing how difficult it is to maintain close friend groups whom we see on a regular basis. Most of my best friends and family live elsewhere. Each time I move, it takes at least a year to build any semblance of a friend circle, and they're often more acquaintances than people I can turn to with my deepest feelings and secrets. I wasn't sure how to convey that to the group, so when it was my turn, I mumbled a variation on what most of the women had said: "I came here for connection."
Women's circles offer spaces custom-designed for just that. So I suppose that's how I wound up standing in a circle with a group of strangers slapping our bodies. We slap our legs, our backs, our hips. "This is to help with fear," our teacher says as we slap our stomachs. "The kidneys are connected to fear." Afterward, we take a deep breath and repeat the chant: "And so it is."
Regardless of the type, these circles fill a need that even girlfriends can't.
I'm not the only one seeking a fast-track to emotional intimacy with strangers: Women's circles just might be the new girls' night out. Circles typically involve between five and 10 women, and one organization that leads women's circles, Holding Woman Space, defines a circle as "an intimate gathering where we learn new ways of speaking, listening, and relating to others." And though there's no official count, there's evidence they're growing. A search on Meetup produced hundreds in a variety of categories—women's support circles, sexual empowerment circles, circles for female "artivists." There are now some 28,000 Lean In circles in 141 countries, while chic holistic health practitioners such as L.A.'s Ashley Neese and SpaRitual founder Shel Pink are preaching the gospel of collective female self-reflection.
The one I attended was advertised on Facebook as a "transformation circle," with guided healing rituals and energy work exercises. We gathered on the Thursday closest to the full moon to be in sync with our natural menstruation cycles. "If we honor and listen to our own cycles, we can have more balanced and vibrant lives," our leader says. Many women's circles have a strong spiritual element, incorporating chanting, full moon worship, and meditation. Paula Mallis, a coveted doula and conscious birth coach, cohosts her circles at her home in Venice, California, with an astrologist. At one circle at the Maha Rose Center for Healing in Brooklyn's trendy Greenpoint neighborhood, leader La Vonne Natasha Caesar, a hatha yoga teacher and reiki healer, had women sculpt vulvas from clay. But plenty of circles are more secular—centered simply around talking and listening to other women. On the other end of the spectrum, some circles have more of a professional networking edge, like the Lean In circles, where women gather to discuss workplace gender issues and encourage each other to ask for raises and promotions.
A New Kind of Crew
Regardless of the type, these circles fill a need that even girlfriends can't, and it seems they're growing because, like me, many women are finding themselves without strong social support networks. Research shows that as a whole, our social connections are declining: Between 1985 and 2004, the number of Americans who said they had no one to confide in tripled, according to the landmark 2006 study "Social Isolation in America" from researchers at Duke University and the University of Arizona. And we're feeling more suspicious of mankind (and kind men) than ever: One survey shows the number of Americans who believe most people can be trusted dropped from 46 percent in 1972 to 30 percent in 2014. "We live in a very individualistic culture, where everyone is doing their own thing and is on their own schedule," says Emma Seppala, author of The Happiness Track and director of Stanford University's Center for Compassion and Altruism Research and Education.
And that's to say nothing of the screen you're currently communicating with. You've no doubt experienced the classic quandary, in which technology has made us simultaneously more connected and disconnected than ever before; 1,000 friends on Facebook doesn't necessarily translate to a shoulder to cry on during a rough patch. And the mere presence of a cellphone drags down the quality of face-to-face interactions, according to a study published in the journal Environment and Behavior. Plus, "between personal and work demands and our always-on culture, there are blurry boundaries between work and our personal lives—making us often feel more isolated from others," Seppala says. And that's a problem, because "a sense of social connection is one of our fundamental human needs."
"Your friends might know you a certain way, but as you grow, you change, and they might not see that or be comfortable with that. But in these circles, you show up as you."
This is where women's circles come in. Unlike book clubs or bowling leagues or even happy hours with your squad, they're a space designed specifically to foster intimacy. Many circles encourage participants to be themselves and open up about their deepest fears and insecurities. That candor is important, Seppala says: "Vulnerability leads to the social connection that we're looking for. It's the secret to intimacy." But these unguarded conversations don't often crop up at the water cooler or a cooking club; they're difficult to initiate when daily life is filled with small talk and polite conversation. ("How was your weekend?" "Well, I spent a lot of it crying about last year's breakup and beating myself up for still not being over it. Yours?") "In our society, there's a focus on the positive," Seppala says. "You're not supposed to complain, you're not supposed to cry. People feel like they need to put on a happy face and feel like they can't open up, yet it just makes them feel more isolated."
Pockets of Vulnerability
Silicon Valley entrepreneurs Monika Szamko, an MIT business school grad, and Rachel Abrams, M.D., an integrative physician, noticed the same sad trend. In 2014, they launched an organization called Woven to facilitate women's circles all over the country. The idea came to Szamko while she was coordinating all-female focus groups for her corporate consulting firm. "It didn't matter if I was talking to Type A corporate leaders or stay-at-home moms—whenever we would ask, what do you want more of in your life? They all said community," she recalls. "We realized there is such a level of disconnection going on in society right now. A lot of us find ourselves with not many friends, or we have people who we can't be ourselves with."
Nina Del Marr discovered Woven soon after it launched. She moved to San Francisco from Boston in 2007 and didn't know a soul. She'd since cultivated friends through a tango group she joined, but when she took a break from dancing, she lost touch with those women. Her other friends lived across the country. "I didn't have deep relationships with women in my life," she recalls.
Del Marr helped facilitate one of Woven's first circles in the Bay Area. A dozen strangers she'd recruited on Meetup gathered at a busy cafe on San Francisco's waterfront. They sat around pushed-together tables near rows of books while Del Marr asked questions like, "Who influenced you to become the woman you are today?" At first the women seemed shy, but as soon as Del Marr broke the ice, recounting her unstable childhood and the crippling anxiety she experienced as a result, the women relaxed and opened up about their lives as well. Without the usual window dressing of superficial catch-up and shoptalk—and liberated from others' expectations—the women quickly cut to the intimate stuff.
"We've heard from people that their circle saved their life."
"It's different from having a group of friends that gets together," Del Marr says. "Your friends might know you a certain way, but as you grow, you change, and they might not see that or be comfortable with that. A lot of times you're not able to fully be yourself because of these old ways. But in these circles, you show up as you." Del Marr now participates in three regular Woven circles.
Szamko has watched the circles transform women before her eyes. "There's a clear relationship to self-esteem," she says. "Once people feel heard, they feel a sense of belonging, and they feel more secure. We've heard from people that their circle saved their life."
Higher self-esteem is only one of the kajillions of benefits linked with stronger social bonds. The quality and quantity of people's friendships have been linked to mortality and health. "Just about every major chronic disease—heart attacks, metastatic cancer, Alzheimer's—all are influenced by social connectedness, even in healthy people," says UCLA's Steve Cole, who researches how social environments affect gene development. One study published by the Public Library of Science journal found that the strength of a person's social relationships is a stronger indicator of life span than obesity, alcohol intake, exercise, and air quality. Loneliness, in fact, is even more dangerous to a person's health than smoking.
At the circle in Berkeley, I'm paired with a curvy brunette for another bonding exercise. This time we're supposed to contort our partner's body into how we're feeling. My partner places my head into the fold of my arm, and outstretches my other arm in front of my body and my palm into a "stop" motion. I realize I'm in the position of an abuse victim, trying to block the next blow. I close my eyes and imagine her in such a scene; tears well up as I open my eyes and look over at her. She's crying as well, knowing I understood what she wanted to communicate. She explains that she recently left her abusive partner and finally feels strong enough to never return. I give her a hug and we laugh while wiping away tears about how heavy the circle has suddenly become. I realize it's one of the more intimate moments I've had with someone since moving to my new city—and it happened with a stranger I met only 20 minutes ago.
After the two-hour circle, we crack open the door and step back into the real world. It's like waking up from a dream: Oh, right, I'm in Berkeley surrounded by tons of people. Maybe there's something to the idea of sacred spaces devised to accelerate intimacy. I'll be back at the next one to find out.

Blaire Briody
Blaire Briody is an award-winning journalist who has written for The New York Times, Popular Science, Popular Mechanics, Fast Company, and Glamour, among others. She's currently working on a nonfiction book about the oil boom in North Dakota. The book was the 2016 finalist for the Lukas Work-in-Progress Award from Columbia Journalism School and Harvard's Nieman Foundation, and she received the Richard J. Margolis Award for emerging journalists in 2014. She graduated from the University of California, Davis with a degree in international relations, and resides in Sonoma County, California. You can follow her at on Twitter, Facebook, or at blairebriody.com.