The Simple Self-Care Tool That Will Help You Fully Embrace The Fall

mbg Sustainability + Health Director
By Emma Loewe
mbg Sustainability + Health Director
Emma Loewe is the Senior Sustainability Editor at mindbodygreen and the author of "Return to Nature: The New Science of How Natural Landscapes Restore Us."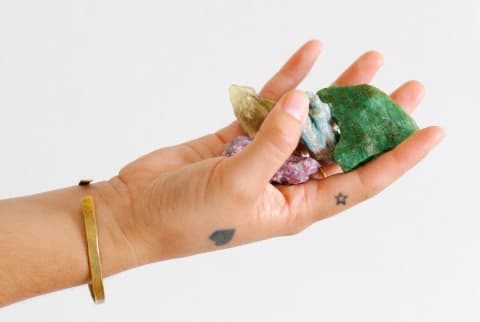 September 29, 2018
On the surface, fall is a time for cozy sweaters, pumpkin spice lattes, and frolicking in the foliage. But there's more to the season than that! When approached from a spiritual perspective, fall's crisp air and rich, fiery hues take on a whole new meaning.
Coming off summer, which is often filled with travel, social gatherings, and restless activity, fall feels more like an exhale. It's a transitional season whose coming signals a moment to turn inward in preparation for winter. More than anything, fall is a time of harvest: An opportunity to take stock of everything you've "planted" so far this year.
How to make an altar that sets the stage for self-care.
For those of us who don't live on a farm, crafting our own symbolic harvest is a great practice to kick off the new season. That's where altars come in. Personal, at-home altars don't need to resemble the large, ornate ones you'd find in religious spaces of worship. They can be as contained as a tabletop, the corner of a room, or, if you're like me and are really strapped for space, a windowsill. And they can display just about anything you want—photos of loved ones, your favorite crystals, a handwritten letter you cherish, or any meaningful trinkets you've collected over the years. There are no rules here; it's just about setting aside room to take a quiet moment with yourself every day.
Speaking from my own experience, reserving physical space for reflection and manifestation is a powerful thing. At the very least, it's a reminder to slow down every so often and check in with how you're really feeling. My altar usually houses some combination of rocks that offer a glimpse into nature (an easy thing to lose sight of when you live in the middle of a city), old photographs that remind me of the things in life that make me the happiest, and a journal and pen that cue me to put my reflections into words every once in a while.
It only takes up a small space in my tiny apartment, but it still feels special and sacred. Its contents are simple, but they're enough to help me drown out the surface worry and stressors that inevitably come up every day and guide me back to the things that are most important to me.
How to change up your altar for fall.
The beauty of an altar lies in its ability to grow and evolve with us. I like to think of it like a living vision board: a physical space that speaks to where I currently am in life and where I want to go. It's cathartic to revamp it from time to time, and the start of a new season is a good opportunity to do so.
In keeping with fall's themes of reflection and harvest, you can update your altar with visual reminders of all that you have brought to fruition since last fall—maybe a medal from that half marathon you ran, a piece of art that you created, or a book that you read that changed your life.
Altars are spaces to look ahead as well as behind, so I also like to use mine to help me adopt new habits. For example, I've set an intention to start a more consistent meditation and breathwork practice this fall (after all, according to traditional Chinese medicine, the season corresponds with the lungs). To remind myself to sit for practice every day, I wrote out a personal mantra that I use during meditation on a piece of paper and placed it in the middle of my altar.
The various holidays in fall offer some more moments to check in with your display too. "Around Day of the Dead, Samhain, Halloween, I always put pictures of my grandparents on the altar to honor them," says Alexandra Roxo, spiritual coach and co-founder of Moon Club.
Relics from nature can also help bring the space into the current season. Ashley Neese, breathwork guide and mbg Collective member, says that offerings from the natural world help her ground and connect to the earth. "In the fall I often place a small gourd or two on my altar as they are an ancient Taoist symbol of longevity as well as letting go," Neese tells mbg. Dried or fresh fruit can also serve as a symbol of the harvest we're all experiencing right now. So who else is ready to go out foraging?