Close Banner
Advertisement
This ad is displayed using third party content and we do not control its accessibility features.
Could Yoga Nidra Help With Sleep? Plus Other Sleep-Promoting Tips
Health Writer & Editor
By Kristine Thomason
Health Writer & Editor
Kristine is a writer, editor, and editorial consultant who lives in Long Beach, CA.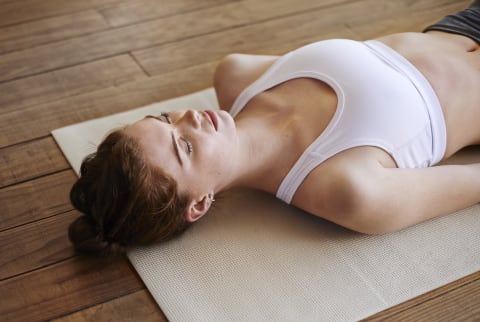 Image by mapodile / iStock
Have you been finding it difficult to relax recently? Or maybe you've been having trouble sleeping? Considering our daily lives have been disrupted in one way or another by the current state of the world, it's no mystery why everyone's stress levels may be higher than usual these days.
While there are a lot of things beyond our control right now, if you're feeling over-stressed and struggling to sleep, there are a few natural solutions that may be able to help. Here, we share a one-two punch that may help you get some calm and sleep more soundly.*
If you haven't heard of yoga nidra, it's an ancient practice of meditation that is thought to have a number of benefits for your body. It's often referred to as "yogic sleep," or a state of being between sleep and consciousness, and is believed to help your body rest, restore, de-stress, increase awareness, and tune in to your deep internal thoughts.
While it's first and foremost a spiritual practice, it may help you feel more rested and restored (you may even fall asleep in the process). In fact, one hour of yoga nidra is said to be as restful as a few hours of sleep.
In conjunction with a restorative practice like yoga nidra, magnesium supplement are another natural option that might help your body de-stress and sleep better.* While there are many different types of magnesium supplements, magnesium glycinate is generally a favorite among integrative practitioners. "Magnesium glycinate has higher bioavailability and is gentle on your stomach, unlike other forms of magnesium," integrative medicine practitioner Bindiya Gandhi, M.D. tells mbg.*
Some supplement blends will feature additional ingredients to aid in better sleep and relaxation. "mindbodygreen's sleep support+ also provides two of my favorite ingredients for improving sleep quality—jujube (Chinese date) and PharmaGABA (a well-researched plant extract),*" says Robert Roundtree, M.D. Jujube, which is a fruit used in Traditional Chinese Medicine, may also help reduce stress and promote calm.*
Bottom line
There are a number of reasons you may be feeling additionally stressed right now. But if you want to ease your mind and sleep better, some of these natural options may be able to help. Just be sure to speak with your doctor if you're experiencing chronic sleep issues.
Kristine Thomason
Health Writer & Editor
Kristine is a writer, editor, and editorial consultant who lives in Long Beach, CA. Kristine is a New York University graduate with a degree in journalism and psychology, and also a NASM-certified personal trainer. She has spent her editorial career focused on health and well-being, and formerly worked for Women's Health and Health. Her byline has also appeared in Men's Health, Greatist, Refinery29, HGTV, and more. In her current role she oversees, edits, and writes for the health, food, and movement sections of mindbodygreen.