The Feng-Shui-Approved Way To Lighten Every Room In Your House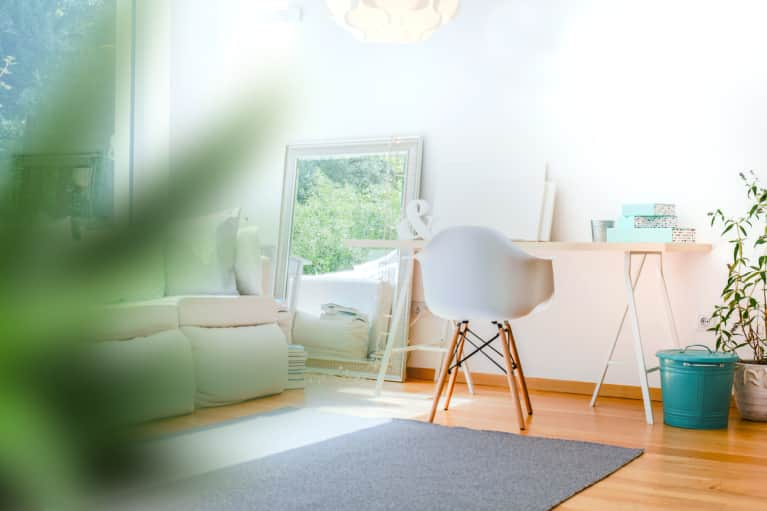 Mirrors are often referred to as a feng shui MVP. Why? They make a room feel alive and can brighten and open up a space when properly placed. Mirrors reflect whatever is in their gaze, so the bigger a mirror, the more energy is sauntering to and fro. Here are a few ways to maximize the energy-activating powers of mirrors, according to feng shui:
1. Consider losing the bedroom mirrors.
If you have a mirror in your bedroom right now and you're sleeping like a beauty, don't change a thing. However, if you have trouble sleeping, let's talk about why that mirror on your bedroom wall might be the culprit. Mirrors increase energy flow, and increased energy disrupts sleep. So, try a quick fix: Cover the bedroom mirror(s) for a couple nights and notice if your sleep improves. If you do sleep soundly with them covered, consider replacing them with something else you love—a large print, a mural, or even a few mounted lanterns. And if you simply must have a mirror in your room's décor, hang it on a non-facing wall when you're tucked in bed.
2. Position your mirrors to face something you love.
Mirrors literally and metaphorically double what they reflect, so it's worth going the extra mile to make sure you love what it "sees." A mirror over the mantel might make an impressive style statement, but if it's reflecting a neglected corner in your house, that feeling is likely being doubled in your life. Likewise, the front hall mirror is always a lovely gesture unless it's showcasing a pit stop of mail, shoes, and clutter. And if your bedroom is a catchall for work, laundry, and things without homes—and your mirror reflects it all—you will likely wake up feeling buried alive before the day begins.
3. Be selective with smaller mirrors.
Even if you love smaller mirrors, I'd recommend keeping at least one mirror everyone can see her-/himself in completely. Mirrors are associated with self-esteem, so if you can't see your whole self in one, it might be subtly suggesting that you don't measure up. Full-length mirrors on the back of doors can be a reasonable solution, but just make sure you can see yourself fully in the reflection so it doesn't distort your body image.
4. When in doubt, go convex.
Convex mirrors are perfect for dispersing energy. For instance, if a client has a staircase leading out the front door and she's experiencing money troubles, I'll place a convex mirror to catch and scatter the energy back into the house. Hang it so the mirror faces you as you come down the stairs. The mirror doesn't need to be big to work; a small convex mirror will do the trick perfectly! Convex mirrors are also a great cure for long hallways, where energy has a tendency to rush through the house. If you feel exhausted from the constant hustle, hang one with the intention of slowing things down.
5. Mirrors can boost light and creativity.
When there are spaces and nooks that tend to be darker in a home, a mirror is a steadfast way to spread light. Not only do mirrors capture and reflect what little light is available, they also keep energy romping around the room. (Consider this a good cure for guest rooms, basements, and closets in particular.) Just remember that they double what they reflect, so you might need to do a little decluttering before hanging them in a new space. Mirrors can also help curate creative space with expansive, boundless energy.
No matter where your mirrors hang, keep them clean and proportional to the room. Now that you know all the magic they possess, let loose your creative genius and see what you can positively double up on in your life!
Looking for more feng shui essentials? Check out the items the experts keep on hand in their living rooms and bedrooms.