By Shannon Kaiser
mbg Contributor
Shannon Kaiser is the best-selling author of 5 books on the psychology of happiness and fulfillment including The Self-Love Experiment, Adventures for Your Soul, and Joy Seeker. She has a B.A. in Journalism and Communications from the University of Oregon.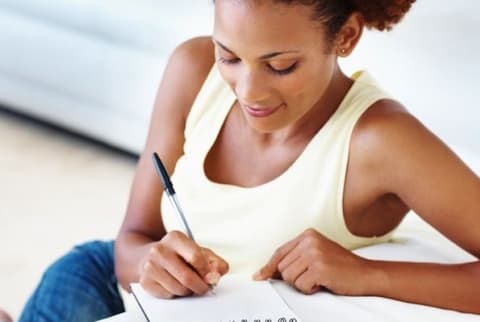 Photo by Shutterstock.com
January 20, 2014
Writing a letter to your future self is an intimate act of self-love. It's a hopeful exercise that can help save you from deeper despair. It is a declaration and a knowledge that every single second we have a new chance to start fresh.
If you're feeling frustrated, uneasy or stressed about life, the future self-exercise could help.
Advertisement
This ad is displayed using third party content and we do not control its accessibility features.
Here's one that I wrote that pulled me back into the moment and helped me choose love over fear.
Dear Future Me,
I see you smiling, sitting so peacefully; you are simply in awe. You're looking at me, the younger, and more naive, more determined, more self-righteous self; you have nothing but love and gratitude for me. You watch me cry on my living room floor, completely bored and unmotivated by life. You see that I am outraged at how stuck I feel. You watch me consumed by more depression tied to how large my body has become; you see me struggle daily. You see the pain I carry around in my heart.
You see my struggle, you see me have momentary outbursts and cry in fits of rage; and you see that I make it through. You see that I'm OK. My pain, my struggles, my issues are not what define me. You see that I make it through this rough patch, and you know that I come out stronger, smarter and more self-aware than ever before.
I see you smile with gratitude for all of the lessons I am in the middle of. The gut wrenching, painful moments of extreme self-hate, followed by harsh judgments and flurries of condescending words; you are proud to have them be a part of your past. You made it through and hold nothing but positive loving thoughts for yourself.
Future Me, your energy and love is infectious. You have a knowing way about you that is wise, patient and graceful. You see that everything is always in right order and that what I am going through right now is part of my bigger plan. It's as if you know that all of this turbulence and stress was divinely put into my life to help me become the person I need to be; the person that you ARE.
Future self, I know that you're so proud of me for learning these lessons, for rolling up my sleeves and doing the work on myself that's required; for getting into the trenches of my own life to prepare me for my next chapter. You're oozing with awareness and you see that I am getting it. Day by day, I am trying, and I am learning.
I choose to work toward you, and by taking responsibility for my life. You smile because you see that I get it, that the choices I make today affect you and your daily life in the future. You see that I am showing up and doing the best I can. You see that what may feel like not enough, even a failure, for me is more than enough in your eyes. You are proud and honored to have been me.
Future self, I see that somewhere between you and me, we have figured it out. I am so thankful that you take care of yourself every single day. I am so honored to become you. Future self, the most powerful thing you are showing me is what is possible with our life. I can't wait to meet you.
You are not defined by your problems, or any situation that you find yourself in. You ride the waves of life with such ease; it makes me want to catch up to you faster. I see that together we figure it out. I know that my life is a moment-by-moment web of intricate experiences and reactions that help me shape you. I am working to make myself better for you, for us.
I am showing up for all of my assignments. I am choosing to be happy. And I am choosing to love openly and honestly. Future self, I am going to take big risks because I know that you know that I, that WE, need me to. I am not going to settle EVER AGAIN.
I am going to leap into the unknown and completely follow my heart. I am going to become the person you know I can be. Future self, you are my guide and you show me what is possible for our life. You show me that no matter what life throws at us, we are stronger, smarter, healthier and more beautiful than ever, not because we rise above it, though we do, but because we have the courage to keep going.
Our experiences make us who we are. I choose to let my dreams and my successes define me; I release my problems and the attachments that keep me identifying with them. I am no longer weighed down by self-loathing thoughts. I choose to be happy.
Future self, you rock, and I am so unbelievably proud I get to become you.
Love forever,
Your younger, not-so-together, sad and overweight, yet doing the best she can, and hopeful self …
Shannon
To get more exercises on how to be pulled out of depression and be more happy grab this FREE guide! You can also learn how to Find Your Happy here.
Advertisement
This ad is displayed using third party content and we do not control its accessibility features.
Shannon Kaiser
Shannon Kaiser is the best-selling author of 5 books on the psychology of happiness and fulfillment including The Self-Love Experiment and Adventures for Your Soul, Joy Seeker, and Unshakable Inner Peace Oracle card deck, and the forthcoming book Return to You. She has a B.A. in journalism and communications from the University of Oregon. As an international life coach, speaker, and retreat leader, she helps people awaken and align with their true selves so they can live their highest potential.
She's been named top 100 Women to Watch in wellness by mindbodygreen, alongside Cameron Diaz, Gwyneth Paltrow, Kris Carr and Gabriel Bernstein, and was listed as of the freshest voices in mental health and wellness by Chicken Soup for The Women's Soul. She's been named one of Entrepreneurs Must-Follow Instagram Accounts for Inspiration and Top Facebook Accounts for Daily Motivation by Mind Body Green.
Her website Playwiththeworld.com has been names top 75 Personal development websites and top 100 self-help websites by the institute for the Psychology of Eating. She's an international life coach and author mentor, and a full time world traveler with a home base in Portland, Oregon with her best friend, her Golden Retriever Chance, who she flew to China to Rescue.