By Emma Mildon
mbg Contributor
Emma Mildon is a millennial activist, co-host of 11:11 podcast, and best-selling author of Evolution of Goddess and The Soul Searcher's Handbook.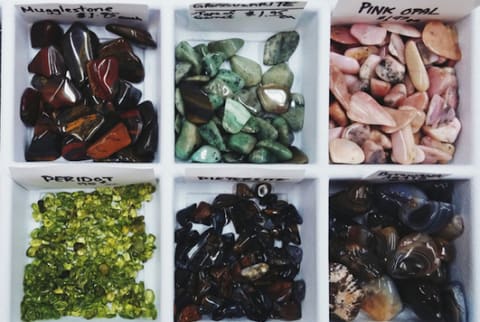 May 15, 2016
I've spent years helping people tap into their spiritual sides with New Age tools that encourage holistic, soul-satisfying living. And one of my favorite ways to do so is with the almighty crystal.
That's right: I'm a self-confessed gemstone junkie.
After all, you can never have too many crystals. There's a stone for every type of mood, crisis, and desire. You can wear them as rings, bracelets, or necklaces. You can use them as décor around your home or hide them under your pillow. Heck, you can even keep them close to your heart at all times by placing them in your bra.
Here are my top crystal hacks to help you plug into any day and live with a little bit more soul. Hold onto your handle bars, modern mystics—these crystals and gemstone tips will blow away your heart chakra:
Rose Quartz
Rose quartz helps heal the heart with peace, comfort, and love.
Use it when you need a little extra support as you heal from a breakup or recent loss.
Moonstone
Moonstone supports intuition and spiritual growth.
Use it when you're in the middle of a transition, as it will help you stay connected to your soul and higher self.
Amber
Amber helps drown out negativity and support romance.
Use it when you're experiencing challenging times in a relationship and need an extra dose of positivity.
Opal
Opal helps you find inspiration and channel your imagination.
Use it when you need to overcome a creative block and tap into your more artistic side.
Citrine
Citrine helps you focus on abundance and success.
Use it when you're studying and need to retain information.
Amethyst
Amethyst is a spiritual growth stone that supports sobriety and stability.
Use it when you're exploring your higher spirituality but want to keep one foot firmly planted on the ground.
Labradorite
Labradorite supports magic, intuition, and your physic abilities.
Use it when you're tapping into a tarot card reading and looking to harness your intuitive super powers.
Clear Quartz
Clear quartz provides power, clears energy, and offers clarity.
Use it when you want to rid your home or office of stagnant negative energy.
Angelite
Angelite is a calming stone that offers serenity and helps to connect you with your guides.
Obsidian
Obsidian helps in protection and grounding.
Use it when you're traveling and want to hold onto a piece of home.

Emma Mildon
Emma Mildon is a millennial activist and best-selling author, aiming to provide fun spiritual wisdom to her generation. She has sought out medicine men, healers, physicists, authors, and artists to explore spirituality, channeling, and healing and has also practiced meditation, yoga, and life coaching. Her writing has been published by the Huffington Post, and she hosts 11:11, spirituality and thought podcast with supermodel and actress Rachel Hunter. She is the author of Evolution of Goddess and The Soul Searcher's Handbook.