This 24-Hour Liver Reset Is The Ultimate One-Day Detoxifier
Contributing Food Editor
By Liz Moody
Contributing Food Editor
Liz Moody is a food editor, recipe developer and green smoothie enthusiast. She received her creative writing and psychology degree from The University of California, Berkeley. Moody is the author of two cookbooks: Healthier Together and Glow Pops and the host of the Healthier Together podcast.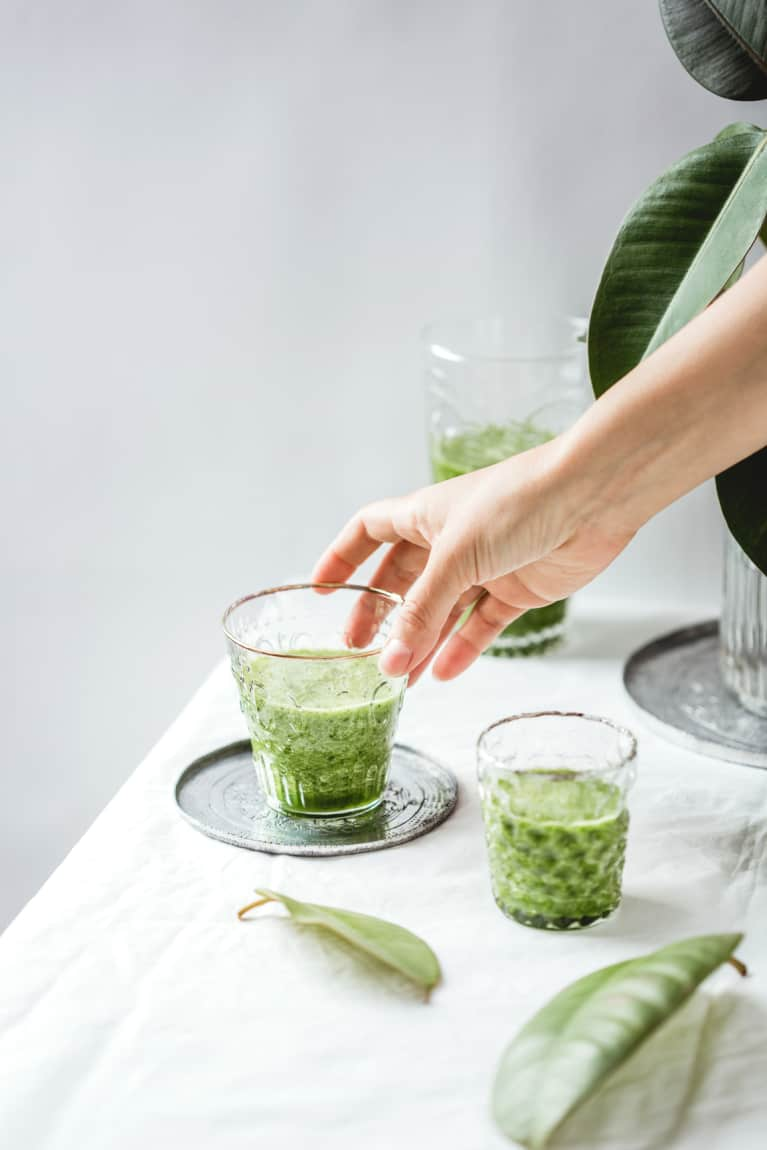 We're all about using food to its highest function to support our body's natural health processes. With that in mind, we reached out to Christal Sczebel, the nutritionist and author behind Nutritionist in the Kitch, for a one-day reset designed to support your liver. You can use this one-day diet whenever your body needs a bit of a refresh. Plus, everything's absolutely delicious, with recipes you'll be craving whether or not you're sticking to the plan!
When it comes to our internal organs, the liver is a powerhouse for detoxification and helping to keep our bodies feeling rejuvenated, energized, and well. Over time our livers can become burdened by exposure to toxins from the food we eat, the air we breathe, and even the products we use on our skin.
Eating poorly on a regular basis can especially create a sluggish liver and when the liver isn't operating on an optimal level we can experience symptoms such as constant fatigue, dull skin, dark eye circles, headaches, achy joints and inflammation, body odor, mood and sleep issues, PMS, poor concentration, eczema, and more.
While in certain situations cleansing the liver isn't as easy as a snap of the fingers and some people may require more intensive nutritional therapy or help from a health professional, many of us can definitely take small actions on a daily basis to keep our livers thriving.
Here is a one-day example of some of the foods, fluids, and habits you can partake in to give your liver some love.
Have a large glass of H2O with fresh lemon upon waking. Drinking freshly squeezed lemon juice with water first thing in the morning helps to cleanse the liver and promote detoxification. It also stimulates bile production, cleanses the stomach, and stimulates bowel function.
Continue your water drinking throughout the day, aiming for around 3 liters of filtered water!
Start the day with this delicious green smoothie. Apples contain pectin, which binds to heavy metals in the body, particularly in the colon, and helps with their excretion. This reduces the load on the liver and its detoxification capacities. Along with apple, this smoothie contains other liver-boosting ingredients: parsley, which supports the liver by acting as a natural diuretic; pear, which is rich in fiber; avocado, which contains glutathione, an antioxidant that helps the liver's detoxification process; and lemon!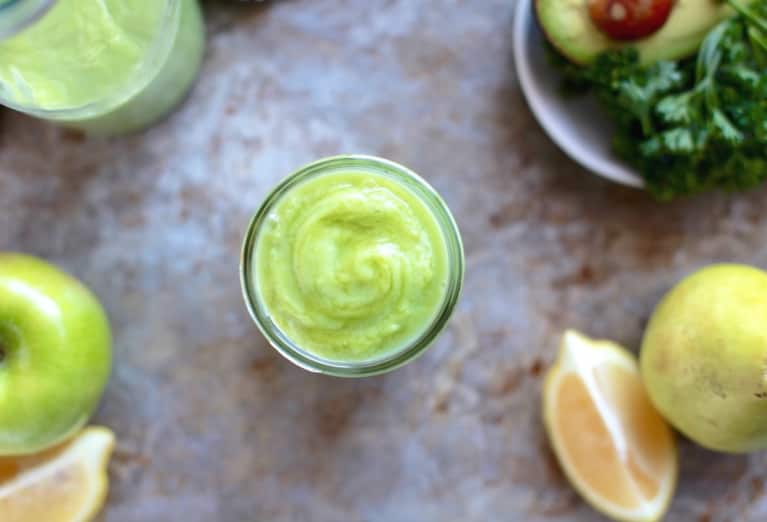 Green Apple, Pear & Parsley Smoothie
½ green apple, cored
2 tablespoons fresh parsley
juice from ¼ of a lemon
1 teaspoon raw honey or coconut nectar
½ frozen banana
½ green pear, cored
¼ an avocado, pitted
½ cup water
3 ice cubes
Method
Add all ingredients to a blender and blend for 2 to 3 minutes until thick and smooth. Pour into a glass and enjoy!
Skip the coffee and go for a glass of kombucha! Brew your own at home, or pick some up from your nearest organic grocer. Kombucha is rich in probiotics, which help to support overall digestive function and, in turn, liver health!
Along with your kombucha, enjoy a handful of raw walnuts. Walnuts are also a great source of glutathione, the same antioxidant found in avocado, which helps to support normal liver-cleansing processes.
Enjoy a couple of slices of Grain & Diary-Free Roasted Vegetable, Balsamic & Arugula Pizza. This delicious homemade pizza is not like any pizza you'd imagine coming from your typical pizza place. It contains no gluten or wheat, dairy, preservatives, or other foods that can overburden the liver. Instead it's full of delicious roasted vegetables including artichokes, which contain caffeoylquinic acid—a carcinogenic inhibitor that helps to protect and regenerate the liver; arugula, a bitter green that helps to stimulate bile flow within the liver for optimal cleansing; and garlic, naturally high in sulfur for liver detoxification.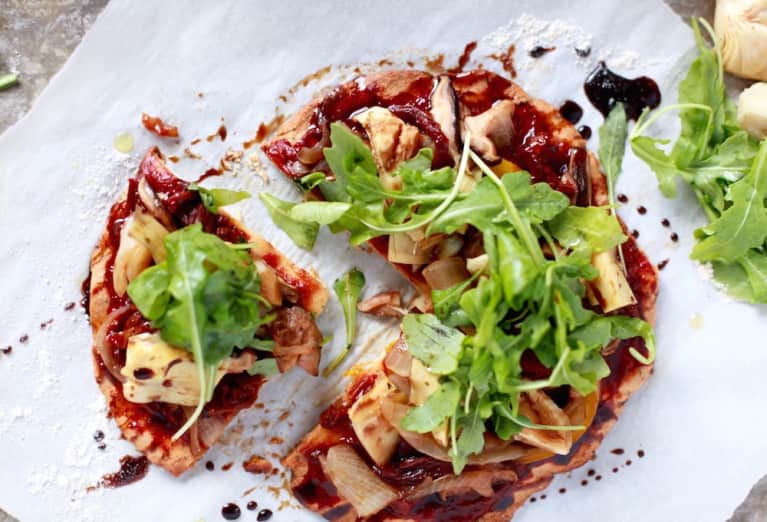 Serves: 2
Ingredients
Pizza Sauce:
2 tablespoons tomato paste
1 tablespoon balsamic vinegar
1 teaspoon raw honey
1 clove garlic, minced
1 tablespoon olive oil
½ medium onion, sliced thinly
1 cup shiitake mushrooms, sliced
½ medium bell pepper, sliced thinly
¼ cup jarred artichokes, chopped
1 tablespoon sun-dried tomatoes, chopped
1 cup fresh arugula
1 tablespoon aged balsamic vinegar or balsamic reduction
Preheat the oven to 350°F and prepare the crust dough.
While the pizza crust is baking, heat a nonstick pan over medium heat and add in the olive oil; add in the onion, mushrooms, and peppers and sauté until soft and the onions begin to caramelize, about 7 to 10 minutes. You may need to lower the heat slightly to low-medium.
While the onions are caramelizing, prepare the pizza sauce by adding the tomato paste, balsamic, honey, and garlic to a bowl and mixing until well-combined.
After 18 minutes of the pizza crust baking, remove it from the oven, smooth over the pizza sauce, and add the caramelized onions, mushrooms, and peppers, as well as the chopped artichokes and sun-dried tomatoes.
Place the pizza back in the oven for 5 to 8 more minutes, remove, and drizzle with the aged balsamic/reduction and top with the arugula.
Enjoy!
After lunch, head outside for a brisk walk to enjoy some fresh air, get your body moving, and keep your heart pumping. Regular moderate exercise promotes disease prevention, immune boosting, and digestive and liver health.
As your day is winding down, nourish your liver with this Crunchy Vegetable Chopped Chicken Salad. This salad is full of raw vegetables, which are rich in enzymes that help to support digestion and liver function. It also contains glutathione-rich avocado, bitter arugula, and radishes, which are known to stimulate the production of bile in the liver; bile transports toxins to the gallbladder and small intestine to be excreted from the body.
8 oz. baked or grilled pastured chicken breast, chopped (for a vegan-friendly version swap out the chicken for ½ cup of shelled edamame beans)
2 cups kale
1 cup arugula
2 tablespoons chopped fresh mint
½ cup finely diced cauliflower
½ cup cucumber, diced
½ cup heirloom cherry tomatoes, halved
1 watermelon radish, thinly sliced
½ small avocado, peeled, pitted and diced
2 tablespoons chopped almonds
1 tablespoon olive oil
2 tablespoons white wine vinegar
1 tablespoon mustard
2 teaspoons raw honey or coconut nectar
2 tablespoons finely diced shallots
Cook the chicken as preferred, chop and set in a bowl in the fridge to cool (or simply set the shelled edamame beans aside).
In a large bowl add the kale, arugula, mint, cucumber, cauliflower and mix to combine.
In a small jar add the dressing ingredients and shake vigorously until emulsified.
Pour the dressing over the kale mixture and toss to coat.
Divide the kale mixture among two plates.
Divide the tomatoes, radish, avocado, and almonds between each plate by layering over the kale mixture.
Garnish with a few sprigs of arugula.
Enjoy!
It's always important to take some time in the day for stress-management and reduction as high stress and chronic stress has been linked to liver disease. Put your feet up and delve into a good book, take a bath, get a massage, do some deep breathing, or simply talk it out with a loved one. Take some time for you and give your life more love at the same time!
While this one-day liver cleanse is mild, it is important to note that certain individuals should check with their family or a naturopathic doctor before beginning any cleanse or detox: those who are severely malnourished, have severe candida, women who are pregnant, those with hypoglycemia or diabetes, and anyone who has ulcers.
It is normal to experience some mild symptoms while cleansing such as mild headaches, muscle/joint aches, weakness, or lightheadedness. However, if you begin to feel very weak, dizzy, shaky, or nauseous, or develop moderate to severe headaches, it is important to stop, slowly and gently improve nutrition and exposure to toxins before trying again or seek out the advice of a nutritionist, naturopathic doctor, or other appropriate health professional.