Meet Our New & Improved calm+ Supplement (It's Basically A Massage Ball For Your Stress)*

mbg Sustainability + Health Director
By Emma Loewe
mbg Sustainability + Health Director
Emma Loewe is the Senior Sustainability Editor at mindbodygreen and the author of "Return to Nature: The New Science of How Natural Landscapes Restore Us."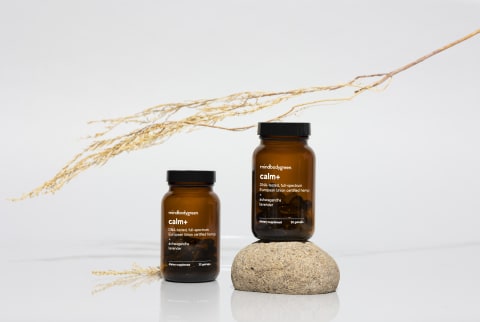 August 17, 2021
You know that feeling after a great workout or breakthrough meditation? Tension melts, worries soften, and the world seems to slow down to just your speed. That sense of all-embracing calm is one that we should all aim to get more of—especially given the research on how stress left unchecked can harm health.
Of course, setting aside time for stress management can be easier said than done, which is why mbg created a supplement that delivers relaxation when you need it most.* Meet calm+.
Advertisement
This ad is displayed using third party content and we do not control its accessibility features.
How calm+ delivers next-generation stress relief.*
A thoughtful renovation of our hemp multi+ supplement, calm+ was formulated in response to the latest cutting-edge science.
Its star ingredient is 100% organic, full-spectrum European hemp oil—which helps support a healthy stress response1 due to the way its diverse array of phytocannabinoids, or plant compounds, interact with the body's endocannabinoid system.*
As always, we put in the work of finding the cleanest, most efficacious ingredients for this blend. Our hemp is E.U.- and USDA-certified organic (no chemical herbicides or pesticides here) and carefully CO2 extracted to purely withdraw the hemp oil and its active compounds without the use of solvents. The result is a phytocannabinoid-rich hemp oil that contains 20 mg of hemp-derived CBD per gelcap, along with all the other beneficial cannabinoids you'd expect in a full-spectrum product (terpenes, flavonoids, etc.).
We chose this dose very deliberately. Based on the ever-evolving hemp research, 20 mg of hemp CBD seems to be a sweet spot that's powerful enough to deliver noticeable calm but not so strong that it will put you to sleep, making this a supplement that can be taken at any time of day or evening.*
"While clinical consensus is currently lacking on hemp CBD dosing, the higher (45 mg-plus) CBD doses are typically reserved for sleep-inducing properties,"* explains mbg's director of scientific affairs Ashley Jordan Ferira, Ph.D., RDN. "With that said, we are unique individuals, so one mbg customer may find a single gelcap of calm+ is perfection, while another customer may find that a serving size of two gelcaps works best for them."*
Our targeted hemp oil is also DNA tested (i.e., for DNA proof of the hemp strain) and boasts a multi-decade history of safe human consumption and E.U. seed bank certification, a rigorous process that takes at least five years.
On top of that, our hemp oil is quality tested for purity and potency, so you can feel confident that it contains less than 0.2% THC—a negligible, trace amount that won't lead to any psychoactive or hallucinatory effects.
Advertisement
This ad is displayed using third party content and we do not control its accessibility features.
How it supports the ECS in the long run.*
Beyond efficiently easing stress and anxiousness come what may, calm+ can help nurture endocannabinoid health over the long term when taken regularly.*
The endocannabinoid system is the body's great balancer, keeping everything from the nervous system to the circulatory system running smoothly. We're learning more about this relatively mysterious system by the day, with all signs suggesting that it's one we should all be caring for.
One way to do so is by giving your body plenty of phytocannabinoids and terpenes—bioactive plant compounds that help nurture endocannabinoid health2.* Hemp is an abundant source of these compounds—but it's not the only one.
To piggyback off the stress-relieving, ECS-supporting properties of hemp, we paired it with 80 mg (the science-backed dose) of lavender oil, a well-studied essential oil.* One of the main bioactive ingredients in the fragrant botanical, linalool, is a terpene that can help ease anxiousness3 by way of the ECS.* Again, quality sourcing was key here: Our non-GMO Bulgarian lavender oil is concentrated in this terpene, delivering at least 28% linalool content, and is extracted via steam distillation to nix the need for harsh chemicals.
To complete our calming trifecta, we chose ashwagandha root and leaf extract. A well-known adaptogen, ashwagandha helps increase the body's ability to bounce back from stress.*
The impressive part of our Shoden® ashwagandha is its high glycowithanolide count. These biological phytonutrient compounds are what give the plant its calming properties, and ours contains a whopping 35% of them, making it the most bioactive ashwagandha on the market.* It's a difference you'll be able to feel. When taken for eight weeks, this herbal extract reduced cortisol by 23% and eased feelings of anxiousness and stress by 30% in a 2019 clinical trial4 of adults.*
The bottom line.
We're super impressed by this little powerhouse of a supplement that bottles up a "fresh out of yoga class" feeling, and think you will be too. To learn more about this one-of-a-kind herbal formula, head on over to the mindbodygreen shop.
Advertisement
This ad is displayed using third party content and we do not control its accessibility features.