Eat Like A Kid Again With This Caramel Apple Smoothie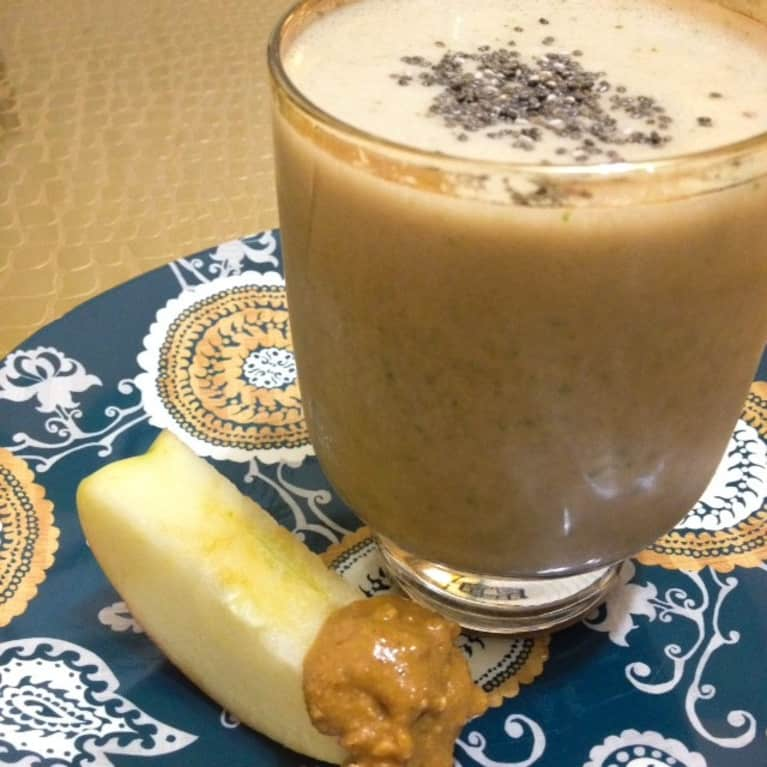 One of my favorite fall treats is a good, old sticky caramel apple paired with a warm cinnamon-flavored cup of apple cider from a local farm. There's something about that youthful spark (and sugar charge) that feels comforting, and I have fond memories of this seasonal tradition.
It's been a while since I've splurged and enjoyed the real thing, so when this delectable Caramel Apple smoothie came to life, it was just too good not to share... and it tastes like the real thing!
I use all local and natural ingredients and this recipe has been my go to for breakfast. Plus, there's a healthy balance of good-for-you fats, and the natural sugars have a slower release to keep your energy at a stable level. And, I can't forget to mention, this smoothie will keep you full until lunch!
Carmel Apple Smoothie
Ingredients:
1 apple
1 tsp honey
1 Tbsp of chunky natural peanut butter
2 long stems of mature kale (or sub with spinach)
1 serving size of chocolate plant-based protein powder
Ice cubes
1 cup of water
3/4 cup of coconut or almond milk
Sprinkle of chia seeds on top
Directions:
Blend, drink up and enjoy!