paid content
 for

Our Recent NYC Event Was Inspired By Seasonal Eating—Here's What You Missed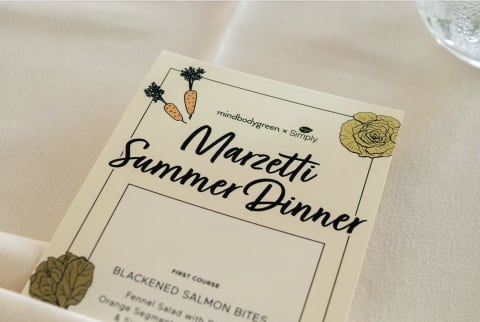 August 30, 2023
You know it's going to be a good night when it starts with sweeping waterfront vistas of Ellis Island, the New York Harbor, and the Statue of Liberty. But at our recent in-person event, hosted at The View at The Battery, we weren't just feasting our eyes on the horizon.
This month we partnered with Marzetti to give our signature event, Supper Series, a fresh and flavorful spin. Along with a community of leaders in the well-being space, we learned the powerful benefits of seasonal eating. But we also got to taste them. From a fresh summer menu crafted with the brand new Marzetti Simply line of dressings to a crash course on seasonal eating from Sammi Brondo, MS, RD, it was a night to remember. And as always, we brought home takeaways for you.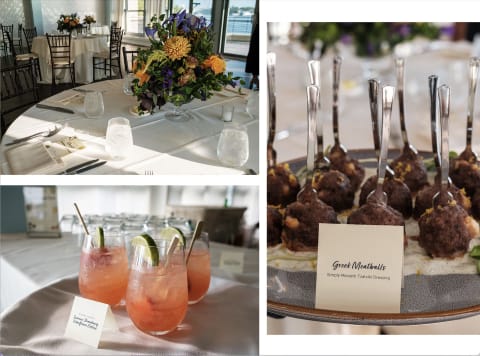 Why seasonal eating?
We all have different eating habits and preferences, but one thing we can all agree on? If it comes from the farmer's market… It's gonna taste better. But why? To lay out the importance of seasonal eating (and prep our appetites), Sammi kicked things off.
"We all know that fruits and veggies are nutritious," she said, "but we want them to taste good and be appealing." For her, seasonal eating is one of the best ways to do that. "When you get produce that is in season, it's going to be relatively less expensive, last longer, and taste better." While we can find strawberries mid-winter, she reminds us, nothing compares to a summer strawberry.
Plus, eating seasonally offers a great way to get more adventurous about your eating (looking at you, jicama) while better supporting your body and planet. Seasonal produce is ripe with more nutrients because typically, less time has passed between harvest and your plate. Plus, choosing foods that are locally grown also means fewer resources were involved to transport and store your food.
As a registered dietician nutritionist, Sammi considers it her job to have fun with fruits and veggies. It's easy to eat healthily when you're bringing in bold and exciting flavors… And that's exactly where the new Marzetti Simply line comes in.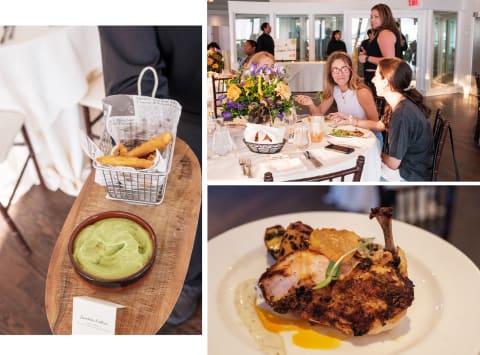 Sample the menu
Naturally, our Supper Series event is one that revolves around food (no better kind). But for this supper, we took flavors to the next level with Marzetti Simply. Not only does this line offer 11 classic and bold flavors to choose from, each has just 50 calories and 2g of sugar or less per serving. Beyond salads, these dressings can be used as dips, marinades, and sauces—making them versatile staples for any kitchen. And our chef's creativity is proof.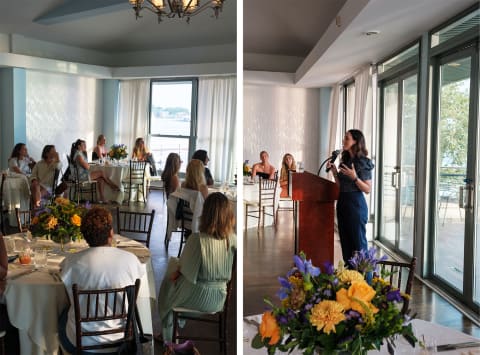 The power of good food
The goal of our evening was to raise awareness surrounding the benefits of seasonal eating, but in truth—we left with a lot more than that. After learning about and tasting the potential of seasonal ingredients, our guests were ready to throw on their aprons and get cooking. "Our table kept talking about how we are so excited to bring the Marzetti Simply dressings home to try to recreate some of the dishes ourselves," said one attendee.
As we experienced at our event, Marzetti Simply can be used to add flavor to a variety of sophisticated recipes. But we can also stock up on this line to quickly elevate a simple meal without sacrificing health or flavor (much needed on a weeknight). Adding just a drizzle to a bowl of your favorite veggies, or a protein bowl, can easily take a basic dish to the next level.
From the nutrients packed in a vegetable, to conversation around a dinner table, to the inspiring taste of a creative marinade—we've always known that food is powerful. But sharing that with others never gets old. As the sun set over a seriously breathtaking view, this Supper Series was a reminder: The food on our plate may not last for long, but the memories of a delicious meal shared last forever.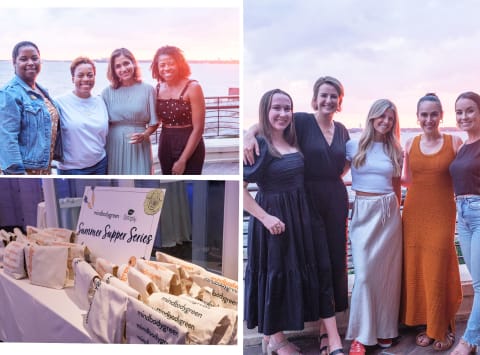 Devon Barrow
Branded Content Editor
Devon Barrow is a Branded Content Editor at mindbodygreen. She received her degree from the University of Colorado. When she's away from her desk, Devon is teaching yoga, writing poetry, meditating, and traveling the world. She's based in Boulder, Colorado.
Devon's first book, Earth Women, is coming soon. To learn more, join the mailing list, and receive updates, head to www.devonbarrowwriting.com.