paid content
 for

How To Build A Summer Salad That Tastes Unbelievable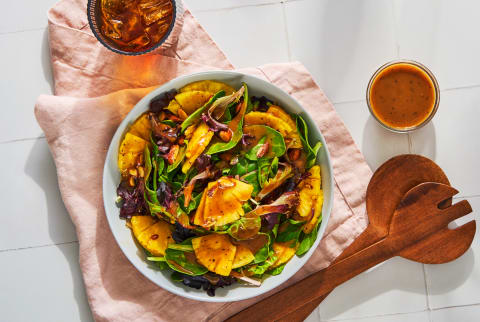 Image by Marzetti / Contributor
July 12, 2023
A cool and crisp salad will always be our favorite summertime meal. It's what we have in mind as we meander through the farmers market in an orb of colorful produce. Or as we dig up and pick fresh ingredients straight from the garden. Salad season is officially upon us, and we're here to make the most of it.
The summer salad is an art form
Between the blue skies overhead, warm breezes, and earth's bounty—summertime and sad salads simply do not mix. The summer salad is nothing short of an art form; it's a blank canvas for the season's best ingredients. And going all-in on bold and exciting flavors just got a lot easier. With the new Marzetti Simply line of dressings, we now have 11 flavors to choose from, each with just 50 calories and 2 grams of sugar or less per serving. Nothing sparks joy like a satisfying salad, so here's how to build a better one:
Find the perfect dressing
Variety is the spice of life
This time of year, the earth is bursting with exciting fruits and vegetables; this is your chance to get creative. Variety is the essence of a more artful salad. A good practice is to make your salads as colorful as possible—with this Sundried Tomato Pasta Salad as a starting point. And a salad doesn't have to look like a handful of leafy greens either. Mixing up chopped veggies with a flavorful dressing also qualifies. Toss up chopped cucumbers, tomatoes, red onion, olives, and fresh feta with Marzetti Simply Lemon Vinaigrette for an easy and zesty classic.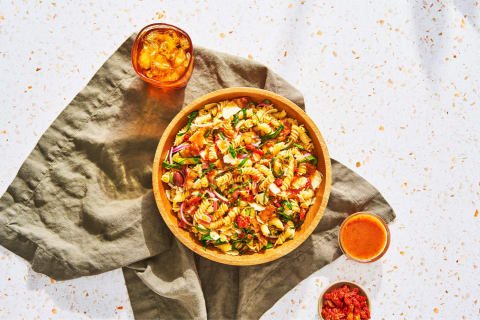 Image by Marzetti / Contributor
Choose your element(s) of surprise
We all have those salads that made a mark in our memory. And all unforgettable salads have one thing in common: an unexpected ingredient. Choose an element of surprise with a fruit or veggie you rarely eat. Whether that's marinated beets, grilled vegetables, or seasonal fruits like watermelon, mango, and papaya. That could also mean a delicious cheese pairing, like goat cheese, feta, or grated white Cheddar (goes great with citrus). And the sky's the limit when it comes to toppings—homemade croutons, nuts and seeds, dried fruit, etc. Let's do better than a house salad this summer.
Eat with the season
Eating seasonally will always lend to a more intriguing salad. When you buy produce that's in season in your area, less time has passed between harvest and your plate. That means your produce is more nutrient-dense and better for you. But this is also the reason why seasonal produce tastes better! Radishes, cucumbers, sugar snap peas, beets, cherries—every summer month features a different type of produce in its prime.
Flavor comes first
Keeping your salads bold and exciting this summer can be as easy as stocking upon Marzetti Simply dressings. (Not to mention, these dressings make for great dips, sauces, and marinades too.) With a wide variety of delicious flavors on hand—each with 50 calories and 2 grams of sugar or less per serving—your next salad is already more exciting. We know how easy it is to get in a salad rut from time to time, but this summer, your options are Simply endless.
Devon Barrow
Branded Content Editor
Devon Barrow is a Branded Content Editor at mindbodygreen. She received her degree from the University of Colorado. When she's away from her desk, Devon is teaching yoga, writing poetry, meditating, and traveling the world. She's based in Boulder, Colorado.
Devon's first book, Earth Women, is coming soon. To learn more, join the mailing list, and receive updates, head to www.devonbarrowwriting.com.