Mangoes & Lentils Are The Perfect Pair In This Fresh Summer Salad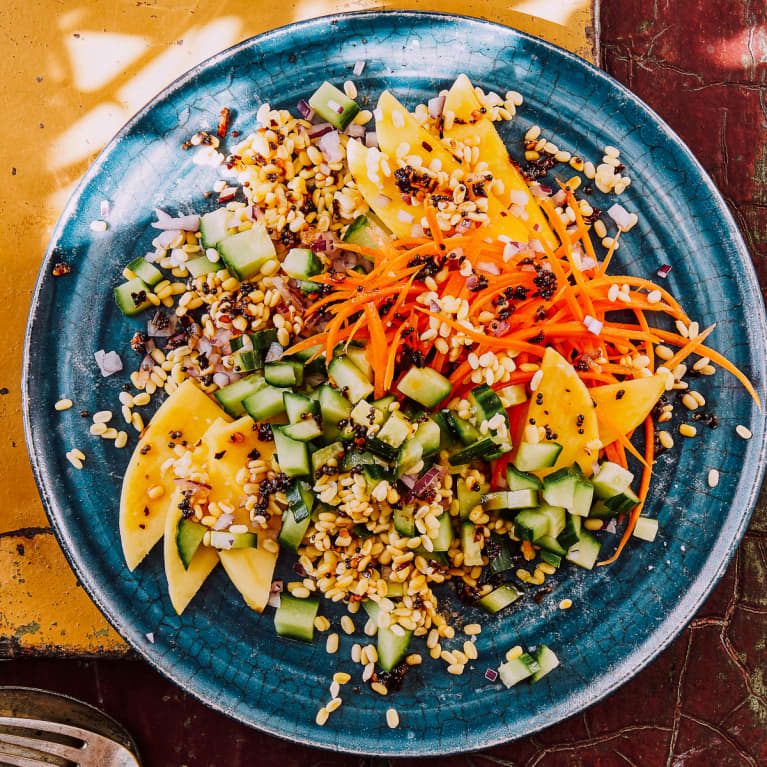 Our editors have independently chosen the products listed on this page. If you purchase something mentioned in this article, we may
earn a small commission
.
In her newest cookbook,
Chetna's Healthy Indian Vegetarian
, Chetna Makan shares recipes for everyday vegetarian cooking and veggie-based feasting, all infused with and inspired by the flavors of India—the ones she learned from cooking with her mum. This unexpected recipe for a protein-packed, vegan-friendly salad uses simple ingredients and vibrant spices to make it a surefire future favorite.
You might wonder what lentils are doing in a salad with mangoes, but let me tell you that I was just as surprised when I tried this at a friend's house. She often makes it in the summer, when mangoes are in season, and it's quickly become one of my favorites too.
Don't worry if you can't find Indian green mangoes—you can use ordinary hard, unripe mangoes from the supermarket instead.
100 g split moong dal
1 red onion, finely chopped
1 cucumber, diced
1 carrot, grated
1 raw green or unripe mango, peeled and finely chopped
1 tablespoon rapeseed oil
1 teaspoon black mustard seeds
1 teaspoon chili flakes
½ teaspoon salt
1 tablespoon lemon juice
Soak the moong dal in a bowl of cold water for 3 to 4 hours, then drain thoroughly. Return to the bowl with the rest of the salad ingredients.
To make the tadka, heat the oil in a small pan and add the mustard seeds. Once they start to sizzle, remove the pan from the heat and add the chili flakes and salt. Pour this over the salad.
Drizzle the salad with the lemon juice, toss it all well, and serve.
This will last in the fridge for a couple of days.