I Tried Thistle For One Week — Here's A Rundown Of Every Plant-Based Meal I Tested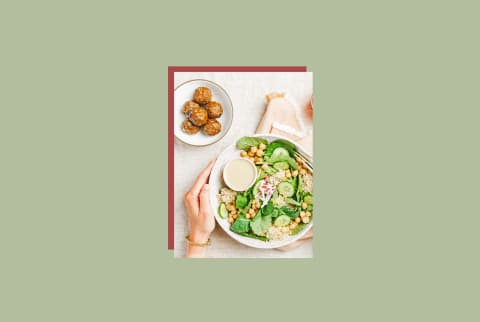 August 27, 2023
We carefully vet all products and services featured on mindbodygreen using our
commerce guidelines.
Our selections are never influenced by the commissions earned from our links.
In the past, I veered away from pre-prepared meals because they were often loaded with unnecessary ingredients that didn't make me feel great. Now that a plethora of healthier meal delivery options exist, I have the luxury of being extremely picky about filling my fridge with only the very best—like Thistle.
Touted by wellness enthusiasts and ingredient-conscious foodies, the nutrition-focused service delivers sustainably prepared meals right to your door.
As someone who loves the luxury of having freshly prepared meals in my fridge at the ready, I jumped on the opportunity to test the service for a week to find out: Is Thistle worth it?
What is Thistle?
Standing out in a sea of meal kits and prepared delivery services, Thistle strives to make eating nutrient-dense, plant-forward foods convenient and accessible. The meals are crafted to help you feel energized and nourished, with real, high-quality ingredients.
What's more, the brand prioritizes sustainability, with the aim to improve not only human health but environmental health as well. Thistle meals are gluten- and dairy-free and made without artificial sweeteners, preservatives, additives, or dyes.
One important factor: Thistle is not a meal kit—meaning you won't have to prepare a thing.
The food arrives fully cooked and portioned, taking all the guesswork out of healthy eating. This was a major selling point for me because if I'm going to pay for a meal service, I'd prefer my only work to be opening a container.
How does Thistle work?
To get started with Thistle, you'll first enter your ZIP code to confirm whether you're in the brand's local delivery or shipping area. As a New Yorker, I was in the local zone.
Next, you'll select the number of meals you want per week. Thistle offers breakfast, lunch, dinner, and snacks. The more meals you add, the lower the price per meal.
You can choose from plant-based, meat only (meaning all meals will have meat), or a mix of plant-based protein and meat. I chose fully plant-based.
In terms of allergies and restrictions, you'll be able to select from a list of ingredients to avoid (shellfish, fish, coconut, peanuts, soy, pork, and tree nuts). Thistle will either replace this ingredient or the entire meal.
Once you set those preferences, you'll be assigned meals. Thistle designs a new menu each week and you can swap, add, or remove meals as you prefer.
Depending on which plan you select, you'll receive either one or two deliveries each week. One convenient thing about Thistle is that you can set your delivery window and opt for text updates if desired. Many other meal services I've tested don't give much leeway in terms of delivery time, so this was a pro for me.
The food always arrives fully cooled and ready to eat, and it can be enjoyed either cold or heated.
How are Thistle meals delivered?
Thistle offers local delivery to the following areas:
West Coast: San Francisco Bay Area, Napa & Sonoma, Sacramento, Davis, Los Angeles, San Diego, Santa Cruz, Orange County, Inland Empire, Ventura County, Palm Springs, Santa Barbara, Santa Cruz, Las Vegas, Portland, and Seattle-Tacoma
East Coast: New York City, Philadelphia, Washington D.C., Arlington VA, and parts of New Jersey, Delaware, Maryland, Massachusetts, Rhode Island, and Connecticut.
The brand also ships across other parts of California, along with Arizona, Idaho, Nevada, Oregon, Utah, and Washington.
Unless you click "leave unattended" in the delivery details on your account, your meals will not be delivered without someone there to accept them.
On the East Coast, Thistle delivers on Sundays and Wednesdays between 5 a.m. and 8 a.m. or 7 p.m. and 10 p.m., depending on which preferences you select. Just note: All preferences must be updated by Thursday at 11:59 p.m. PST prior to the delivery week.
Local deliveries arrive in insulated, reusable tote bags with ice. Shipping customers will receive a (recyclable) cardboard box.
Regardless of whether you receive local delivery or shipping, the brand recommends refrigerating the meals upon receipt.
My delivery experience was seamless; I received a text that it was on its way, another when it was close, and another when it arrived. The delivery person came directly to my door and handed it off—and all meals were intact.
Is Thistle sustainable?
Sustainability is a key pillar for Thistle (another huge selling point for me). In terms of packaging, the cardboard shipping boxes are recyclable.
All insulation is made from recycled textiles and can be recycled or composted; the gel packs are also recyclable, nontoxic, and biodegradable.
The food containers themselves are recyclable, too, and the salad dressing and nut mix containers are Greenware and compostable.
For local delivery, the bags and cold packs are reusable. If you leave them outside your door, the brand will even pick the bag and cold packs up during your next delivery window.
Thistle's environmentalism isn't limited to its shipping practices, either. When you consider the impact of raising animals and their food, the very concept of a plant-forward diet is a step toward reducing our environmental footprint.
Thistle also partners with local farmers and producers with transparent practices and uses certified organic farms to source ingredients whenever possible. The rotating menu has a large focus on seasonality, too, limiting the need to source ingredients from far distances.
As a brand, Thistle is working toward net zero carbon emissions. Its facilities run on carbon-free energy, and Thistle purchases carbon offsets for all customer deliveries.
One reason I favor prepared meal services over meal kits is that I am deeply passionate about food waste. Thistle has halved its food waste in the last year alone.
Circling back to its mission to make healthy, sustainable food accessible, the brand also donates hundreds of meals each week to local hunger organizations.
How much does Thistle cost?
Cost is a vital consideration in deciding whether Thistle is worth it. How much you'll pay will depend on how many meals you select.
Selecting at least 16 meals total will get you the lowest cost per meal: $10.65 for breakfast and $12.83 for lunch and dinner. As you remove meals, the cost starts to go up.
Thistle has a minimum order of three meals per week, which nets out to $13.65 for breakfast and $15.83 each for lunch and dinner. Snacks are always $6.53, no matter how many you order.
See below for a detailed breakdown on the cost:
Thistle cost:
3 meals per week: $45.31 total ($15.11 per meal)
6 meals per week: $87.62 total ($14.60 per meal)
12 meals per week: $162.9 total ($13.52 per meal)
16 meals per week: $199.33 total ($12.46 per meal)
You can continue to add more than 16 meals, but the cost per meal will stay the same. Local delivery costs $4.95 and shipping is free.
If you choose to add meat, the cost per meal goes up $2.45 for those that have meat, no matter how many total meals you select.
Even at the minimum order size, Thistle meals net down to about the same or less than what I'd typically pay for any takeout in my area—and the meals taste way fresher than most.
How I tested Thistle
For testing purposes, the brand sent a bag containing an assortment of snacks, juices, breakfasts, lunches, and dinners. I tried a total of 12 items from Thistle's plant-based menu.
This was the perfect amount of food for me to spread out throughout the week while supplementing with some meals I cooked on my own. I'll note: I am training for a marathon, so I'm definitely consuming more food than usual.
That said, Thistle could certainly be a one-and-done diet solution for those who choose to order seven breakfasts, lunches, and dinners (plus snacks, if you're anything like me). The meals themselves were extremely filling, even for an always-hungry marathon runner.
Most Thistle meals can be enjoyed cold (as is), or heated. I followed the package instructions and chose to heat every meal I tried (aside from the juices, of course).
Every Thistle meal I tried
Probiotic Shot
Watermelon Berry Juice
Refreshing Greens Juice
Ramen Salad With Sesame Edamame
Blue Lagoon Falafel Bowl With Chickpea Crumbles
Tex-Mex "Queso Fresco" Salad With Adobo Pinto Beans
Smoky Chipotle Bowl With Plant Chorizo
Dandelion Baked Oatmeal With Tahini Caramel
Veggie Burger Lettuce Cups With Black Beans
Thistle Ragu Pasta Bowl With Lentil Bolognese
Mango Coconut Oat Bar
How does Thistle taste?
Thanks to companies like Thistle, healthy food is more accessible than ever. Of course, that allows us the privilege of being way more selective. In other words, I won't spend money on meals that don't taste good.
I went into this Thistle review with an open yet skeptical mind. Could this meal delivery service really be as good as my Instagram feed was telling me?
The answer is yes, the food is that good. I grew up on a farm, so I'm no stranger to fresh, local food—and I can spot poorly sourced ingredients from a mile away.
Each Thistle menu item tasted fresh and flavorful, and the meals themselves are incredibly inventive. The chef in me tends to add spices to any prepared food, but I actually didn't open my spice cabinet once when enjoying my Thistle meals.
If I need to pick favorites, the menu items that stood out the most were the Blue Lagoon Falafel Bowl With Chickpea Crumbles, Thistle Ragu Pasta Bowl With Lentil Bolognese, Mango Coconut Oat Bar, and Dandelion Baked Oatmeal With Tahini Caramel.
The Blue Lagoon Ranch sauce was actually bursting with flavor. I typically go light on sauces, but I kept going back for more (and I loved knowing it was made with fresh, real-food ingredients and no added sugar).
I'm Italian and fairly picky about pasta alternatives, but I devoured the Thistle Ragu Pasta Bowl With Lentil Bolognese. It was perfectly prepared, and the lentil Bolognese made the meal extremely filling.
Oh, and I'd order from Thistle any time the Mango Coconut Oat Bar is on the menu.
There actually were no meals I didn't enjoy, which is saying a lot. I'm not vegan, so I do wish I had the chance to try the protein options as well—but I'd venture to say those are probably just as enjoyable (and likely even more filling).
Is Thistle worth it?
I don't say this lightly, but Thistle is without a doubt worth it. I've tried just about every meal delivery service under the sun: meal kit services, prepared meals, and grocery services. I'd easily put this one in my top three.
I have a busy schedule (don't we all?), so I'll often find myself standing in my kitchen, reaching for the quickest option—which, of course, is not always the most nutritious. I truly loved the convenience of having healthy, nutrient-dense meals in my refrigerator all week.
That, combined with the stress-free delivery experience, high-quality ingredients, and sustainability efforts brought Thistle to the top of my preferred meal delivery options.
What's more, the meals were fresher and tasted better than other prepared meal services I've tried that are significantly more expensive.
While it isn't in my budget to use Thistle every week, I'll definitely keep it in my rotation. It's an amazing option for anyone who wants to grocery shop less and eat healthier without sacrificing taste or satisfaction.
FAQ:
Do people lose weight with Thistle?

While the brand's meals are curated to help users reach their optimal weight, each person's results will depend on their own diet, lifestyle, and goals. Most Thistle meals are between 400 and 600 calories, so bear that in mind when deciding whether you want to eat only Thistle or supplement the plan with additional calories throughout the day.
How do I cancel Thistle?

Thistle does not have a minimum commitment, so you can cancel your plan at any time. To do so, simply log into your account and navigate to the "meal plan" tab. Once there, select "cancel" and follow the respective prompts. You will also have the option to skip weeks as desired.
Are Thistle meals filling?

As an active person, I found most Thistle meals to be filling, without weighing me down or leaving me feeling fatigued. The meals were satisfying yet energizing. That said, this depends on how much you are accustomed to eating and the portion size you'd prefer.
How long do Thistle meals stay fresh?

Every meal is clearly labeled with a suggested day of the week, and the food will stay good for a number of days in the refrigerator. If you end up with more food than you'll have time to eat, you can actually freeze the meals for three to four weeks—you'll just need to let it thaw in the fridge prior to eating.
The takeaway
If you're anything like me and are looking for a way to save time while still nourishing your body with delicious, energizing foods, Thistle needs to be on your radar. The delivery service takes the guesswork out of a healthy lifestyle—and truthfully, the price makes it a no-brainer for those weeks when you won't have time to cook. Use code MBG100 to save $100 on your first four orders.

Carleigh Ferrante
mbg Commerce Editor
Carleigh Ferrante is the Commerce Editor at mindbodygreen. She is a certified Health & Nutrition Coach and a born and raised New Yorker with a B.A. in Creative Writing and Psychology. Her work has appeared in Bustle, The Zoe Report, PureWow, The Everygirl, and more, covering topics such as fitness, travel, home, fashion, beauty, and dating, sex, and relationships. When she's not testing and reviewing products and services, you can find Carleigh training for her next World Major marathon, planning her next vacation, or interviewing experts on her dating podcast, Mostly Balanced.