paid content
 for

These Blueberry French Toast Muffins Make The Perfect Back-To-School Breakfast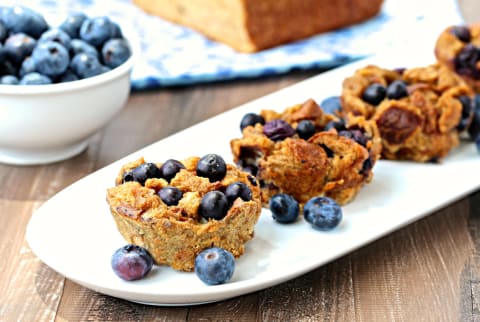 Image by USHBC / Contributor
September 5, 2023
The back-to-school season can be a doozy. After a summer full of relaxation and flexibility, the school year throws you headfirst into early wake-up calls, busy schedules, and a growing pile of homework (which as we know, parents are equally responsible for). On top of that, making sure your family maintains a healthy food regimen can be challenging.
Back-to-school eating is all about simple, nutritious staples and easy-to-make recipes. One ingredient that you'll always find in our fridge? Blueberries. To learn more about this delicious nutritional powerhouse and how to incorporate more of it into your family's diet, we chatted with a member of the U.S. Highbush Blueberry Council's (USHBC) 2023 Blue Crew, Sonali Ruder, D.O.—a chef, ER doctor, and proud mom of two.
mindbodygreen: What makes blueberries such a great choice for healthy back-to-school eating?
Ruder: Blueberries are a stellar choice because of their remarkable combination of flavor, nutrition, and convenience! Their natural sweetness appeals to young taste buds, making them a delicious treat with crave-worthy flavor and no added sugar (for proof, just try this Blueberry, Prosciutto & Goat Cheese Flatbread). Plus, these bite-sized gems provide essential nutrients and phytonutrients, including vitamin C, vitamin K, manganese, and fiber. Blueberries also contain phytonutrients called polyphenols. This group includes anthocyanins, plant compounds that give blueberries their beautiful blue color.
mindbodygreen: Is there any new research on how blueberries support overall health and well-being that you can share?
Ruder: Yes, there are two new peer-reviewed research studies that were just released. The first is a gut health study published in Nutrients1 in June, which found that daily consumption of blueberries for six weeks, consumed as 30 g/day of freeze-dried highbush blueberry powder (equivalent to 1¼ cups of fresh blueberries), relieves abdominal symptoms and improves general markers of well-being, quality of life, and life functioning in patients with functional gastrointestinal disorders. The researchers suggest that the symptom relief may be due to the polyphenols in blueberries, which may have potential antioxidant, anti-inflammatory, antibacterial, and neuroprotective properties.
Another new research study about exercise published in Scientific Reports2 found that eating the equivalent of 1 daily cup of blueberries for 14 days before and four days after a 90-minute eccentric exercise session (e.g., running downhill or lowering weight) improved inflammation resolution in adults who exercise fewer than three times per week. This is significant because it means that blueberry intake can be encouraged for physically active people to improve recovery from stressful levels of exercise.
mindbodygreen: As a mom and physician, what are your go-to blueberry hacks?
Ruder: Get creative! Kids are a lot more likely to eat something if it's fun and colorful. Try making rainbow fruit kebabs by skewering blueberries and other colorful fruit.
Make yogurt-covered blueberries. This easy snack is also a fun activity that you can do together with your kids. Using a toothpick or fork, dip blueberries into a bowl of vanilla yogurt to coat them evenly. Then, lay them on a parchment-lined tray and pop them into the freezer until the yogurt sets. When you have more time on your hands, you could even try the recipe for Triple Citrus Blueberry Frozen Yogurt Cups.
Make homemade blueberry jam. Skip the store-bought jelly, which is often high in added sugars, and make your own blueberry chia jam at home. It takes only 15 minutes!
mindbodygreen: If you had to pick one kid-friendly blueberry recipe to start the morning with, what would it be?
Ruder: My Blueberry French Toast Muffins make a great portable breakfast or after-school snack. With 6 grams of protein per serving, these muffins will satisfy your kids' hunger and provide them with the energy for learning and fun. I take all of the ingredients that you find in French toast and make a portable version by baking them in a muffin tin. And the best part is that you can make a whole batch of them on the weekend, and you're set for the whole week!
Click here to try the recipe for yourself!

Ryan Brady
Ryan Brady is a Freelance Writer at mindbodygreen. She received her B.A. in Visual Arts from Yale University and her M.A. in Clinical Psychology with concentration in Spirituality and Mind-Body Practice, from Columbia University.
Ryan is passionate about holistic health, fitness, and spiritually-centered living. She loves using her knowledge and personal experience to help others improve their well-being. She brings this passion to her writing, as well as to her work at the wellness centers she owns in Atlanta, GA. When she's not working, Ryan can be found traveling, spoiling her dog, or experimenting with gluten free, dairy free baking.