Close Banner
Advertisement
This ad is displayed using third party content and we do not control its accessibility features.
paid content
 for

This Blueberry, Prosciutto & Goat Cheese Flatbread Is The Perfect Blend Of Sweet & Savory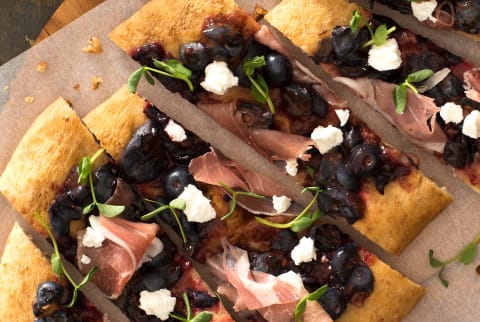 Image by USHBC / mbg Contributor
If flatbreads aren't on your weekly cooking lineup, you're officially missing out. As one of our favorite staple recipes, they're quick and easy to make, perfectly portioned, and topped with the nutritious ingredients of your choosing. This Blueberry, Prosciutto & Goat Cheese recipe in particular, though, is a star in our book. Not only because it's the sweet and savory collab of our dreams but also because of its hidden health benefits.
The one ingredient in this drool-worthy dish that really steals the show is our favorite summertime staple—the blueberry. Blueberries make an easy, tasty, and nutritious addition to your favorite meals and recipes. In a 1-cup serving, you get crave-worthy flavor and beneficial vitamins and minerals, including four essential nutrients and phytonutrients. Additionally, there's a growing body of evidence1 examining how blueberries can be a part of eating patterns that support brain health, especially as part of an overall healthy lifestyle.
mindbodygreen: Can you tell us a bit more about the new research looking at the relationship between blueberries and brain health?
Joey Thurman: A new research study2 published in April in Nutrients found that blueberries have cognitive benefits. The researchers found that the equivalent of a half-cup of fresh blueberries per day, consumed as freeze-dried blueberry powder, may contribute to protection against cognitive decline when implemented early in at-risk individuals.
This is an important finding given that in the United States, nearly six million older adults live with dementia. Since limited treatments for cognitive decline exist, preventive approaches and mitigation of risk through proper nutrition are of increasing importance. Given that neurodegenerative changes associated with cognitive decline start in midlife, this research indicates that blueberries may present an opportunity for early intervention, by targeting modifiable risks like poor nutrition and related metabolic disturbance.
mbg: How do blueberries work to support brain health?
JT: There are many nutrients that can help support brain health—one that is found in fruits and vegetables is anthocyanins. Compared to other popular fruits, berries are uniquely high in anthocyanins, plant compounds that are responsible for their vibrant blue, red, and purple color. Research shows that the anthocyanins found in blueberries (163mg/100g) may help to improve mild cognitive performance in older adults.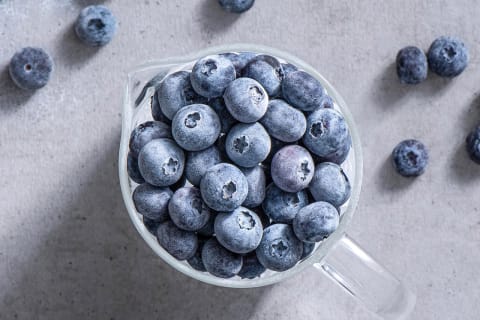 Image by USHBC / mbg Contributor
mbg: What amount of blueberries should people aim to consume per day?
JT: I enjoy 3 to 5 pounds of blueberries a week (yes, you read that right), but don't fret—you don't need to eat this much; just a handful will do. Aim for 1 cup per day—either fresh or frozen—and grab a boost of blue to liven up any meal or snack. Blueberries taste equally delicious in salads, snacks, entrees, cocktails, or straight from the package (my personal favorite way to enjoy them).
mbg: Is there one way of eating blueberries that's more effective than others?
JT: Some people think fresh blueberries are more nutritious than frozen, but that is far from the truth. Frozen blueberries are a convenient and cost-effective way to help you eat nutritiously. They are frozen at the peak of freshness, locking in their healthy goodness, so you don't have to worry about the nutrition diminishing.
There is no one way to eat blueberries that's more nutritious than another, but pairing blueberries with other nutrient-dense foods only enhances its health benefits. I always tell my clients that blueberries are made for pairing; try a handful with nuts, yogurt, granola, peanut or almond butter toast, cheese, or a protein bar for a robust snack or mini-meal.
Bring on the bluebs.
Personally, we love adding the sweet-tart fruit to classic recipes to sneak in its added health benefits—plus it adds a fresh and juicy pop of flavor. For example, the combination of the delicately salty prosciutto mixed with the sweet honey and sharp creamy goat cheese in the featured flatbread recipe below pairs perfectly with the light and succulent blueberry topping. Don't believe us? Try it for yourself!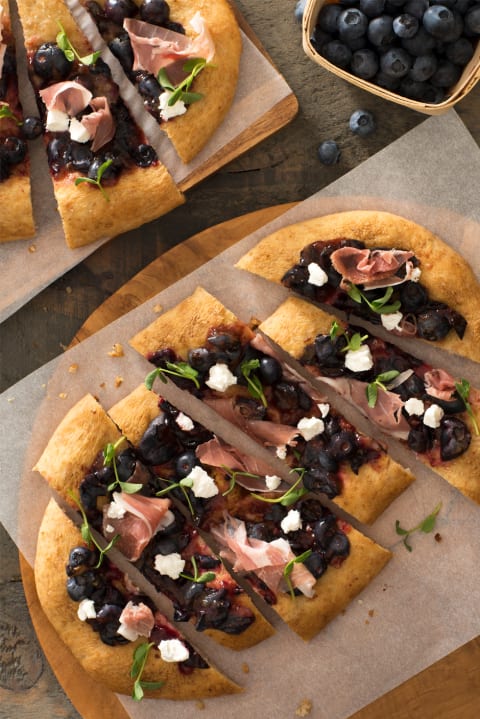 Image by USHBC / mbg Contributor
Blueberry, Prosciutto & Goat Cheese Flatbread
Ingredients
2 tbsp olive oil
2 cloves garlic, minced
1 tbsp finely chopped fresh thyme
½ lb pizza dough of your choosing
½ cup fresh blueberries
4 thin slices prosciutto di Parma
¼ cup crumbled goat cheese
1 tbsp honey
Instructions
Preheat oven to 425˚F. Place rack in lowest position. In a small bowl, stir together olive oil, garlic, and thyme; set aside.
On lightly floured work surface, roll out the dough into a 6-by-10-inch oval, about ¼ inch thick. Brush with olive oil mixture. Bake for 12 to 15 minutes or until golden brown.
While crust is baking, lightly mash blueberries using back of a wooden spoon in small bowl; spread over crust. Top with prosciutto and goat cheese. Drizzle with honey.
*Recipe tip: Bake for an additional 10 minutes to crisp prosciutto and melt cheese.
More On This Topic
more Food
Advertisement
This ad is displayed using third party content and we do not control its accessibility features.
Advertisement
This ad is displayed using third party content and we do not control its accessibility features.