These 3 Homemade Cocktails May Look Fancy, But They're Incredibly Easy To Make
Contributing writer
By Emily Vikre, Ph.D.
Contributing writer
Emily Vikre, Ph.D., is the co-founder and co-owner of Vikre Distillery, which has been named best craft spirits distillery by USA Today. She received her Ph.D. in food policy and behavioral theory from Tufts University.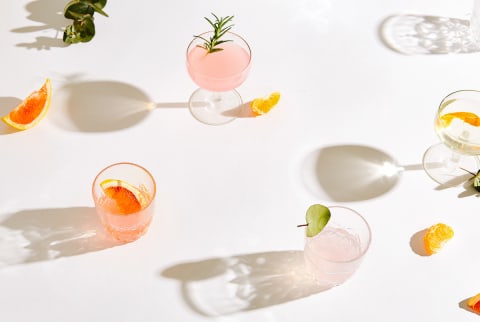 Image by Monica Pronk / Stocksy
May 25, 2020
We carefully vet all products and services featured on mindbodygreen using our
commerce guidelines.
Our selections are never influenced by the commissions earned from our links.
There may be several reasons cocktails are so celebratory, but one I think about a lot is simply the fact that it takes a little extra effort to serve a cocktail. Not only has a lot of work gone into producing the fine ingredients in the cocktail, but the person making the cocktail is also adding an extra layer of care, and consequently specialness, by combining the ingredients just so to make a drink that elevates the ordinary to something extraordinary.
So, yes, there's a little extra effort involved if you want to enjoy a cocktail. But it doesn't have to be an intimidating amount of effort. Many of the greatest cocktails require just two or three ingredients. Many use ingredients you already have anyway and can be prepared at home, ready to enjoy at a moment's notice.
1.
Pineapple-Jalapeño Mezcalita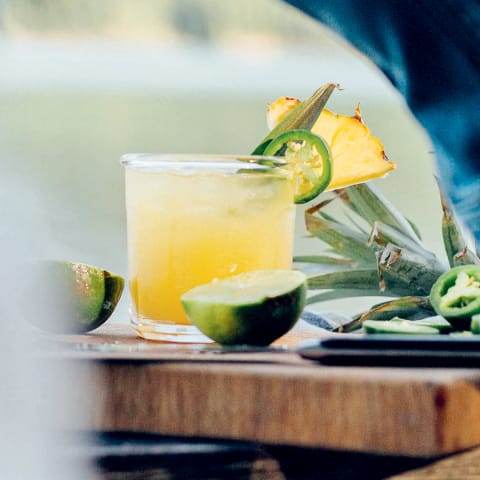 Pineapple-jalapeño is trendy but is swiftly becoming classic. The combination is that good. This crowd-pleaser has just the right combination of heat, aroma, and fruit to make you appreciate whatever latitude you're at.
Ingredients:
2 ounces (60 ml) mezcal
1½ ounces (45 ml) pineapple juice
½ ounce (15 ml) lime juice
½ ounce (15 ml) simple syrup
1 slice of pineapple or 2 slices of jalapeño, for garnish (optional)
Method:
Add the mezcal, pineapple juice, lime juice, and simple syrup to an ice-filled shaker. Shake hard until chilled, then strain into an ice-filled glass.
Feel free to garnish with a slice of pineapple if you're feeling fancy, or a slice of jalapeño if you're feeling spicy.
Note: If you don't like the smoky flavor of mezcal, feel free to use tequila instead.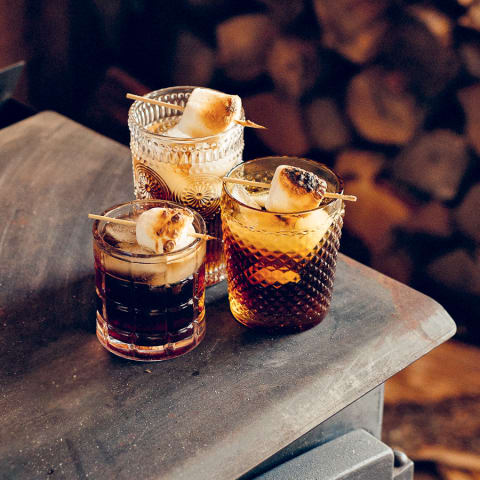 The Marshmallow Mule does take a little doing, but it doesn't require any fancy equipment or even fancy ingredients. And it's a nice thing to do as an activity during the evening anyway. The toasted marshmallows melted into the syrup to give it a dark richness, while loads of fresh ginger give it a kick.
For the Marshmallow and Ginger Syrup:
10 marshmallows
1 cup (200 g) sugar
1 cup (240 ml) water
½ cup (65 g) grated fresh ginger
For each cocktail:
1½ ounces (45 ml) vodka (or whiskey or rum)
1½ ounces (45 ml) Marshmallow and Ginger Syrup
Soda water
Lime wedges
1 marshmallow, for garnish
Method:
To make the syrup, toast the marshmallows over dying embers until they are dark brown and melted inside. Put them into a heavy-bottomed pot and add the sugar and water.
Slowly bring to a boil, stirring frequently to dissolve the sugar and the marshmallows. Once you reach a gentle boil, turn the heat down to a simmer and continue cooking and stirring until the marshmallows have dissolved.
Remove the syrup from the heat, stir in the ginger, and transfer to a heatproof container. Cover and allow to cool overnight.
The next day, strain the syrup through a fine-mesh strainer lined with cheesecloth. The syrup will keep in a tightly sealed container in the fridge for at least 2 weeks.
To make the cocktail, in a tall glass filled with ice, add the vodka and syrup. Top with soda water and gently stir. Squeeze in lime wedges to taste. Stick your garnish marshmallow onto a long toothpick. Light it on fire, blow it out, then stick the toothpick into the cocktail, marshmallow side out of the drink, to garnish.
3.
Blueberry Maple Bourbon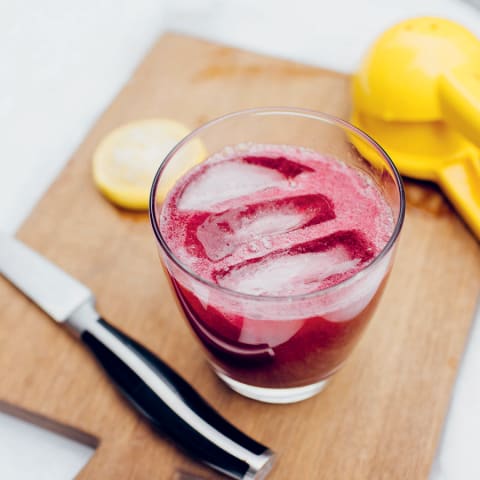 I'm also going to give you a tip: Simmer some blueberries with maple syrup until you have a lovely, loose, jammy blueberry syrup. Use this syrup for your pancakes, but first, spirit away a few spoonfuls of the blueberry maple liquid for this bramble-like brunch (or anytime) cocktail. I like to throw a little soda water on top of the cocktail for a light fizz, but it's perfectly delicious without it if you don't have soda water.
For the Blueberry Maple Syrup:
1 cup (150 g) fresh blueberries
½ cup (120 ml) maple syrup
1 tablespoon (15 ml) water
For each cocktail:
1½ ounces (45 ml) bourbon
1 ounce (30 ml) Blueberry Maple Syrup
½ ounce (15 ml) lemon juice
2 ounces (60 ml) soda water (optional)
Method:
To make the syrup, combine the blueberries, maple syrup, and water in a small pot and bring to a boil over your camp stove, then immediately turn down to a very low simmer and simmer gently for about 10 minutes, until the blueberries have burst and the sauce has just barely started to thicken. Set aside to cool until you're ready to use.
For each cocktail you're making, gently spoon off 1 ounce (30 ml) of the liquid, leaving the berries behind if possible. Use the remaining maple blueberry mixture as a pancake topping.
To make each cocktail, shake the bourbon, syrup, and lemon juice with a handful of ice until chilled. Dump the cocktail, ice and all (fun fact: in bartender lingo, this is called "dirty ice"), into your cup.
Top with soda water, if using.
Adapted from
Camp Cocktails
by Emily Vikre. Reprinted with permission from The Harvard Common Press, an imprint of The Quarto Group, 2020.