4 Ways To Redesign Your Home For A Happier Relationship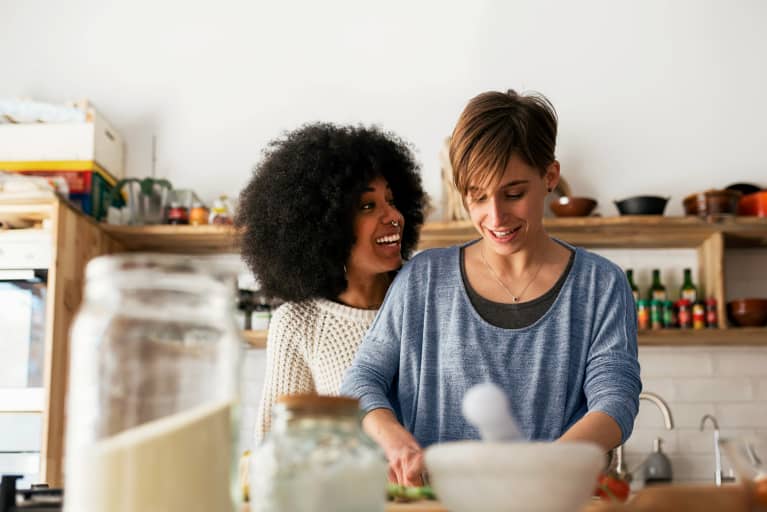 One big lesson from Tidying Up With Marie Kondo is that your environment can seriously affect your relationship. Couples featured throughout the series seem to undergo a kind of transformation as they work together on decluttering their home—the process seems to unearth other underlying issues in their relationship and allows couples to acknowledge and address those issues head-on. One couple realized the mess was creating stress and tension between them; another finally admitted one spouse was expected to be responsible for an unfair amount of the housework; still another realized how much they missed spending quality time together.
According to a new survey, there might be a few common home factors that are most likely to increase relationship satisfaction. Porch, a site that connects homeowners and professional contractors, recently conducted a survey of over 900 couples to understand how their homes were affecting their relationships. Here were their main findings:
While most couples will obviously want to share a bedroom, it might be worth it to create dedicated spaces for each person's personal use and interests. (Think the stereotypical "man caves" and "lady lairs," for example.) While about 40 percent of men and women said it didn't affect their relationship, some 37 percent of women and 34 percent of men said they actually felt happier with the relationship with their partner having a room of their own. While 23 percent of men and women felt they spent less time together because of it, 23 percent of women and 34 percent of men said it made them feel closer as a couple.
Having space to yourself that's totally dedicated to your own interests—whether that's a little corner of the living room with space for you to paint or a whole entertainment room for you to game late into the night without interruptions—is a great way to honor your own individual personhood that's separate from your identity as a part of a romantic unit. It allows both parties to remember and recognize their separateness and individuality and encourages couples to remember to spend some time on their own, pursuing their own personal interests.
"Being partners doesn't mean you have to—or even should—do everything together," psychologist and life coach Danielle Dowling, Psy.D., tells mbg. "It's healthy to spend time alone, whether you're self-reflecting or simply taking part in a favorite solo activity. While it can be scary to feel like you need and want time away from your partner, it's important to communicate what you need when you know you need it. Remember that spending time in solitude is not self-indulgent."
2. Make the bedroom your next big project.
Porch found 50 percent of women and 54 percent of men said renovating the bedroom together gave a significant boost to their relationship satisfaction. Surely part of that has to do with time spent together while doing the renovations, but the bedroom was apparently the most impactful project couples endeavored on together—it added more to couples' relationships than outdoor, kitchen, and living room renovations.
"According to feng shui, your bedroom is the ultimate symbol of the health of your relationship," feng shui expert Tanya Jahnke explains to mbg. (The therapeutic effects of the KonMari method displayed in Tidying Up are good evidence of this fact.)
What kind of renovations are we talking? "Create a peaceful sanctuary dedicated to relaxation and romance. What is romantic to you?" Jahnke suggests, "Use the five senses to create a love den with cozy bedding, candlelight, and art that conveys a happy union. Remove distractions like laundry, work, exercise equipment, and TVs, replacing them with rose quartz crystals, matching lamps with flattering light, sultry tunes, and reminders of the love-filled life you two are creating together."
3. Consider saving up for an indulgent upgrade.
The top home upgrade men and women reported as having a big positive effect on their relationship satisfaction was adding a hot tub, which is understandable—it gives you a luxurious way to relax while spending time together (while wet and likely scantily clad), all built right into your home.
For women, adding a fireplace also made a big impact; for men, interestingly, adding an in-home laundry area was as much of a boost to a couple's connection as adding a hot tub.
4. Make decisions together.
The survey showed 71 percent of women and 74 percent of men say partners are equally responsible for making decisions in the household. Past research suggests these couples are on to something: One study last year found couples who share financial decision-making responsibilities feel more empowered, and their relationships are more stable and higher in quality.
When one person is calling all the shots in the household, it can create tension and fissures in the relationship between the two people. "Protecting against gradual drift requires renewing the relationship periodically. This is done by reviewing expectations and shared plans as we evolve," relationship coach Peter Kowalke tells mbg. "[We] must maintain our journey together by centering our planning and decision-making on the couple as a whole, not just us as individuals. Are we making plans for ourselves alone or for the couple as a unit? Are we including our partner's current needs, or are we ignoring them? The more we focus on the couple when we make decisions, the better we will make the journey together."
If you've got big decisions to make about the house or family (whether or not to invest in a hot tub, for example), make sure you're deliberating together as a couple.
Home is about both of you, as individuals and as a unit.
Your home is where you're spending the majority of your time as a couple, and it's important that it's a place where each of you is able to be fully yourself, feel in control, and feel like you're truly connected to your partner.