Why Quitting My Job To Build A Tiny Home Was The Best Decision I've Ever Made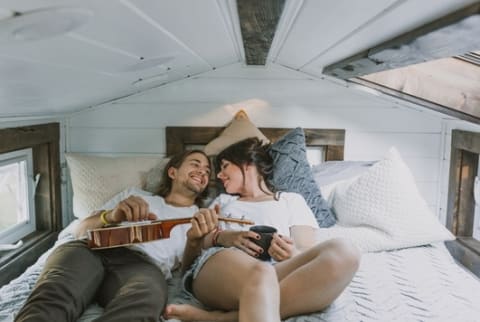 June 21, 2016
I always wanted to be a writer. I had only ever dreamed of doing this one thing.
But as life shifted after college, I found myself listening a little too closely to what others said. I had to be practical. I needed health insurance. I would need to find a job I could fall back on if this writing thing never worked out. The problem with fallback jobs is they're far too easy to fall back on.
Advertisement
This ad is displayed using third party content and we do not control its accessibility features.
After over a decade in a good, stable recruiting career in Atlanta, I couldn't shake the feeling that I had missed out on something important. That if I kept doing this job, I would never do anything else. I had followed the path of least resistance. I landed in a good job; I bought a house. It was what I was supposed to do, right?
But when I began coming home from work in tears more often than not, I knew something would have to give. If it wasn't the job, it would be me.
The problem with fallback jobs is they're far too easy to fall back on.
During this time, my partner Matt and I had already been saving for something epic. Matt had grown up with little money, so saving was important to him, and I wanted a less ordinary life filled with adventure. We went through several ideas over the years. Would we live in an RV and travel the country? Would we buy a sailboat and live along the cost? Even though we hadn't quite settled on what our adventure would be, we continued to save that money.
A lot of things fell into place when we decided that we would use it to buy a piece of land in the mountains of western North Carolina. We both had cultivated a love for Appalachia over the years, and the idea that we could have our very own piece of one of the oldest mountain chains in the world gave us a renewed sense of purpose. But once we had the land, what would we do with it?
It was then that we learned about the tiny house movement. In 2008, a friend told us about these teensy little houses on wheels she had seen on TV. We were intrigued by the notion that we could build a tiny home without any construction experience and quickly fell in love with the idea. At that time, there weren't many people sharing their tiny stories on the internet, so we had only a handful of examples to look toward.
We decided that our tiny house, based on an early Jay Shafer design, would be attached to a permanent foundation halfway up our mountain, making the build physically challenging. But what we didn't realize was how mentally challenging it would be as well.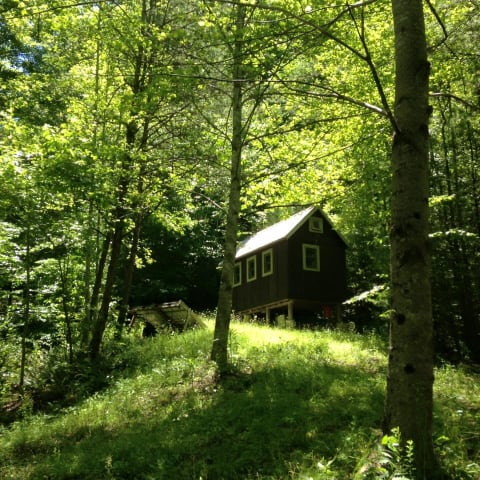 Advertisement
This ad is displayed using third party content and we do not control its accessibility features.
Building our tiny house was a journey of self-discovery. I learned that quitting wasn't failure. I learned that what I had been missing in my life was a connection to the community and this new, simpler way of living afforded me the opportunity to achieve it. No matter what happens in the future, I will never forget the lessons I learned about myself in those years.
Yes, years. Our tiny home took three years to build with a variety of mitigating circumstances. We were living and working in Atlanta and traveling three hours to western North Carolina about twice a month to build on weekends. The project was slow and deliberate. As we had never built anything before, we took the time between trips to learn the skills we needed for the next steps.
Finally, in 2012, we were ready to move into the tiny house full time. To do this, I had to face one of my biggest fears: quitting my job. Just because it was something I wanted to do, something I had to do, didn't make it easier. On top of quitting, I was about to jump without a safety net into a career as a writer.
Our first few nights were a blur as we acclimated to the smaller space, but over several weeks, we quickly fell into an easy routine. Writing was punctuated by simple chores that made living in our off-grid house possible. I filled the water filter and emptied the gray water into our artificial wetland. I traded a commute for daily chores, and I felt free. There was no panic. I wasn't overwhelmed anymore. This was what I had been missing.
Now, four years later, the tiny house has paid greater dividends than we could have imagined. We find ourselves steeped in our local community and engaged with our life and our surroundings.
Over the course of this journey, we've learned it was never about the house. It was about making decisions to live our lives more deliberately, and that is something everyone can benefit from whether they build a tiny house or not.
Related reads:
Advertisement
This ad is displayed using third party content and we do not control its accessibility features.
Laura M. LaVoie
Laura M. LaVoie is a writer and speaker living in 120 square feet in the mountains of Western North Carolina with her partner, Matt, and their hairless cat, Piglet. You can find her at 120squarefeet.com or on Facebook.