Nearly Half Of All Couples Prefer Not To Cuddle While Sleeping — Here's Why
mbg Contributing Writer
By Georgina Berbari
mbg Contributing Writer
Georgina Berbari is a multidisciplinary artist, Yoga Alliance RYT-200 yoga and meditation instructor, and a Master's graduate of the creative writing program at Columbia University. Her work has been featured at the Hecksher Museum of Art on Long Island, Women's Health, SHAPE, Bustle, and elsewhere.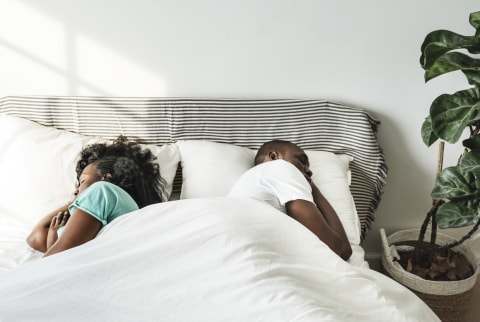 Image by Rawpixel / iStock
September 7, 2019
When I envision the most popular sleeping position among couples, my mind automatically lands on good old-fashioned spooning. So you can imagine my surprise when a recent survey from sleep company Casper found nearly half of American couples prefer to sleep without any touching—no contact at all. It was the most preferred sleeping position, over spooning and other intertwined positions.
So what exactly does sleeping without touching each other say about a couple's relationship?
Why some couples don't cuddle in bed.
Despite what socially normative standards of intimacy portray, everyone's different when it comes to how they display affection, and according to Texas-based marriage and family therapist Ashleigh Edelstein, there are myriad reasons many couples prefer to sleep without touching.
For example, Edelstein tells mbg that combined body heat can make sleep difficult or uncomfortable. Some people also move in their sleep, and others are ultra-sensitive to noise (heavier breathing, CPAP machines, snoring, etc.). Moreover, "many people also have a preference for lying on their side, which could be facing away from their partner," says Edelstein. "And some couples even have separate comforters to cut down on blanket hogging—none of these situations would necessarily spell doom in a relationship."
And if you dig even deeper into the psychology that underlies independent sleepers, perhaps you'll find that one or both of the partners in the relationship has a sensitive nervous system or is a highly sensitive person (HSP), says Smith.
"If one or both partners are more sensitive, or even an HSP, they often end their day with a lot of sensory and emotional information to process," Smith tells mbg. "Touch might just be too overwhelming until the partner has had a night to recharge."
Plus, even if not touching, there is a lot of energy exchange happening between couples when they sleep. "If this is the case, the lack of touching while sleeping for the couple has nothing to do with dysfunction and everything to do with supporting the nervous system of the sensitive partner(s)," Smith explains. "Additionally, as a sensitive person, it's possible that you can be comforted and soothed just being near your partner at night, without touching."
A symbol of security. 
Edelstein says that, psychologically speaking, couples that sleep together but independently show that they're secure in their relationship because they don't feel the need to conform to a certain standard of intimacy. "You can be next to someone without touching and still remain emotionally close," confirms the therapist.
Denver psychotherapist Arianna Smith, LPC, EMDR, says the sleeping position is one example of what human attachment researchers call the "dependency paradox" that happens when couples feel close and safe with each other. "This means that the more secure and safe partners feel in a relationship, the more room and freedom they have to be independent," Smith tells mbg. "Since they each have a secure 'base' to return to, they can explore their world with confidence: If a couple does not touch while sleeping, this can be an extension of that security."
Of course, despite the clear evidence that this style of sleeping doesn't necessarily indicate a problem within a relationship, Edelstein notes that if there's a lack of connection showing up elsewhere in their relationship, it might be worth exploring whether or not that's showing up during sleep as well. "If a couple almost never engages in physical touch or intimacy in or out of bed, it could be a sign of a deeper issue. There's quite a big difference between being disconnected all day and then climbing into bed separately versus connecting and kissing each other good night before bed. The former is cause for concern, while the latter isn't," she explains.
But barring any larger intimacy turbulence in the relationship, the lack of touch between partners during sleep tends to say more about the strength of a relationship than anything else. The bottom line? It's 100% OK to intentionally choose comfort over physical intimacy when it comes to sleep. If you're secure in your relationship, your sleeping position doesn't really matter.
Georgina Berbari
mbg Contributing Writer
Georgina Berbari is a multidisciplinary artist focusing on photography and writing. Through these mediums, she creates works exploring the human body, sexuality, nature and psychology. Her work has been featured in the Hecksher Museum of Art on Long Island, ZEUM Magazine, Women's Health, Bustle, SHAPE, BuzzFeed, and elsewhere. She is a Master's graduate of the creative writing program at Columbia University and a Yoga Alliance RYT-200 yoga and meditation instructor.