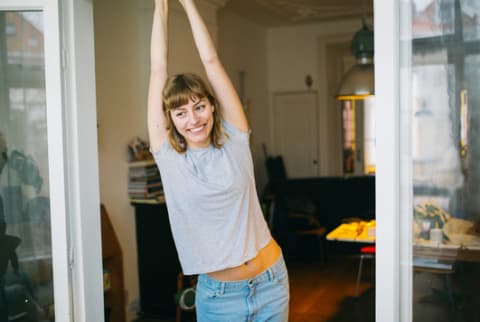 June 3, 2017
Have you ever used an affirmation to try to change something in your life that wasn't working? I remember when I was first starting out as a business owner 20 years ago, and I would affirm every day, over and over, "I joyfully make $3,000 per month!" I had little pieces of paper all over my house proclaiming that would be my income, and I would look at it and speak aloud my affirmation every day.
"I joyfully make $3,000 per month!" And the subtext would be: "I have to! If I don't, I'll be screwed! I will die! I won't make it! Universe—pullleeeeaasssseeee bring me $3,000 per month!"
Advertisement
This ad is displayed using third party content and we do not control its accessibility features.
The problem with my affirmation was: I didn't believe it. I didn't believe for a second I could create that. I didn't believe that I knew how, I didn't believe I "deserved" it, and I actually really didn't want to admit that I desired money.
After all, I was a therapist. I was supposed to help people. I was supposed to be ALL about changing lives and empowering people and helping them to find their way. I was not supposed to desire money. Or have it. Or even need it.
So I would affirm and affirm, pray, meditate, beg, plead, hoping the money would just fall into my lap somehow. I would do my therapist thing, and the universe would take care of me and bring me the money.
Luckily, I have always been one to seek new tools, practices, and concepts to help me create more of what I have desired. A few years into my new business, with a sporadic and unpredictable income, I realized that I needed some different tools.
So, what were those tools?
I was introduced to the idea of asking questions as a primary tool for creation. Rather than proclaiming a fixed and defined outcome, with no energetic "oomph" to back it up on my end, I could actually ask the universe to show me what the possibilities were beyond what I could even imagine! I could ASK! And I could then start playing on a totally different playground, where I didn't have to have it all right, or be the "correct" vibration in order for something to come into my life. I could simply ask.
Now this might sound incredibly simplistic. It did to me, too, for a while. I would ask questions such as, "What would it take for me to have continuous and increasing amounts of money for all eternity?" And then I would go about my day, with the point of view that somehow the universe might bring that to me if I just got it right, did it right, and worked hard enough. Luckily I kept asking those questions…and they kept changing me in ways I didn't even realize at the time.
The physics of questions:
Asking questions is one of the main tools I now use to create everything. I have used questions to multiply my income about tenfold in the past six years and to increase the levels of joy and ease in my life beyond what I ever imagined.
The difference between an affirmation and a question is this: Affirmations are random outcomes that you have decided you would like to—or should—have. You may or may not "believe" energetically that you can even have what you have decided you would like to have. You can say an affirmation over and over, and it may never get to the root of what is sticking you: your mind.
When you ask a true question, you are initiating an open-ended dialogue of possibilities with the universe that actually bypasses your mind. A true question is an acknowledgement that your mind will never figure out how to get you what you are asking for, and that when you go beyond your mind and acknowledge that you are aware of a different possibility—and you ask to receive it, perceive it, know it, and even be it, a life that you just might really love begins to show up. (And it will probably look nothing like you think it will!)
If our minds could get us where we would like to go, they would have by now. If affirmations worked, we'd all be zillionaires. It is when we take the courageous step to go beyond the limitations of our minds that we can actually start to receive the bounty that the universe has to offer—the bounty of possibility that we aren't even aware of, that will surprise us, delight us, and get us to where we would like to be so much faster and with so much more ease!
Try asking a few questions today such as "What would it take for ________ to show up with ease?" "Who would I have to be to double my income?" and "What are the infinite possibilities here that I have never considered?" Be willing to let the question work its magic—rather than you looking for an answer. And be willing to be surprised by what shows up!
Advertisement
This ad is displayed using third party content and we do not control its accessibility features.
Heather Nichols, MSW
Heather Nichols, MSW, is certified Joy Of Business Facilitator and a Transformational Coach. She combines a Masters degree in Social Work with 20 years' experience in the world of entrepreneurship and mind-body therapy to facilitate people toward a fuller, more joyful, experience of business, life and family. As a meditation consultant, tantra practitioner, and somatic psychotherapy, she integrates mind-body therapy, movement, and the pursuit of joyful creation to facilitate powerful change for her clients. She hosts a regular show on A2zen.FM and offers workshops and private consultations online and around the world. An Access Consciousness facilitator, healer and mom, she brings forth fierce commitment to create joy, ease, and wealth on the planet – in every aspect.