What A Relationship Expert Wants You To Know About Monogamy
mbg Contributor
By Leigh Weingus
mbg Contributor
Leigh Weingus is a New York City based freelance journalist writing about health, wellness, feminism, entertainment, personal finance, and more. She received her bachelor's in English and Communication from the University of California, Davis.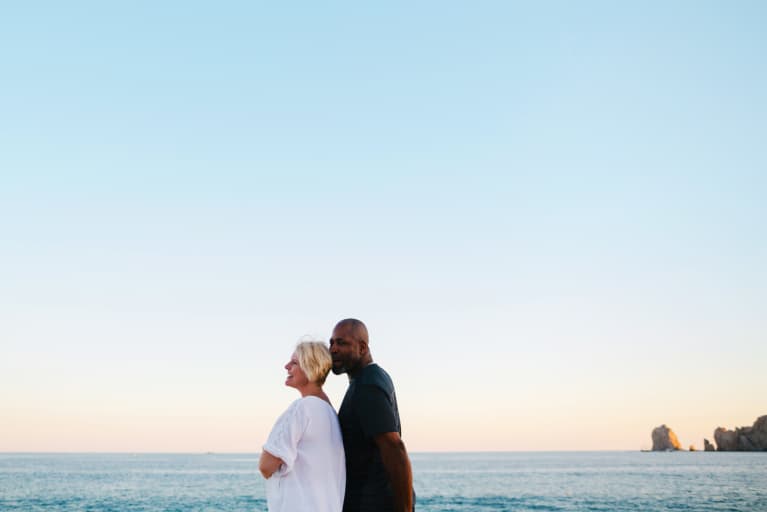 Our editors have independently chosen the products listed on this page. If you purchase something mentioned in this article, we may
earn a small commission
.
Between the rise of open relationships and a greater acceptance surrounding differences in sexuality, it can often feel like monogamy is on its way out. And with world-famous psychotherapists like Esther Perel declaring that infidelity is hardly a deal-breaker, it's easy to wonder if vowing to love one partner for the rest of your life is worth it at all.
Of course, everyone's different. And if monogamy isn't for you, go ahead and embrace that part of yourself. But Suzan Pileggi Pawelski, positive psychology expert and author of Happy Together: Using the Science of Positive Psychology to Build Love That Lasts, believes monogamy is still very much en vogue—and that if it is something you desire to have in your life, you absolutely can. You just have to approach it the right way.
One of the main reasons so many people believe monogamy "isn't for them" is because they believe that at a certain point, they'll learn everything there is to know about their partner and all the excitement and mystery will be gone. Pawelski assures that this is hardly the case. "People and relationships are always evolving, and there are always opportunities to discover novel things about one another," she says. "The important point to remember is to stay open and curious like we often are at the beginning of the relationship if you want to develop a deep and dynamic connection."
When you've been with one person for a long time, it's easy to dwell on the negative aspects of your relationship. According to Pawelski, the most important thing you can do to get consistent joy out of your monogamous relationship is to embrace the positive. "If you focus your attention on finding and feeding the good in your relationship rather than dwelling on problems, you are more likely to experience a stronger and more satisfying relationship," she explains. "True intimacy isn't something that magically happens in an instant but rather something that's developed over time."
Psychologist and relationship expert Margaret Paul adds that if you're in a long-term relationship and it's not fulfilling, rather than deciding monogamy isn't for you and seeking affection outside of your relationship, try addressing the problems in your partnership first. "A lack of monogamy is often a symptom of a problem in the marriage, and the couple needs to seek help," she explains. "People in long-term marriages who are monogamous and happy with it are people who have learned how to take responsibility for their own feelings rather than blaming their partner and who seek to share their love rather than trying to get love."
Of course, if your relationship is truly full of unsolvable issues and lack of love, it's worth considering getting out of it. Just remember that infidelity can hurt a lot of feelings—so make sure you think it through before attempting to fill a void in your relationship with someone else.
Interested in learning more about how infidelity works and why it isn't always a bad thing? Here's how it can be a container for personal growth.