Close Banner
Advertisement
This ad is displayed using third party content and we do not control its accessibility features.
What I Told A Group Of Middle Schoolers About Joy

Registered Yoga Teacher
By Rebecca Butler
Registered Yoga Teacher
Rebecca Butler is an E-RYT 500 yoga teacher, writer, inspirational speaker and retreat leader.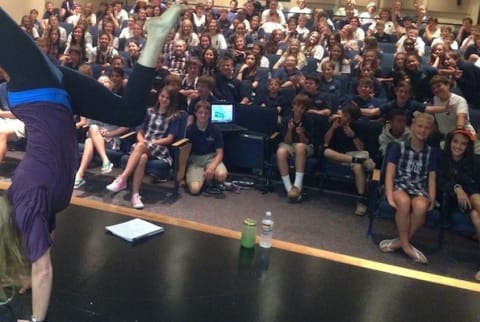 I had the opportunity today to do something I've dreamed of for a long time: a local school asked me to speak to middle school students on Positivity and how it impacts your life.
Do you know how much I wish I'd been exposed to this medicine when I was in those tender years? I don't know about your middle school experience, but mine was pretty tough. All those kids going through massive hormonal and physical changes at once, at the same time being whippersnapper smart and becoming seriously competitive in sports, many for the first time. Surviving middle school with any semblance of self-esteem was a challenge, to say the least.
No one offered me nuggets of wisdom, like —
Comparison is the thief of joy.
You are enough. Exactly the way you are, right here, right now.
I never heard a word of concepts like —
Forward expansion is inevitable. The question is: Are you expanding toward the light (love, acceptance, hope), or are you expanding toward the dark (fear, doubt, rage, negativity)?
No one spoke to me about the importance of joy in my life, exploring my joy, feeding my joy, growing my internal happiness.
No one encouraged me to Be Myself Fearlessly, no matter what and telling me not to dim my light to make others more comfortable.
No one mentioned that it was incumbent upon me never to give up on my dreams! For the dreams of your youth should never be abandoned.
No one offered to me that mistakes can be one of the most valuable lessons in life, and not to be afraid to fail, because it's in those moments — the ones where we get back up and dust off our fannies — that we're aware of our true selves, our true essence, our true spirit.
No one taught me a handstand and then explained that kindness can be every bit as powerful as standing on my hands, because both cause my body to release endorphins.
These kids were into it. We even did some laughing yoga and their eyes shined bright as they threw their arms in the air, bounced around in a circle and guffawed with glee. It was awesome. I am still exhilarated, and I suspect I will be all week.
In the end, I took my handstand pic for day 136 of 365 in their auditorium, with their beautiful, innocent faces beaming in the background. And I left them with my favorite message, the one from my mom: Choose Joy.
They asked me questions like: Is making others happy Joy? Yes! But don't forget to feed your soul too.
Is making others laugh OK as Joy? Yes! Laughter is food for the soul.
Such angels, walking that tightrope between childhood and adulthood. Wanting desperately to be taken seriously, but also needing to be guided with tools like empowerment and... wait for it... joy. Yes. That's what it always comes back to: Joy.
A teacher asked, "Don't you need to experience things that don't bring you Joy to know what does?" Absolutely, yes! It's not all sunshine and roses. We have to know what we don't like in order to connect with what we do. That's why you get to explore new avenues for your joy. How cool is that?
Everyone smiling, nodding. Now go for it, folks. With gusto.

Rebecca Butler
Registered Yoga Teacher
Rebecca Butler is an E-RYT 500 yoga teacher, writer, inspirational speaker and retreat leader, as well as a homemaker. She has just opened her first yoga studio called The Sanctuary Yoga Room. When possible, she travels teaching her empowering workshops all over the country in varying studios and conferences. Her purpose is to help others step into their power by recognizing the ability to Choose Joy, no matter what life offers. She is working on her first book, nurturing her brand new yoga studio, and making the most of life daily. Find out more about how to attend a workshop, online class or just say Hi at www.rebeccabutleryoga.com. Her online classes can be found at myyogatribe.net, her retreats are offered via The Travel Yogi. In 2015, she will be at the Sedona Yoga Festival, the Texas Yoga Conference and the Telluride Yoga Festival. Cheers. #choosejoy