4 Weird (But Totally Normal) Things That Happen To Your Vagina After Birth
Certified Birth Doula
By Ashley Spivak
Certified Birth Doula
Ashley Spivak is a Brooklyn-based certified doula. She is the co-creator of allbodies, a digital platform for modern health education, and the co-author of Why Did No One Tell Me This?. Her work has been featured in The New York Times, Forbes, Newsweek, and Teen Vogue.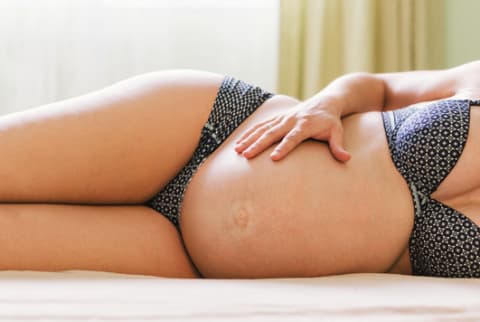 July 12, 2017
It always comes up when talking about the perinatal period: What is going to happen to my vagina?! Will it be ruined? Will it tear open? Will it be a giant gaping hole forever? We know. The thought of a tiny human coming out of there can induce terror, but the truth is that the body has some pretty incredible defense mechanisms in place to help protect you. And while some of those defense mechanisms may not be the prettiest (or most fun), knowing what to expect and how to deal with them can make a huge difference in how they affect you and your healing process.
Swelling sensation + varicose veins are proof of your baby's growth and development.
Sounds like a blast, we know. Your blood volume almost doubles during pregnancy and your hormones increase so that your baby can get what it needs to develop and grow. And as baby grows, your uterus does too. This extra pressure and increased volume are what can cause a sensation of swelling and in some rarer cases, varicose veins, to appear on the labia. The good news? While you may not love your new look, that extra blood flow means extra sensation…which means some extra-special orgasms. So, if you are feeling up for it, don't be afraid to play around down there! If you do have some varicose veins, they tend to clear up on their own a few weeks after baby is born. In the meantime, light exercise and keeping your feet elevated as often as you can will help!
Discharge mania is proof of your vagina's ability to cleanse itself.
Load up on those panty liners; discharge in pregnancy (especially toward the end) is no joke. This is the body's way of getting dead cells, bacteria, all the stuff the body doesn't need out of there. At term, you may notice a discharge that is more of a mucus consistency. This is called your mucus plug, which was created by your cervical cells as a "cork" of sorts to plug up the os (cervical opening) so that no unwanted bacteria get through. It may come out all at once or in pieces and is not a sign of labor. There is nothing we can do to prevent or curb this—in fact, healthy discharge and fluid is a good thing!—but panty liners or absorbent underwear like Dear Kates can come in handy. If at any point your discharge has a funky smell, looks frothy, or has a gray, yellow, or green hue, check in with your practitioner, as it could be a sign of infection.
Wear and tear postpartum will show the vagina's amazing capacity to heal!
Even for those who have had cesarean sections, your vulva and pelvic floor may have some battle wounds post-birth. For those who have birthed vaginally, slight tears to the labia and pelvic floor are quite common. These tend to be pretty shallow and with some stitches (which fall out on their own) heal quite nicely. For the infrequent deeper tears, while the recovery may take some more time, it's nice to remember the tissues are resilient and get better over time. No matter what, we recommend you take care of the pelvic floor leading up to and post-birth. Perineal massages can be great in the weeks before your EDD, and sitz baths with herbs and witch hazel-soaked maxi pads (kept in the freezer) can also be very soothing after baby is born.
Pelvic floor problems and changing poop patterns will not last forever.
One thing many people neglect to share is their experience going to the bathroom the first time after a vaginal birth. It's, well...it's something. Both physically and emotionally the idea of pushing something out of your body after you feel like it just came apart is challenging. Take stool softeners, and have someone accompany you. Be patient and go as slowly as you need. It will get easier! Typically it's just the first poo that's the hardest. What may stick around for longer than desired is a little extra trickle here and there. Incontinence is pretty common postpartum and we recommend that all of our clients see a pelvic floor specialist at least once after the baby is born to get a personalized assessment of some exercises you can do to help with your recovery. Remember, even if you are not experiencing symptoms, your pelvic floor just supported you in carrying 5 to 10 extra pounds with organs shifting all over the place for the last nine to 10 months. This is your way of saying "Thanks, I owe ya one!"
So, there you go! You now know the pretty and the not so pretty. And keep talking about it! The more we can normalize it all and get people not so afraid to share, the better we can know how to take care of ourselves in advance!