By Otiti Jasmine
mbg Contributor
Otiti Jasmine is a self-love coach who helps women entrepreneurs tame negative self-talk.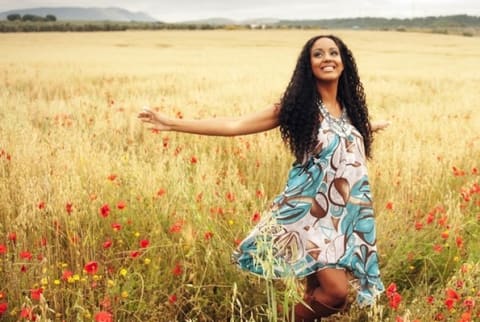 Photo by Shutterstock.com
October 24, 2013
Building (or expanding) a love relationship with yourself can be overwhelming if you get caught up in doing it right.
Good news! These eight tips can help you put the oomph back in your self-love. Ready?
1. Discover your values and live in a way that honors them.
Knowing what's really important to you and doing the things that make you happy are part of the journey of loving yourself. It's less about simply trying to please other people, and more about uncovering what makes your blood sing and bubble with exuberance. You know you're taking better care of yourself when your values, not other people's actions, guide your lifestyle and decision-making.
2. Build a community of people you love, and who love you back.
I call this an Angel Soul Committee. Angel Souls cheer you on, love you wildly, and call you out on your bullshit. They keep you grounded, supported, vibrant, and healthy. They remind you who you are when you forget, and guide you back to yourself when you're lost. They hold space for your big dreams, five-year plans, and tender love in its infant stages. Who's in your corner, lovely?
3. Listen to your inner dialogue.
What's really running through your mind? What are you thinking and saying to yourself? Are you speaking words of love, power, possibility, and magic, or are you chattering in fear and driven by scarcity? When you're aware of the quality of your thoughts and consciously decide to raise them, you find you're gentler with yourself and a heck of a lot nicer than some shrew detailing your fears and insecurities. You may not become the next Pollyanna, but you will be more positive and upbeat in your mental calisthenics.
4. Say, "I love you," in the mirror with a smile on your face.
Yes, it's true. Ramping up your self-love sparks a deeper intimacy with yourself. It's easier to look into your eyes and say, "I love you," without feeling weird or self-conscious about it. Pssst — resistance to this practice means you really need to do it.
5. Write yourself daily love notes and read them out loud.
Self-love is one of the bravest things you'll ever do. Having the courage and ingenuity to write yourself a daily love note boosts your self-confidence, and reminds you of just how powerful and precious you really are. Bonus points for reading them aloud and carving new grooves in your brain so you think differently.
6. Cut away all toxic habits and relationships.
Habits and relationships that drain your time, energy, and emotions become less attractive once you begin to give more love to yourself. You realize how scrumptiously great you are, and you phase out anything and anyone that doesn't lift you up in some way.
7. Craft a wellness routine that lets you fall in love with your body and truly appreciate her.
I'm a yoga fan because it makes me feel strong, vibrant, and alive. I've done daily yoga for the past five months, and it's totally changed the way I see myself and what I believe I'm capable of. If I can get on the mat every day no matter what, I can do anything. I also meditate each day because it calms my mind and clears my thinking. I know meditation is all the rage these days, but it truly is a key factor in staying emotionally healthy and stress free. It's also easier to forgive grudges when you meditate daily, so no need to worry about toxic energy making you sick! You may gravitate toward martial arts, sports, or good old weight-lifting and push-ups. The important thing is to find something that floods your brain with endorphins and opens your eyes to how far you can go with your body.
8. Do a brain dump in your journal every day.
Clear out the clutter in your heart and head so you can create beautiful things. Write out everything that gets you down so they don't have time to fester and poison your psyche. Have fresh, bright spaces in your heart open to lightning bolts and eureka! moments that fill you up inside with light and joy. Explore your dreams and deepest desires, and find ways to make them part of your day-to-day activities.
How do you celebrate falling deeper in love with yourself? Let's start a ravefest in the comments below!