Close Banner
Advertisement
This ad is displayed using third party content and we do not control its accessibility features.
The Perfect Meditation App For People Who Love To Drop The F-Bomb

By Emi Boscamp
mbg Contributor
Emi Boscamp is the former News Editor at mindbodygreen. She received a BA in English and minors in Spanish and Art History from Cornell University.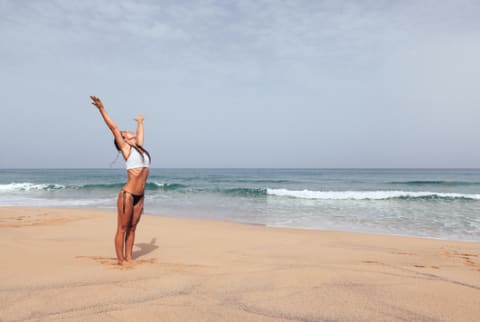 Meditation isn't about turning off the mind. It's about building a healthier relationship to what's going on in the mind. And sometimes, what's happening in there is a whole mess of profanities.
Nothing feels better than dropping a big ol' F-bomb when it feels like the world's against us.
And that's where the H*nest Meditation app comes in. With a healthy serving of your favorite four-letter words, its guided meditations comfortingly confirm how we really feel when we try to meditate.
The app—which delivers "peaceful meditation with a pinch of salty language" at your choice of 2, 5, 10, and 15 minute intervals—comes from Jason Headley, the short film director behind last year's F*ck That: An Honest Meditation, which now has over 6.5 million views on YouTube.
In the viral meditation, he instructs us to "Breathe in strength; breathe out bullshit" in the perfect yoga-teacher-during-savasana voice.
"With each breath, feel your body saying, 'F*ck that,'" he continues.
The world begged for more—and Headley obliged.
Apparently, there are many of us swearing sailors out there. "Rage Yoga," Vinyasa classes where swearing up a storm is encouraged, is now a thing. And it's not a bad thing: science has shown that foul-mouthed people have better vocabularies and that cursing actually ups pain tolerance.
Many of us practice meditation first thing in the morning, when it feels like the weight of the day ahead is too much to carry. Well, I can imagine no better start to the day than hearing Headley's soothing voice tell me that "all that sh*t is f*cking b*llsh*t."
H*nest Meditation is now available for download exclusively from the
iTunes store
(sorry Android users), and his book,
An Honest Meditation,
​is coming out on April 12.(h/t
Laughing Squid
)

Emi Boscamp
Emi Boscamp is the former News Editor at mindbodygreen. She received a BA in English and minors in Spanish and Art History from Cornell University. She's a writer living in Manhattan and enjoys cooking, eating, traveling, and writing about all three of those things. She loves anything pickled. And anything punny. (She's kind of a big dill.)