Why Geodes Are The Next Wave Of High-Vibe Living

mbg Sustainability + Health Director
By Emma Loewe
mbg Sustainability + Health Director
Emma Loewe is the Senior Sustainability Editor at mindbodygreen and the author of "Return to Nature: The New Science of How Natural Landscapes Restore Us."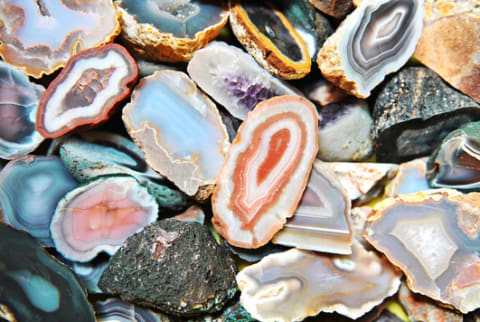 January 26, 2017
Over the years, crystals have gone from geological remnant to enchanted accessory—tiny nods to the earth that people call upon for strength. And geodes just may be the next iteration of this high-vibe trend.
After all, geodes—rock cavities lined with gemstones—are visually stunning. They fill display cases and museums across the globe, and we're even seeing small ones pop up in our favorite spiritual shops and on the desks of mbg. (Not to mention, on the pages of Vogue and Architectural Digest.) On a more abstract level, geodes serve as grounding reminders of nature's power.
Advertisement
This ad is displayed using third party content and we do not control its accessibility features.
Where do geodes come from?
These rock formations filled with tiny crystalline surprises take shape once hollow cavities form in the earth, often left over from magma or withering organic matter. Porous rock forms in the absence of material, and it can give birth to mineral deposits over millennia. The crystals that form inside these rocks vary based on the surrounding conditions, so geodes look vastly different depending on where in the world they're buried. Geodes in Brazil often house subdued soapstone and quartz, while those in Spain are filled with golden hematite.
If you're looking to see these striking natural wonders in the wild, Maria Island in Tasmania is a gorgeous place to start. Continue your geode hunt by heading to the Cueva de los Crystals in southeast Mexico—a display of lead, zinc, and silver buried nearly 1,000 feet underground. Dry regions in the United States house geode displays of their own, with the Crystal Cave in Ohio covered in blue celestite and Hauser Geode Bed in Southern California dotted with agate nodules.
The style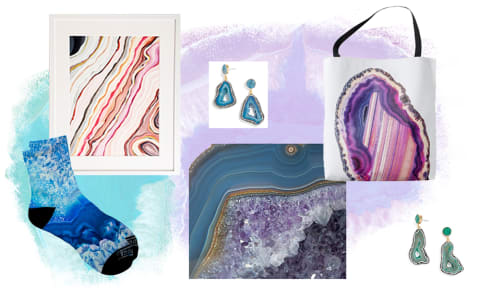 Advertisement
This ad is displayed using third party content and we do not control its accessibility features.
Enter the kaleidoscopic world of agate-print totes, socks, pendants, and clothing. "Geodes inherently vibrate at a higher frequency, which gravitates toward the weaker cells in our body. This energy works within our bodies' own energy systems, helping to balance and harmonize us," says Energy Muse co-founder and crystal healer Heather Askinoise. "This energy transfer translates to the physical objects you wear too," she says.
Especially true of this season's standout looks, which feature geode-inspired patterns on a variety of accessories, perfect for those of you who haven't visited a natural history museum in a while. Rocklike mineral formations that split open to reveal swirls of many-hued crystal are cropping up on everything from Too Loud's blue agate socks, Society6's amethyst geode tote bag, Anthropologie's geode stone drop choker, and agate wall art that's all over Instagram (130,627 times to be precise). In essence, these patterns and cylindrical shapes with jagged facets, mixing wood-grain tones with pops of bright color just work.
The decór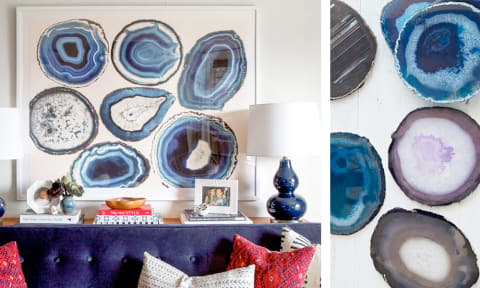 Get 10 minutes with a psychic for $1.99
Thinking About Trying Keen? Here's What To Know First, Based On My Experience.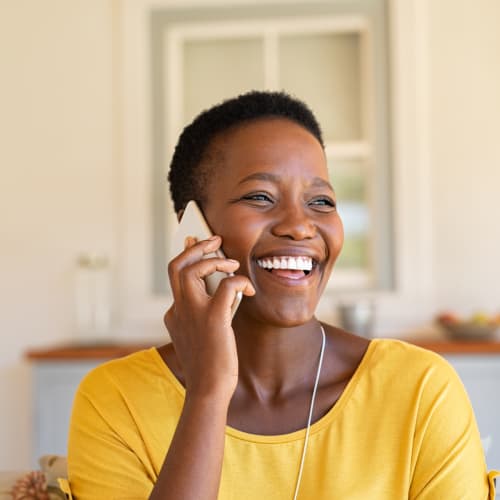 Bringing the outdoors in is a bona fide way to refresh your home's mood too. With their striking variation of pattern and texture, the crystal-infused formations can add an unexpected pop of life to any and every corner. You can dot your living room's tables and shelves with a large-scale ode or play with smaller snippets like this geode bookend from West Elm. Or try mixing and matching your stones with other nods to the terrestrial. Place them alongside potted flowers or encapsulate your succulent in a protective geode shell all its own with this crystallized planter.
This glasses set from Urban Outfitters adds a bit of visual interest to the standard kitchenware, while these funky dresser-drawer knobs can seriously up your bedroom vibes.
Geode-inspired wall hangings are another vibrant idea, and they can imbue any stark wall with color. The undulating blues of this agate slice print speak to the spirit of the ocean, while this fiery pattern bestows warmth and passion.
The ritual
"Crystal geodes are becoming more popular because as humans we are innately attracted to them. Deep within us, we all know there is an energy in the earth and this energy is what makes us become more balanced, grounded, and centered," says Askinoise. "Whether you look at the geode and visually see its beauty or if you physically hold it and feel its powers, they both make us feel good."
This feel-good force takes center stage in this geode ritual for manifestation. Try it out and watch what blooms from the stone's ridge:
Cleanse your space with sage or palo santo.
Gather a piece of paper and pen.
Write down your wishes and intentions for 2017.
Place them inside the geode. Your crystal geode will act as a wishing well and surround your intentions with pure, high-vibe energies.
Advertisement
This ad is displayed using third party content and we do not control its accessibility features.
This piece was co-written by mbg's beauty & style editor Kayla Jacobs.
Advertisement
This ad is displayed using third party content and we do not control its accessibility features.