The 10 Questions To Ask Your Dad This Father's Day That Will Change Your Relationship Forever
Social entrepreneur, Writer, and Speaker
By Andrew Horn
Social entrepreneur, Writer, and Speaker
Andrew Horn is a social entrepreneur, writer, and speaker from Brooklyn. He is the founder and CEO of Tribute.co, which The New Yorker calls "Hallmark 2.0," and of WeJunto.com, a not-so-secret club for the exploration of modern masculinity and personal transformation.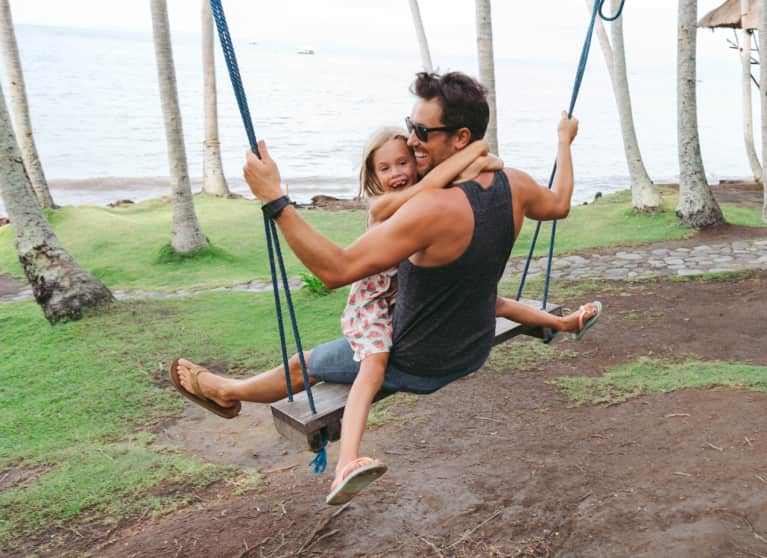 In the middle of last summer, I made a trip to Alaska to visit my Dad—he's in his eighties. While I was there, I began to grapple with something I had rarely thought about in the past: his mortality.
He had recently fallen while gardening and hearing his stories from the hospital, I realized that at some point in the future, he would no longer be with us. I also realized that I didn't know when that moment would come for my parents. None of us does. And I realized just how much about him I still didn't know.
We are close and we have a good relationship, but when I asked myself, "What don't I know about my father that I would like to?" the questions started to pile up.
What happens when you ask that question?
Being able to acknowledge his mortality gave me the resolve to get those answers as quickly as possible. I called my dad and asked him to set aside a couple of hours for dinner one night so I could interview him about his life. I also asked him if he would be okay with me recording the conversation so that my kids could listen to it one day.
I wanted to feel like I understood my father, and I also thought that if I recorded his answers, it would be a powerful way to make him feel seen and to preserve his legacy for future generations.
I sat down with a pen in hand and ended up writing down ten questions that I wanted to ask my father about his upbringing, his mentors, the lessons he had learned, and any wisdom that he would want to pass on.
As in any father-son relationship, sometimes it can be difficult to have deep, vulnerable conversations with my Dad without cultural and ideological disagreements getting in the way of hearing the other person fully. As Ram Dass so eloquently put it, "If you think you're enlightened, go spend a week with your family." I made a promise to myself that this exercise was purely about listening. I would not judge him or challenge anything he said. I was simply going to sit there and hear his story through his lens.
This intention made all the difference. It was one of the most powerful experiences of my life.
Having the questions written down and coming into the conversation with a commitment to deep listening allowed my father to tap into a level of vulnerability and honesty that I had always wanted from him.
We sat for two and a half hours. He regaled me with stories of his childhood that I had never heard before, moments from my own childhood that I had long forgotten, and insight that I still think about to this day.
After all was said and done, it was one of the most transformative experiences I'd ever had. I felt more connected to him in those moments than.I had at any other point in our relationship.
Today is Father's Day. Whether you got your Dad a gift, sent him a card, called him on the phone, or planned to let it pass without acknowledgement, consider giving him a different kind of gift—one that will pay dividends to you for years to come.
Set aside a few hours; set up a recording device (or use your phone's Voice Memos function); and ask your father these ten questions—or ask him other questions that you've always wanted the answers to. Give your father the gift of your presence, and the knowledge that his life and legacy will live on through you. (I promise, he doesn't need another tie.)
Here are the 10 questions I asked my own father to get you started:
1. What is the most joyous memory from your childhood?
2. What was the biggest challenge from your childhood? What did you learn from it?
3. Who was the most influential mentor or teacher in your life? How did they impact you?
4. How did you and Mom/Dad fall in love? (If they are together, ask them the secret to a happy marriage. If they are separated, ask them what was missing.)
5. What is the biggest obstacle you've overcome in your adult life? What did you take from the experience?
6. What has been the most joyous moment of your adult life that is not related to me or your other kids?
7. What is your favorite memory with me as child?
8. Is there a particular mantra that you have tried to live your life by? What have been your guiding principles?
9. What is your wish for me as an adult?
10. Is there anything I don't know about you that you want me and my children to know?
Side note: If you're saying to yourself "Well, my father would never answer those questions," I challenge you to at least give him a chance. If he doesn't want to go deep about some of the personal questions from his history for any reason, honor his privacy and focus on some of the more philosophical questions about lessons learned and happy memories. The attention and genuine curiosity will still make him feel seen and appreciated.
Want more insights on how to level up your life? Check out your June horoscope, then find out if you're meeting your emotional needs (and how you can do it better).