This Texting Habit Might Be Helping Couples Communicate Better
Registered Yoga Teacher
By Georgina Berbari
Registered Yoga Teacher
Georgina Berbari is a Brooklyn-based health and wellness writer who reports for mindbodygreen, Elite Daily, Bustle, and elsewhere. She's also a certified yoga teacher through the Yoga Alliance and teaches both yoga and meditation.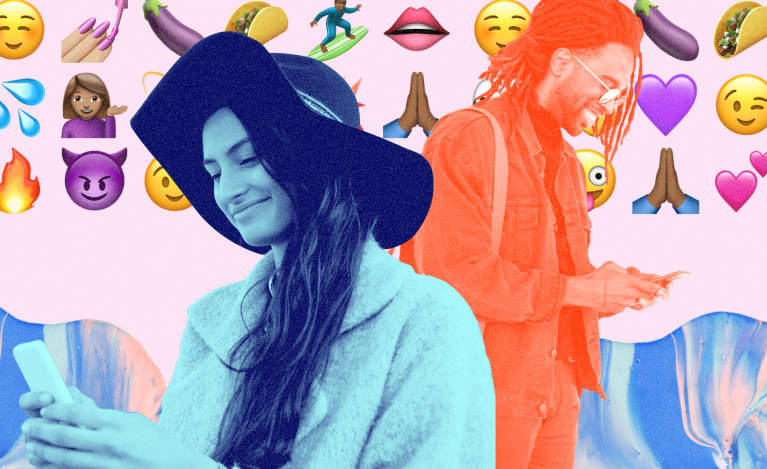 I've never been a hard-core emoji enthusiast and, tangentially, have been accused of coming off as cold or indifferent via text message. This has proved to make texting the partners I've had a pretty bland experience. But perhaps these are all related factors? When a recent study surfaced revealing that people who use more emojis in their texts have more recurrent sex and more first dates, I'm not going to lie: I was quite intrigued and willing to experiment with the little icons in my own romantic endeavors.
Maybe you're thinking that a flirtatious winky face or a doting heart icon couldn't hold that much weight in sprucing up digital communication between you and your partner. But hear me out: The psychology of emojis is a lot more significant than it might be given credit for. I reached out to two psychologists to confirm the theory, and as it turns out, the little icons really can help facilitate better communication, especially within romantic relationships.
"Most people use emojis in their digital conversations because they're fun, you can get creative, and as they say, a picture is worth a thousand words," Ashleigh Edelstein, M.A., LMFT, a psychotherapist based in Austin, Texas, tells mbg. Moreover, in our fast-paced world, a simple thumbs-up emoji requires less effort than typing out "Sounds good" or "That works for me," she explains.
Clinical psychologist and holistic psychotherapist Carla Manly, Ph.D., concurs, saying that since text communications have become increasingly common—and as they sometimes replace voice-to-voice and face-to-face contact—emojis give people (and especially romantic or sexual partners) the opportunity to connect above and beyond the bland realm of digital words.
How emojis might help facilitate better communication.
"Although emojis are small and might even be dismissed by some as unimportant, they are bonding and connective in nature," Manly explains. "And—as couples who feel more connected are likely to be more intimate on many levels (including sexually), it's no surprise that emoji-loving couples might be more inclined to enjoy more sexual intimacy."
Fundamentally, communication is a vital pillar of any healthy partnership, and when it goes awry, it can lead to misinterpretation and misalignment. This is especially pertinent over text, since it's impossible to include body language or facial expressions, making it difficult, if not sometimes impossible, to convey emotion through text.
"Many of my clients have misinterpreted texts from their partners or friends because there's no tone or inflection," says Edelstein. "Compare the difference between 'That's fine' and 'That's fine :)'—The first leaves room for all kinds of interpretation, most likely negative, while the second clearly conveys that everything is indeed fine."
According to Edelstein, adding that teeny little smiley face can make all the difference in getting your mood or tone across to your partner. Emojis, she says, are a quick and easy way to convey emotions in an emotionless medium.
No wonder I've historically been misinterpreted as torturously indifferent due to my neglect of the consecrated icons.
Of course, emojis aren't the answer to all of your relationship woes, and face-to-face interaction will likely prevail the majority of the time. However, it's now clear that tacking emojis onto your messages can do a lot more than make the conversation more colorful; it can help amplify communication and even assist you and your partner in getting out of your comfort zone and trying new things. For example, if you've been itching to add a little play and sensuality to your conversations but find something like sexting intimidating or awkward, Edelstein says adding an emoji or two to the exchange could be a game-changer. "[Using emojis can be] especially helpful for those that find sexting embarrassing or don't know what to say. Instead of typing out something dirty, which for some people feels silly or vulnerable, an emoji can feel safer, lighthearted, and playful." And couples that maintain a sense of playfulness in their relationship are often more likely to try new things and keep things fresh, says the psychotherapist.
So whether you're like me and want to stop coming off as perpetually apathetic to what your partner is conveying to you over text, or you're someone who wants to dip their toe into more provocative and sensual digital exchanges, it might be time to get cozy with your emoji keyboard. You might just find that it's the ideal launching point to foster improved communication in your partnerships and effectively express your emotions.
"Couples that regularly discuss their emotions are better able to handle conflict and maintain intimacy," Edelstein concludes. "Since most people tend to text during the day, [using emojis is] an easy way to start getting used to that."