Yes, There Is A 'Right' Way To Fight. Here's What You Need To Know
Doctor of Psychology
By Danielle Dowling, Psy.D.
Doctor of Psychology
Danielle Dowling, Psy.D. is a doctor of psychology and life coach, helping ambitious, driven women achieve the financial, spiritual, and lifestyle abundance they desire and deserve. She holds a bachelor's in business from American University, and her master's and doctor of psychology degree from Ryokan College.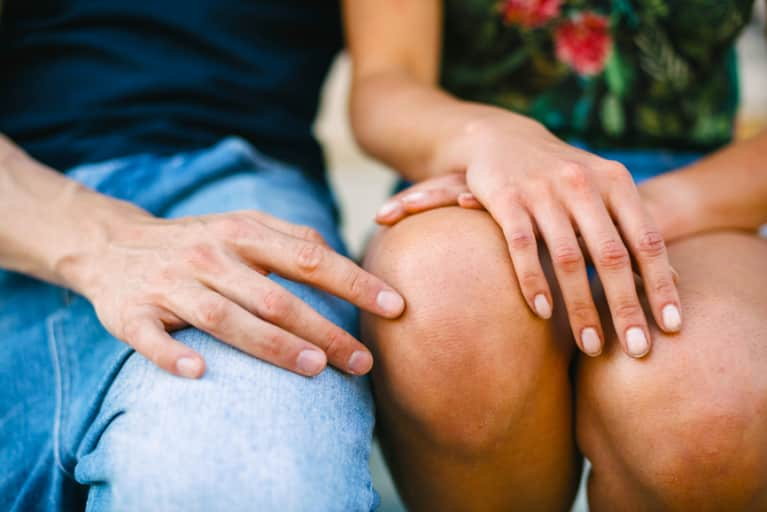 There's no way around it: In romantic relationships, fights happen. You're in proximity from one day to the next, and you're dealing with two different experiences, different preferences, and different moods at any given time. But that's not necessarily a bad thing.
Sure, there's value in keeping unnecessary conflict to a minimum, but it's also important to not ignore or avoid it. It's actually much more helpful and healthy to consider how to "fight right" instead—carefully and considerately expressing your point of view while listening to and learning from your partner, too.
There are absolutely destructive fighting patterns, such as being passive aggressive and stonewalling (or refusing to interact with) your partner. But here's the thing: There are also constructive fighting patterns that I know from experience can help you become closer to your partner and stronger for having had the interaction.
Here are four simple approaches I have learned (and practiced!) to fight right:
1. Get off to a good start.
When it comes to fighting, it's important to remember that how you begin is likely how you will end. If you start an argument with coldness or accusations, the interaction will likely end with that—and likely to an elevated degree. Start the conversation in a positive, gentle way that communicates a sincere desire for mutual communication and a shared resolution.
Some helpful ways to do this are to remember to take responsibility for yourself and your actions, to express any complaints without blaming or shaming your partner, and to communicate from your personal perspective instead of accusing your partner. Words like "I feel" are more effective than "you always."
2. Extend an olive branch.
In any disagreement, there are small opportunities to pump the brakes and avoid a "collision." If you feel that an argument is escalating, try extending an olive branch to your partner. Acknowledge something they're doing right, crack a joke to make them smile, or even ask to take a break if the interaction is particularly tense.
By making a statement or taking a positive action—silly or otherwise—you can prevent your disagreement from escalating out of control and becoming destructive and unhealthy. Some helpful things to say when you want to extend that olive branch are: "I'm sorry, let me rephrase that," "Please say that more gently," or "Can we start over?" And if you see your partner offering that same gentle reprieve, accept it and help keep the conversation on track.
It's easy to think that every conflict needs to get resolved in one sitting, but some disagreements are too big to break down at once. If you begin to feel overwhelmed by the conversation—or if you see that your partner appears to be—it can be helpful to take a short 20- or 30-minute break and come back together after you've cooled down.
Try to use that time apart positively, too. There's no need to stew about everything that's bothering you. Instead, focus on what you appreciate about your partner and how good it will feel to come to a resolution and grow from this interaction. Then, return to the discussion with positive anticipation and less defensiveness.
4. Consider a compromise.
Compromise is the very foundation of a healthy relationship, and it doesn't mean that one person gets their way and the other person doesn't. Compromise is about both partners finding a way to negotiate, consider the other's feelings, and accommodate both of their needs. Some helpful ways to communicate this to your partner are to say, "That's a good point—how can we meet in the middle?" or "I know this isn't your fault. Let's find some common ground."
When you learn to fight in a way that's considerate, empathetic, and loving, you'll quickly find that disagreements no longer need to be avoided. Instead, they become opportunities to communicate.
Want more relationship advice? Here's what 13 real women wish they'd known before getting married.