Why 'Relationship Cycling' Is Bad For Your Mental Health
Contributing Sex & Relationships Editor
By Kelly Gonsalves
Contributing Sex & Relationships Editor
Kelly Gonsalves is a sex educator, relationship coach, and journalist. She received her journalism degree from Northwestern University, and her writings on sex, relationships, identity, and wellness have appeared at The Cut, Vice, Teen Vogue, Cosmopolitan, and elsewhere.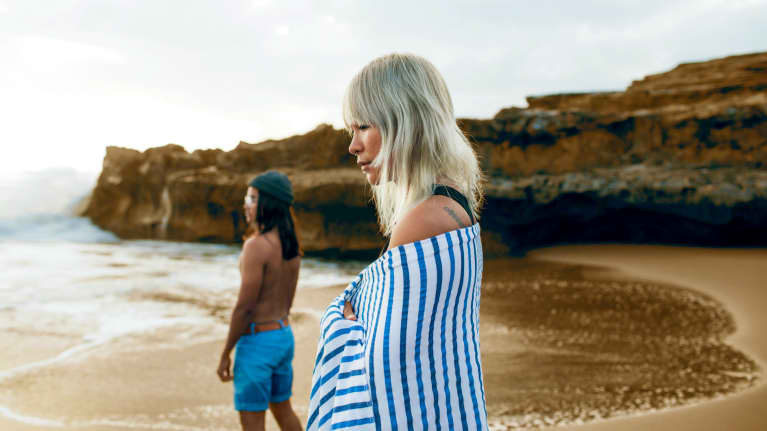 August 31, 2018 — 9:00 AM
The earnest belief that things will work out in the future is almost always framed as a positive mindset to have—but sometimes, hope can be used as an excuse to traverse perilous grounds that have been proven to lead us nowhere. Case in point: that on-again-off-again relationship that you (or a friend of yours) keeps coming back to. We all know intuitively and from experience how draining these inconsistent relationships can be, but new research has now confirmed the dark truth: They're actively hurting your mental health.
The study, recently published in the journal Family Relations, found "relationship cycling"—that is, breaking up with someone and then reconciling over and over again in an ongoing cycle—is associated with increased symptoms of depression, anxiety, and overall psychological distress. Worse still, these negative effects only got worse with every additional relationship transition, meaning every time an individual got back in or back out of the same relationship, they ended up in an even worse state.
The take-away here isn't that you can't get back together with someone you really love and care about. Sometimes you really do realize you let go of something too quickly or yearn for a second chance with a person who suddenly realized they shouldn't have left. But it's important to be deliberate about your decision to re-enter or re-exit—because every time you do, it takes a significant emotional toll on both of you. If you want to rekindle a romantic connection with someone and have it be successful in the long run, you need to be serious and direct about addressing the problems that originally made it fall apart.
"Without doing your inner work to heal your participation in the dysfunctional relationship system, you will keep recreating the same relationship over and over," relationship counselor Margaret Paul, Ph.D., wrote on mindbodygreen. "The most loving thing is to focus on doing your inner work, regardless of whether or not you go back to your partner."
Importantly, that means both you and your partner need to be putting in the effort to make things work. "Unless both of you are receiving help in dealing with your individual issues, change isn't likely," Paul said. "It may be hard to be realistic about change, but it's important to accept that you can't make another person change—they change only when and if they want to."
This is where that hope problem comes back in: Just because you want things to work out doesn't mean they will. And as these latest findings show, it can be dangerous to emotionally invest in a continually failing relationship without being realistic about how you'll reach that ideal future. You have control over your own level commitment, but that's about it.
Pay attention to whether blind hope or real action is driving your desire to get back together with someone, and know that without the latter, you might just be hurting yourself in the long run.