Close Banner
Advertisement
This ad is displayed using third party content and we do not control its accessibility features.
7 Sex Resolutions For Couples To Make Together
Sex Therapist
By Jessa Zimmerman, M.A.
Sex Therapist
Jessa Zimmerman, M.A. is an AASECT-certified sex therapist, licensed couples' counselor, author of Sex Without Stress, and the host of the Better Sex Podcast. She holds a bachelor's from Cornell University, a master's in Psychology from Saybrook University, and has completed a certificate in Sex Therapy from the University of Michigan.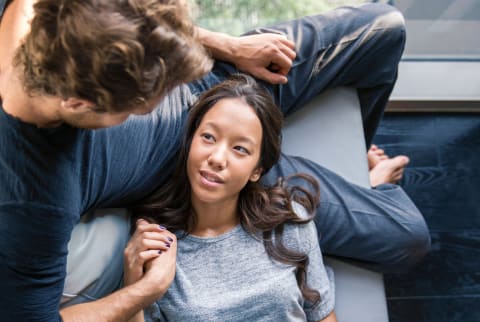 Image by Jovo Jovanovic / Stocksy
With the new year upon us, it's a good time to take stock of the past year, remember what you have to celebrate, and consider what you might want to change or improve in the new year. We instinctively home in on areas of personal growth at this time of year, but as you're coming up with your resolutions for 2019, don't forget to reflect on your intimate relationship as well. Once you've been with a person for long enough, it can be easy to put the relationship on autopilot and redirect your energy to new endeavors or goals you have yet to accomplish, but one of the key ways to make sure a relationship stays healthy is by being consistently attentive to it, even in times of relative peace and stability.
Setting some resolutions together as a couple is a great way to put your relationship first again in order to build up a lot of positive capital in the "relationship bank," address any dormant challenges that have been quietly gathering dust under the rug, and continue to strengthen your partnership. Here are a few sex and relationship resolutions to consider:
1. Create time for your relationship.
The start of a relationship is usually marked by spending endless days with our new flame and soaking in as much quality time with them as possible. But as the years go by, many of us begin to neglect our partners over time due to the other demands and stressors in our lives. If you feel like you've begun to take each other for granted, the start of a new year is a great time to mutually agree to reinvest time in your relationship. Have this commitment show up in your calendar by planning for time together on a regular basis. Here are a few specific ways you might do that, each of which could stand on their own as their own specific resolution:
I recommend having a brief, daily "anchor" time that you can look forward to as a ritual—whether that's coffee together every morning, a cup of tea in the afternoon, or walking the dog together at night.
Consider scheduling dates on a regular basis. It's important to get out and have fun together. If a weekly dinner at a restaurant sounds like a snooze to you, get a little creative about new things to explore—maybe there's a workout class you can enroll in together, a book club you can join (or start!), or a new hobby to embark on together from home.
Take turns planning quarterly getaways. Plan several weeks out at a time, so you can count on that time for connection.
2. Commit to a new level of honesty.
It's common for people to struggle with difficult conversations. It's also common to go along with things or to accommodate each other in order to keep the peace. But one of the best things you can do for your relationship over time is to learn to be honest. If your relationship has suffered from strained or insufficient communication, take the start of the new year as a time to jointly invest in doing work on it. Often just the mutual acknowledgment of the issue and the mutual commitment to improve on something together are enough to start creating change. A few specifics for you two to commit to when it comes to being more honest with each other:
Be willing to rock the boat if it means you're speaking up about something that matters to you. True trust comes from knowing your partner will tell you the truth, no matter how hard it is to hear. There is no safety in sugarcoating or avoidance.
Don't suppress your feelings and desires; they tend to come out later in a more difficult way anyway.
Set up times to talk when you can both be ready.
Realize that some of the harder topics won't be resolved in one conversation; be willing to keep showing up over time until the two of you can come to agreement.
3. Develop your communication skills.
Language is imprecise; it gets us into trouble on a regular basis. It's important to use words with each other in a way that helps us build and maintain connection rather than in a way that causes harm and distance. This could be the year that you as a couple double down on your commitment to use words well. There are many approaches to healthy communication, including nonviolent communication, reflective listening, and the therapeutic dialogue that is taught in approaches like Gottman or Imago therapy. Grab a book you can work through together over the year or take a workshop that helps you build some new skills to regulate your reactivity and to communicate effectively.
Here are a few specific ones you can focus on if you don't know where to start:
Decide to be responsible in the way you talk to your partner: Use "I" language as much as possible.
Confront yourself first before targeting your partner's behavior, and be less sure you're right about what's going on.
Commit to being kind and respectful in all of your exchanges with your partner.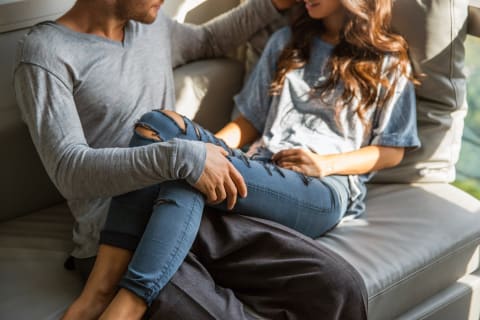 Image by Jovo Jovanovic / Stocksy
4. Share your sexual fantasies.
One of the most powerful things you can do to energize your intimate connection with each other is to harness your individual eroticism. We each have things that we find especially arousing, which are revealed in our sexual preferences, our response to erotic media, and our sexual fantasies. If you haven't explored your eroticism, commit to learning about it in the new year. If you already have a good idea of what really flips your switch, commit to sharing that with each other. You can describe your fantasies; write an erotic story; or share written, video, or audio scenes that turn you on. Find the overlap in the things that interest each of you, and bring some of that into your sexual play this year.
5. Reconsider your boundaries.
Sometimes other people, obligations, or situations come into our lives and begin to take precedence over all other parts of it. You might have an intrusive or unbalanced relationship with a friend or family member; think the cousin who constantly crashes on your couch drunk on the weekends, the mom who has opinions about everything you're doing, the friend who keeps borrowing cash or stealing you away during all your free time, or the attractive co-worker you spend one too many happy hours a week with. This may be the year to check in on the boundaries you have with other people in your life to make sure your partnership is still your priority and getting what it needs. This might mean you need to draw a line with someone else about what you're willing to discuss or share, how much time you spend with them, or when you're available to interact with them. You may want to set similar limits with work or other time-consuming obligations, setting a time at which those are definitively done each night so you're available for your relationship.
Your relationship is worth protecting by holding it special and apart from the rest of your life, at least sometimes, to make sure it's getting nurtured. Assess the structure of your time and relationships and consider making a commitment to reorient back toward your primary relationship this year.
6. Be your partner's biggest advocate.
Feel like you're stuck in your own world, and your partner is just a sidekick in your story? What if you devoted some energy this year to viewing them as the hero of the story for a while? As a couple, each of you should be each other's biggest cheerleader; it makes a big difference in your relationship. Commit to supporting your partner to shine and succeed in their personal goals, projects, and resolutions this year. Give them time to pursue their hobbies and interests, and make a conscious effort to express curiosity about what they're doing and what matters to them. Celebrate their opportunities and successes at work, even if it means a bit less time together or a change in your life that you didn't expect.
7. Be grateful.
Gratitude is a powerful practice; science shows it is a big factor in our experience of happiness. Resolve to practice gratitude together this year. That could mean:
Watching for positives every day and making time to express those to each other on a daily basis.
Saying thank you, even for small acts of kindness or generosity.
Letting some of the disappointments slide and focusing on what you do have.
No matter how long you've been with your partner, you can make this next year your best year together yet with a little time, positive energy, and dedication.
Jessa Zimmerman, M.A.
Sex Therapist
Jessa Zimmerman, M.A. is an AASECT-certified sex therapist, licensed couples' counselor, author of Sex Without Stress, and the host of the Better Sex Podcast. She holds a bachelor's from Cornell University, a master's in Psychology from Saybrook University, and has completed a certificate in Sex Therapy from the University of Michigan. She specializes in helping couples who have a good relationship but are avoiding sex because it's become stressful, negative, disappointing, or pressured. She educates, coaches, and supports people as they go through her nine-phase experiential process which gives them real world practice in changing their relationship and sex life.