Close Banner
Advertisement
This ad is displayed using third party content and we do not control its accessibility features.
This Fitness Brand Is Making Connections Between Motherhood & Marathons
Health Writer & Editor
By Kristine Thomason
Health Writer & Editor
Kristine is a writer, editor, and editorial consultant who lives in Long Beach, CA.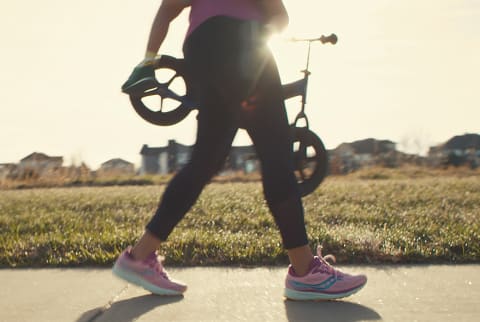 We carefully vet all products and services featured on mindbodygreen using our
commerce guidelines.
Our selections are never influenced by the commissions earned from our links.
That's why, last week, running brand Saucony released a video titled "The Marathon That Never Ends" (see below), which draws parallels between motherhood and racing in a never-ending marathon. They launched it to help raise awareness around the disproportionate burnout of mothers, particularly since the onset of the pandemic.
In fact, according to a proprietary study by Saucony's Consumer Insight Team, 57% of moms report their well-being has gotten worse, 89% say they are somewhat extremely burned out, and 77% acknowledge their mental health has been the top contributor to burnout since the start of the pandemic.
While the video was fittingly released ahead of Mother's Day, the message rings true all year long. To get a better sense of why the brand decided to take this initiative, we chatted with the president of Saucony, Anne Cavassa—who also happens to be both a runner and a mom.
Can you tell us more about the inspiration behind this campaign?
"The pandemic has touched everyone, and millions are suffering and grieving in their own personal ways. Yet, study after study continues to report on the exhaustion that women, in particular, are experiencing and the toll that uncertainty, increased workloads, and the corresponding burnout, have taken on them.
"Personally, I didn't need a research study to tell me how maxed-out moms are; as a working mother myself, I know how tough it has been for parents, in particular those that identify as a mom, as the impact of this pandemic continues to affect everyone's lives.
"We felt it was important to tell the real story about what moms have been through this past year. We needed to move past the data and show the authentic, challenging, and often messy view of pandemic mothering—a true visual representation of her struggle. And it was important that we used real moms in their real homes with their real kids. Moms need support and community to combat stress and burnout. They need to be told that they are doing a great job. We wanted mothers to know that someone is listening."
Can you elaborate on the connection between motherhood and marathon running? How does it convey the unique challenges moms face?
"Being a mother, especially now, is like running a never-ending marathon: emotional, excruciating, and exhausting. Mothers are hitting the pandemic wall, with most feeling the mental and physical symptoms of burnout. Just like running a marathon, motherhood, especially during the pandemic, continues to take incredible strength, resilience, and the ability to adapt.
Yet with a marathon, you know that in 26.2 miles there will be a finish line. During the pandemic, the uncertainty of this ending, of getting back to a more normal and balanced life, has taken a toll. You keep looking for a light at the end of the tunnel, but it isn't there. The silver lining at tough times like this is that we are forced to pause and reflect, reset our attitude and adjust. That's how we will find that light.
Through this film, we hope to raise awareness for the unique struggles that women continue to endure while celebrating their strength, love for family, and undeniable hope for a finish line filled with joy and triumph."
What are some of the ways you personally support your own well-being? Any advice for other moms?
"During this time, not only is it OK to be struggling, it is completely normal. Yet, we must find healthy ways to deal with stress and anxiety. The outdoors and running have played a huge role in my life, especially now, as a way to find time to think and de-stress.
As burnout and mental health have taken center stage, women have found refuge in their relationships and connections with the outdoors. More women than ever before are running, walking, and hiking. I continue to have an abundance of hope for a changing future; it's important for us moms to try and fill our days with things that we love: our families, our pets, delicious and nutritious food, self-care, and finding new ways of working from home."
Kristine Thomason
Health Writer & Editor
Kristine is a writer, editor, and editorial consultant who lives in Long Beach, CA. Kristine is a New York University graduate with a degree in journalism and psychology, and also a NASM-certified personal trainer. She has spent her editorial career focused on health and well-being, and formerly worked for Women's Health and Health. Her byline has also appeared in Men's Health, Greatist, Refinery29, HGTV, and more. In her current role she oversees, edits, and writes for the health, food, and movement sections of mindbodygreen.