3 Sacred Aromas To Open Your Chakras & Cleanse Your Aura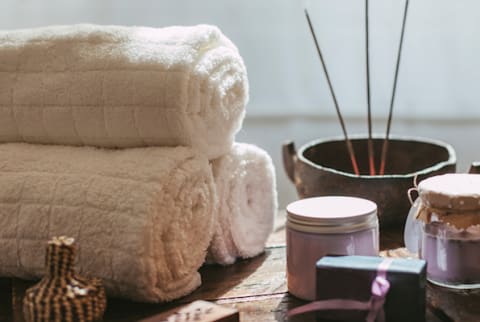 April 2, 2015
Whether it's the smell of soil after a rain shower or freshly cut grass; the enticing aroma of flowers or the misty odor of the sea, there are some fragrances which can suspend us for a moment in time. Sometimes even our imagination takes flight — to our past memories, or sometimes to our favorite place or fantasy.
There are certain aromas that can trigger the release of neurochemicals in the brain like serotonin, helping us heal physically, mentally and spiritually. Aromatherapy works on this same principle.
Since time immemorial, sacred fragrances and essential oils have been used in religious and spiritual sanctuaries to purify the space and connect with the higher self. Aromatic herbs contain vital energy and exceptional vibration, and are key tools to use on our spiritual journey.
By experiencing the relaxing effects of these aromas on our body, mind and spirit, we can begin to access the divine. Add oils to your bath or maybe just soak your feet after a long, stressful day. Get a long, soothing oil massage. Take steam from a bowl of hot water mixed with drops of oils or powdered herb.
You can also use an aromatic lamp or diffuser to receive the calming effects of sacred aromas. Some herbs are even available in the form of incense, and you can make an arc around your body with the smoke, to cleanse the aura. Even the flowers of aromatic herbs are used in spiritual practices.
If applying oil to your body, be sure to do a skin patch test first to check the sensitivity of the oil on your skin. Mostly, oils are used in diluted form. Incense sticks or cones and powdered herbs should be all-natural and contain zero synthetics.
Here are my three favorite sacred aromas to help you on your spiritual journey:
Lavender is gentle, loving and caring. It is used to gain inner peace and positive energy. It purifies the space and helps in meditation. If you are in need for comfort and looking for clarity during emotional turmoil, lavender is the magic potion. It opens our Crown Chakra as well as aligns it to other chakras.
Hang lavender flowers at your front door or place dried flowers in your spiritual zone for peace, luck and love. Put drops of lavender oil on your temples and the back of your neck to ease headaches. Put two drops on a cotton ball and put it inside your pillow case for a more relaxing, restful sleep. Research shows that lavender fragrance is beneficial in treating insomnia and depression.
Jasmine is the holy flower of Kamadeva, the Hindu god of love. It is considered an aphrodisiac and hence, good for nurturing love. It is associated with the Sacral Chakra.
Jasmine fragrance is helpful in creating tranquil atmosphere to meditate in, and also for stimulating Kundalini energy, helping us access a higher consciousness. It is believed that wearing it as perfume or carrying the flower with you attracts love and wealth. Adding few drops to the bath before going to sleep is believed to give you future visions in dreams.
Frankincense holds the wisdom of universe. Using it calls upon angelic protection and spiritual enlightenment. It has power to cut cords from the negative past and connect you to your divine self. It keeps you grounded. Burn it while doing pranayama breathing exercises.
It's a miracle herb. It can help fight cold and respiratory disorders, has anti-aging properties, relieve you of menstrual cramps, reduce pain due to arthritis and much more.
There are hundreds of such magical potions. Use your intuition to help you judge which ones suit you best. Make these herbs a part of your life! Let these sacred aromas heal you and enhance your spiritual experiences by raising your vibrations.

Swati Singh
I am a nature aficionada, life admirer and soul searcher. I am an enthusiastic optimist whose positivity comes from injecting a dose of it to other people, preferably through writing. I write on varied subjects but self-help and spirituality are my forte. I write from my own experiences and knowledge. I have been blessed with opportunities to learn from excellent gurus about life, body, mind and soul. Phew! Life lessons are tough to learn and follow. On the path of discovering new realms of life and me, I thrive to live as it is meant to be – soulfully.