Couples Tend To Influence Each Other's Goals, New Study Finds
mbg Editorial Assistant
By Abby Moore
mbg Editorial Assistant
Abby Moore is an Editorial Assistant at mindbodygreen. She earned a B.A. in Journalism from The University of Texas at Austin and has previously written for Tribeza magazine.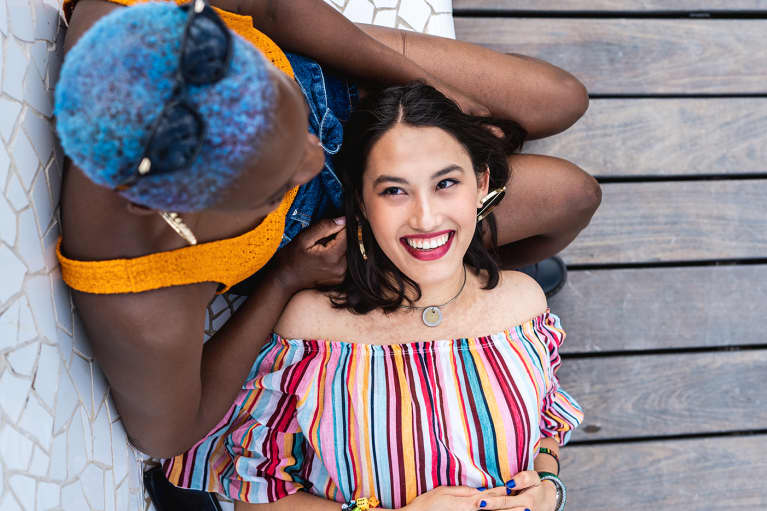 September 11, 2020 — 0:20 AM
There comes a point in most relationships when individuals begin referring to themselves and their partner as "we." Generally, this happens in long-term relationships when plans, experiences, and stories start to overlap. Among those smaller connections, a study published in the Journal of Gerontology found long-term partners also tend to adopt each other's goals and aversions.
The research, conducted by the University of Basel Faculty of Psychology, says regardless of gender, age, and length of relationship, long-term partners are likely influenced by each other's goals.
When you want what they want.
The researchers studied 450 heterosexual couples who had been together for an average of 10 years. Over two 14-day measurement periods, individuals in each couple wrote down whether they tried to avoid conflict or share meaningful experiences with their partner that day. These measurement periods continued sporadically over the course of 10 to 12 months.
After partners reported their goals for the day, researchers analyzed how that information affected the goals of their partner.
According to the research, one partner's answer generally influenced the other's. When one person avoids conflict, the other one will try to do the same. Similarly, when one person strives to communicate, achieve personal growth, or share meaningful moments, the other partner also wants to succeed in those areas.
That said, couples are not immediately on the same page, study author Jana Nikitin, Ph.D., explains. In fact, it took most partners several days or months to adopt the goal of the other. "This could be an adaptive mechanism to maintain the stability of the relationship," Nikitin says in a news release, "by not being influenced by every momentary shift made by the partner."
In other words, they'll usually wait to see how serious their partner's goal is before fully backing it. Once it's obvious that they're serious about it, the other partner will step in to support and help them achieve those goals.
Whether a couple has been together for 10 years or 50, partners are likely to adopt each other's desires and goals and simultaneously avoid similar things. Whether this is a product of time together, true love, or a combination of both is unknown. Either way, the study reveals how long-term romantic partners can certainly influence each other in subtle ways.