10 Resources For Black Mothers — Because Maternal Care Is Important
mbg Beauty Director
By Alexandra Engler
mbg Beauty Director
Alexandra Engler is the beauty director at mindbodygreen and host of the beauty podcast Clean Beauty School. Previously, she's held beauty roles at Harper's Bazaar, Marie Claire, SELF, and Cosmopolitan; her byline has appeared in Esquire, Sports Illustrated, and Allure.com.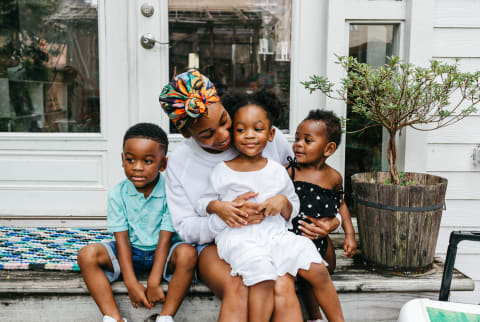 Image by Kristen Curette & Daemaine Hines / Stocksy
June 22, 2020
"Black mothers are three to four times more likely to die from birth complications. We know that part of this is due to the fact that moms are not always listened to by their providers—particularly Black moms. It's an unfortunate reality that race-based injustices have always been a part of the health care system," says CEO and Mahmee founder Melissa Hanna, who founded the company with her own mother. (Learn more about the company below.)
"The disparity in rates of maternal health and injury is just one data point in the thousands of other data points that illustrate the wide structural inequality in this country," says Hanna. "There are so many moving parts to the system that require a concerted effort among companies like ours, state-based programs, and payers who are investing in value-based care programs to create the kind of systemic change needed to make a real dent in the numbers. We will have to truly work together to change the metrics to health systems. Everyone will have to move in the correct and same direction before we begin to see a reversal in these numbers."
Here, we rounded up a few resources for Black mothers. (As a white woman who is childless, I understand this is not my space or lived experience, and I have much to learn about being a helpful ally—so please reach out if you have thoughts or additional resources we should include.) Also, a few of these organizations accept donations, so please consider contributing if you are able.
Black Mamas Matter Alliance. 
Lessonbee.
Founded by Reva McPollom, Lessonbee is a learning tool for students, families, and their educators to learn about the various aspects of health. It was created to address a very real, dire problem affecting students across the U.S.: a lack of access to digital, modern, culturally responsive, and individualized health education, says the company.
"Health education stood out because it's something I struggled with when I was a kid. As I dove into the subject, I came to understand how health is linked to behavior, academic performance, and overall success in life. For me, it was poor mental health that got in the way. While I was a high performer academically and athletically, I was very isolated, and in many ways, I missed out on the joy of education. I didn't want that for other kids. I decided I wanted to build a solution that would ensure that every kid feels confident, connected, and worthy of health and success," says McPollom.
"Now as a mother, that mission is even more important to me. And with everything that's happening in the world today, it's made me realize that it's not just kids who need this type of education. So we're already working to expand beyond K-12 health into topics like financial health, environmental health, even organizational health.
Black Women's BluePrint.
Mahmee.
A digital startup that aims to modernize the birthing and postpartum process, especially for underserved populations. "In the maternity health care process, on the surface there are generally three or four people involved: the mother, the baby, and each of their physicians. What we don't see are the many other people helping them: nurses, lactation consultants, midwives, nutritionists, therapists, doulas, home health aides, social workers, and more," said Hanna at the time of launch.
"And this industry is lacking the IT infrastructure needed to connect these professionals from different organizations to one another and to follow and monitor patients across practices and health systems. This missing element creates gaps in care. Mahmee is the glue that connects the care ecosystem and closes the gaps."
Mater Mae. 
A space for Black working mothers to share their stories, resources, and advice: "[Mater Mae] offers a more realistic depiction of Black women in the many spaces they occupy: as mothers, daughters, employees and employers, lovers, and friends," the site states. And they do so through multiple platforms, including a podcast, articles, profiles of their Role Mamas, and an Instagram channel.
National Bailout. 
A nonprofit collecting funds to help bail out Black women so they can be with their families. The organization is Black-led and consists of lawyers and activists "building a community-based movement to support our folks and end systems of pretrial detention and ultimately mass incarceration," the organization states. This is especially important now as we are still dealing with COVID-19, and keeping people out of jail is an essential way to keep the virus from spreading to vulnerable populations.
NATAL stories.
NATAL stories is a podcast docuseries about having a baby while Black in the United States that launched April 2020. From producers Martina Abrahams Ilunga (editor-and-chief of You Had Me at Black) and Gabrielle Horton (founder and chief storyteller of The Woodshaw). "Throughout the season we are turning the mic over to parents to tell their stories in their own words," Horton says in the trailer. But you'll also hear all the statistics, facts, and info from doctors and experts—so you can be better informed about the structural issues at hand.
Every Mother Counts.
A global nonprofit organization, Every Mother Counts aims to create a world in which no lives are lost to childbirth—and that both lives are able to thrive after, too. As they are a global nonprofit, their action items are fairly localized (what one country needs will be different from another), but across the board they participate in education, awareness, legislation, strengthening medical forces, and so on.
The Loveland Foundation.
LOOM.
Founded by mbg contributor and doula Erica Chidi, LOOM provides resources for sexual and reproductive health, birthing education, and classes that cover a range of topics for diverse backgrounds, including the Black LGBTQ+ community.
Alexandra Engler
mbg Beauty Director
Alexandra Engler is the beauty director at mindbodygreen and host of the beauty podcast Clean Beauty School. Previously, she's held beauty roles at Harper's Bazaar, Marie Claire, SELF, and Cosmopolitan; her byline has appeared in Esquire, Sports Illustrated, and Allure.com. In her current role, she covers all the latest trends in the clean and natural beauty space, as well as lifestyle topics, such as travel. She received her journalism degree from Marquette University, graduating first in the department. She lives in Brooklyn, New York.