Relationship Secrets From 9 Of Hollywood's Longest-Lasting Couples

mbg Contributor
By Allison Daniels
mbg Contributor
Allison Daniels is a freelance writer currently living in New York. She received her bachelor's degree from Belmont University in creative writing and spanish.
Allie and Noah, Jack and Rose, Ron and Hermione—the Hollywood machine runs on the engine of "happily ever afters." But the real-life relationships that spring up in the dream factory are the result of long hours, close quarters, and an absurdly attractive workforce—and they aren't generally known for their stability.
On the contrary, Tinseltown's behind-the-scenes love stories are more often blink-and-you'll-miss-'em flings that start illicitly (Mr. And Mrs. Smith, anyone?) and end ignominiously (a la K. Stew's affair with her married director, which dashed dreams of Rob and Kirsten's fairytale ending for a generation). So, yeah, when you look at most celebrities' romantic track records, it's easy to start wondering if maybe Hollywood used up all its magic on silver screen love stories, and there just isn't any left for real life.
Advertisement
This ad is displayed using third party content and we do not control its accessibility features.
But then you catch a glimpse of Tom Hanks and Rita Wilson canoodling on the red carpet like they just met—after almost 30 years together!—and you remember magic wouldn't be magic if it had limits. You remember that the greatest love stories are always the ones that happen against all odds. So, not only is true love possible in the unlikeliest circumstances—it's the most inspiring love there is.
So, with that in mind, we rounded up the best sex, love, and relationship advice from Hollywood's most swoon-inducing couples. After all—if these stars can deal with sex scenes and separations galore for decades—they can probably teach us a thing or two about making a relationship last IRL.
Here's the best relationship advice we've found from the Hollywood couples who redefine #RelationshipGoals:
David Burtka & Neil Patrick Harris (13 years)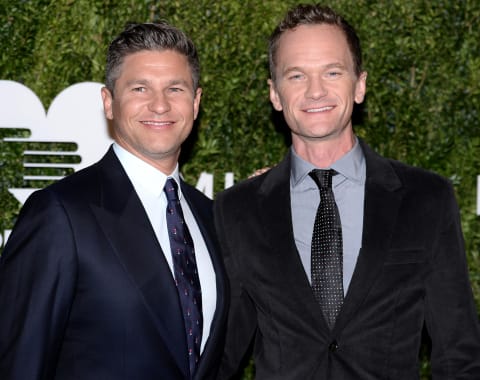 Find new things to love about each other:
NPH and his love of 13 years, David Burtka, are honest about the way relationships change over time.
Harris was candid with Glamour, saying, "Everyone falls out of love with everything. You fall out of love with your house. You fall out of love with your job. You just have to figure out ways to keep [the love] alive."
For Harris, having kids was one of those moments he experienced a newfound appreciation for Burtka: "Watching David become another level of person, mastering this other domain, made me look at him with a whole other set of appreciative eyes. That made me re-fall in love with him," he explained.
Communication is key:

"In our relationship," Harris told ET, "communication is super important. Good friends of ours said, 'You need to talk it out,' and if that means raising your voice, you need to raise your voice. Know what you're talking about. Know where you're standing as opposed to letting stuff build up, I guess."
Advertisement
This ad is displayed using third party content and we do not control its accessibility features.
Viola Davis & Julius Tennon (14 years)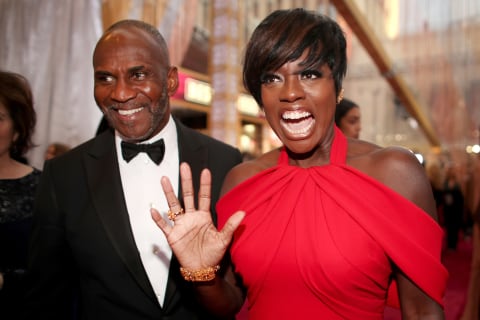 Ask for what you want:
You could say Viola Davis manifested her dream relationship. The actress described herself, before meeting Tennon, as "the loneliest woman in the world." A friend suggested she pray for a husband, and Davis wasn't shy about it. She got pretty specific, according to Us Weekly: "I said I wanted a big black man from the South who looked like a football player, who already had children, who maybe had been married before. Three and a half weeks later, I met my husband."
Celebrate your love whenever and however you can:
Thirteen years after they first tied the knot, Viola and Julius decided to get wed a second time (the day before Valentine's Day in 2016) with family and friends surrounding them. Davis announced that she was planning the ceremony on social media with a post captioned, "Renewing vows with the love of my life soon!" (Talk about a great Valentine's Day gift.)
Advertisement
This ad is displayed using third party content and we do not control its accessibility features.
Portia de Rossi & Ellen DeGeneres (14 Years)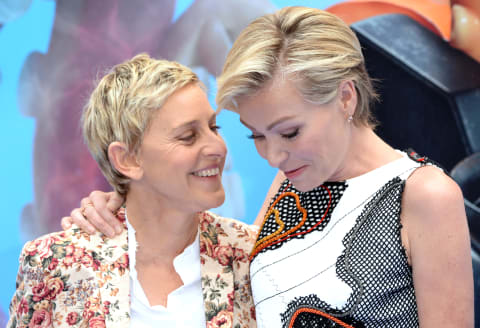 Honesty, always:
The couple, who fell in love at first sight in 2004, have been married since 2008. De Rossi told Entertainment Tonight that one of the fundamental elements of their relationship is total honesty:
"We're just really good friends and we talk about everything, and we never ever, ever lie to each other, like, not even the tiniest lies."
Oh, and they have something else in common with Rita and Tom. They just really, really like each other:
De Rossi said of DeGeneres, "She's the only person I want to hang out with. Like, she is my best friend and I just want to be with her all the time."
And Ellen, when asked how she makes it work with wife Portia, said, "We don't really need to make it work. We just found the right person. It's corny, but she's my soul mate. She's my everything to me and I don't know what I'd do without her."
Advertisement
This ad is displayed using third party content and we do not control its accessibility features.
David & Victoria Beckham (18 years)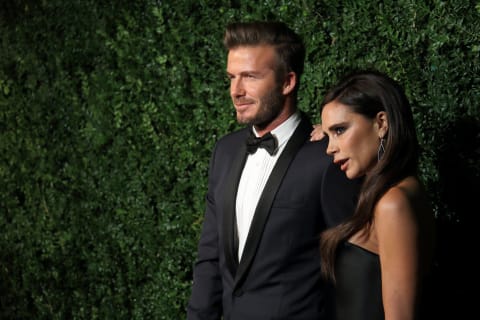 A good relationship means supporting each other's dreams and ambitions:
The pair, who'll celebrate their 18th wedding anniversary on the 4th of July, are known for the supportive nature of their relationship—each of them taking turns spending more time at home with their four children when the other is working.
Victoria told Elle U.K., "During fashion week, when I'm working, the children will be in New York and he's already planned to take them to museums then out for dinner on Saturday night, so he is very good at that sort of thing—as am I... That's how you can show your support in a marriage, by saying, 'You know what, I've got this.' That's what makes a good partnership."
True love does exist, but keeping the flame going still takes work:
In an open letter to herself in a 2016 issue of Vogue, Victoria revealed, "Yes, love at first sight does exist. It will happen to you in the Manchester United players' lounge—although you will get a little drunk, so exact details are hazy," but that doesn't mean they don't have to make an effort.
"David and I both respect that each of us is very, very busy; we are both running big businesses, but we do put the phones down, and sometimes we just talk."
Advertisement
This ad is displayed using third party content and we do not control its accessibility features.
Jada Pinkett Smith & Will Smith (22 years)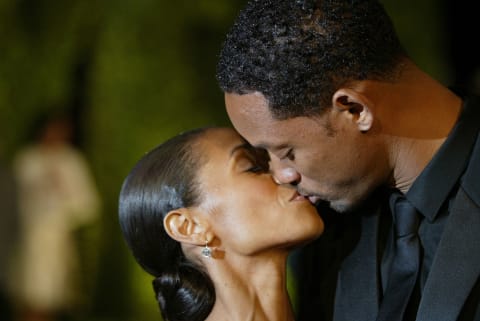 Making your relationship better starts with working on yourself:
The stars started dating in 1995 and got married two years later. Their relationship has been plagued with rumors of problems, and according to the tabloids, they've been on the brink of divorce more times than we can count. But the truth is, while their marriage is far from perfect, they've never come close to giving up.
Will Smith told ET, "If there is a secret, [it's that] we never went into working [on] our relationship—we only ever worked on ourselves individually, and then presented ourselves to one another better than we were previously."
We're all about that personal growth. But it's not just self-work that's crucial to making a marriage last through the tough times. It comes back to that honesty thing.
If your communication isn't up to par, bring in a professional:
Our culture is slowly becoming more and more accepting of therapy as a healthy tool for growth, but there's no shortage of people who still see it as an admission of weakness. It isn't. In fact, the Smiths tapped a marriage counselor when they needed help opening up. Here's what Will had to say about the experience:
"Once you do counseling, the truth comes out... It creates a dark moment," he said. "But for me, it's the dark before the dawn. When...people have to say who they are and what they think, you get to know who they are. I think that's the cleansing before you get to the other side that is understanding and moving forward in our relationship."
Kyra Sedgwick & Kevin Bacon (28 years)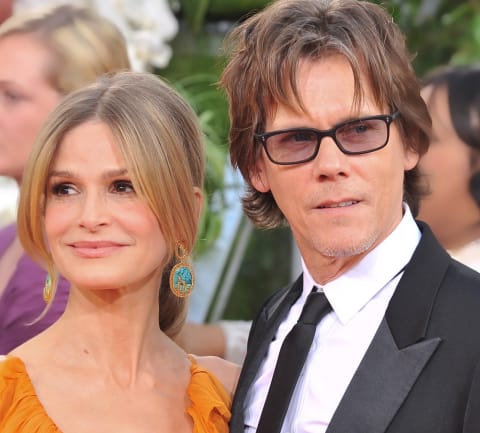 Follow two golden rules:
Kyra and Kevin will celebrate their 29th wedding anniversary in September. The couple credit the success of their marriage to following two very specific rules. Sedgwick told Good Housekeeping, no matter what, we always "keep the fights clean, and don't have sex with somebody else. Monogamy is a given, like 'Put the toilet seat down.'" We can get behind that.
Have sex often—even when you're not in the mood:
On an episode of Watch What Happens Live, Sedgwick spilled on their sex lives after 30 years: "Sometimes it's just getting it done...I'd say a couple of times a week. Sometimes you just gotta do it because it's something that's a physical requirement."
Take turns being supportive:
Kyra shared an insightful strategy for dealing with stress with Good Housekeeping: "We take turns being upset," she said. "When somebody is feeling really bad about something, I think it's important that [the other person] not take it on too much. Or with the same weight. If Kev's upset, I'll be the cheerleader. Then we switch off."
Tom Hanks & Rita Wilson (29 Years)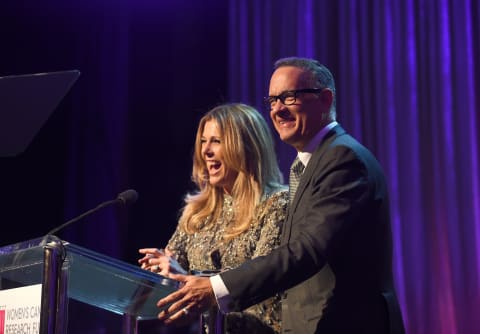 It helps to marry someone you really like.
Hanks and Wilson, who celebrated their 29th anniversary on April 30, have an enviable relationship. In 2016, Hanks told 60 Minutes, "Rita and I are blessed because we really like each other and we always have. We weather a storm here and there; it's no big deal; you can get past it."
The marriage always comes first.
One such "storm" involved tabloid rumors that the couple were planning to divorce. While they aren't the types to get into he-said, she-said arguments with the media, Hanks and Wilson chose to fight the press outlets on this particular front.
When asked why it was so important to have these statements retracted, Rita told Extra, "At a certain point, you have to call them out on their lies and say, 'You can't do that anymore.' Our marriage is really sacred to us… It was just unacceptable." Tom then replied, "If we do something stupid in public, go ahead, do that, but don't make up this nonsense… They were so bogus, it was kind of foul."
Goldie Hawn & Kurt Russell (34 Years)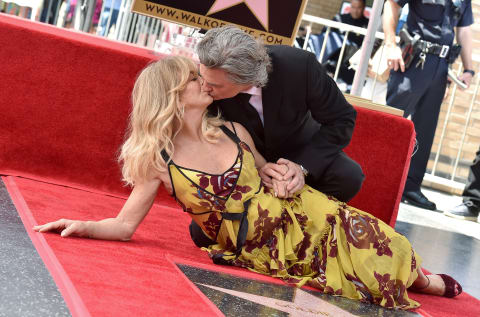 Live by your own rules:
Happily coupled for 34 years, the whole marriage question doesn't seem to phase these two (and that's not because people haven't asked). In fact, Hawn believes one of the secrets to their relationship's longevity is the fact that they haven't gotten married.
On Britain's ITV, the actress said, "I would have been long divorced if I got married... If you need to be bound to someone, then it's important to be married. If you are independent, then it's important to not be married... We like the choice and we chose to stay."
Remember the grass isn't really greener on the other side:
Hawn told People magazine, "Family. Fun. Laughs. Sex. If you don't nurture that, and remember, you're done. Because the grass isn't always greener. You might think it is, but you throw your bag up in the air for troubles, and you're going to catch your own bag."
Denzel & Pauletta Washington (34 years)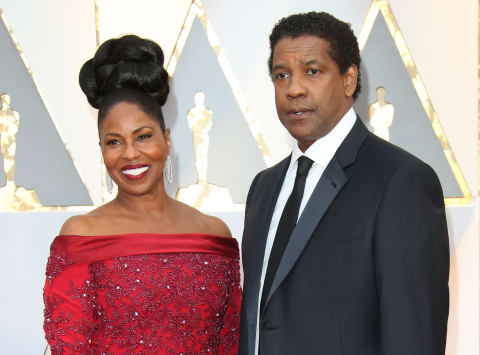 It starts with choosing the right partner:
Extra asked Denzel Washington the secret to his happy marriage to wife Pauletta (they've been together since 1983). Denzel, without missing a beat, replied, "I got a good woman—that's the first thing. You just keep working at it."
Love is something you do:
As for Pauletta, her input was similarly practical. She said their relationship's success comes down to faith. "Nothing is magic," she shared. "It's just work."
Reset Your Gut
Sign up for our FREE doctor-approved gut health guide featuring shopping lists, recipes, and tips