By Shannon Kaiser
mbg Contributor
Shannon Kaiser is the best-selling author of 5 books on the psychology of happiness and fulfillment including The Self-Love Experiment, Adventures for Your Soul, and Joy Seeker. She has a B.A. in Journalism and Communications from the University of Oregon.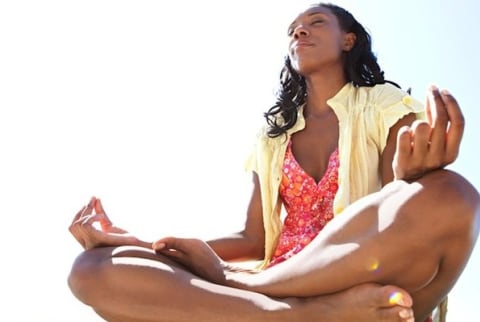 Photo by Shutterstock.com
June 10, 2013
Three years ago, I walked away from a corporate job in advertising to follow my heart and be a writer. Along with my job, I left behind depression, drug addictions, eating disorders and dramatic romantic relationships.
Leaving a safe environment, like my corporate job, to be my own boss was extremely unnerving, even though it was what I wanted. It also created a huge black hole in my life and started a constant game of "what if." The unknown became a daily dance of anxiety and excitement.
Advertisement
This ad is displayed using third party content and we do not control its accessibility features.
Through the process of entering the unknown I began to gain weight. I recognized my need to feel protection, and the weight acted as a physical barrier to shield me from my fear of the unknown.
The ever elusive self-love was always just outside of my reach. If I could just lose weight and fit into a smaller pair of jeans, I would be happy.
As a self-help author, I realized I needed to practice what I preach. Which meant that the only real way for the weight to come off would be to lose the fear. As I started to get clear about my fear and the insecurities fueling it, I was able to compassionately heal myself. Through daily actions of yoga, making better food choices and repeating mantras in the face of my fear, I was able to move through the unknown much easier.
I had to retrain myself to shift to compassion and love, over fear and regret.
One moment at a time, day by day, I had a choice — to choose love or to choose fear. Each time I reached for the cookie dough ice cream, I had an opportunity to consciously ask myself, "What is it you really need?"
In every instance I wanted love. I wanted to feel connection, security and attention. No one else was going to give it to me, and my old habits of turning to food were in the way of reaching my goal.
What I wanted was to make a difference in the world, but in order to do that I needed to respect my body as a vehicle of love. In order to truly share love and happiness with the world, I had to practice it first with myself.
As I began to shift my conscious thinking, my world started to open up. As I began to practice self-love and compassion, my business grew. I began to ask myself how I could get my needs met without turning to a substance (alcohol, food, etc.) for satisfaction. If I was craving security, I closed my eyes and repeated mantras.
We all have moments of insecurity and fear; we all get lost from time time in the shuffle of life, and it becomes overwhelming to try to return to a peaceful state. If you're feeling frustrated by life's circumstances, perhaps one of these Power Mantras could help. They helped me through the tough times:
1. "I believe in myself and know that I'm worthy of all that I truly desire. I accept my true self and live it fully."
2. "My playing small does not serve the world. I have the courage to live the life beyond my wildest dreams."
3. "My dreams are important and are coming true."
4. "I have the courage to step into my future gracefully with ease."
5. "I feel excited about the possibilities I am creating."
The core problem was my habit of avoiding my own feelings. The minute I started to tap into the essence of each situation, my world transformed. My relationship with food was more playful, loving and kind. I felt more connected and appreciative of my body, and the weight naturally fell off.
If you're feeling out of alignment with yourself, you can try repeating the mantras. They brought me back to safety and inner peace. I also practiced the 3 F's: 1. Feel Your Feelings. 2. Forgive. 3. Focus on gratitude.
Today I love myself more than I ever have, and my body is gracefully returning to its healthy natural shape.
I see now that life is a series of beginnings, middles and ends. Our bad habits, our fears and our insecurities don't have to define us. They can simply be part of our journey and help us grow into self-love and self-acceptance.
Advertisement
This ad is displayed using third party content and we do not control its accessibility features.
Shannon Kaiser
Shannon Kaiser is the best-selling author of 5 books on the psychology of happiness and fulfillment including The Self-Love Experiment and Adventures for Your Soul, Joy Seeker, and Unshakable Inner Peace Oracle card deck, and the forthcoming book Return to You. She has a B.A. in journalism and communications from the University of Oregon. As an international life coach, speaker, and retreat leader, she helps people awaken and align with their true selves so they can live their highest potential.
She's been named top 100 Women to Watch in wellness by mindbodygreen, alongside Cameron Diaz, Gwyneth Paltrow, Kris Carr and Gabriel Bernstein, and was listed as of the freshest voices in mental health and wellness by Chicken Soup for The Women's Soul. She's been named one of Entrepreneurs Must-Follow Instagram Accounts for Inspiration and Top Facebook Accounts for Daily Motivation by Mind Body Green.
Her website Playwiththeworld.com has been names top 75 Personal development websites and top 100 self-help websites by the institute for the Psychology of Eating. She's an international life coach and author mentor, and a full time world traveler with a home base in Portland, Oregon with her best friend, her Golden Retriever Chance, who she flew to China to Rescue.