3 Subtle Mistakes People Make While Dating (Hint: It's All About Authenticity)
Contributing Sex & Relationships Editor
By Kelly Gonsalves
Contributing Sex & Relationships Editor
Kelly Gonsalves is a sex educator, relationship coach, and journalist. She received her journalism degree from Northwestern University, and her writings on sex, relationships, identity, and wellness have appeared at The Cut, Vice, Teen Vogue, Cosmopolitan, and elsewhere.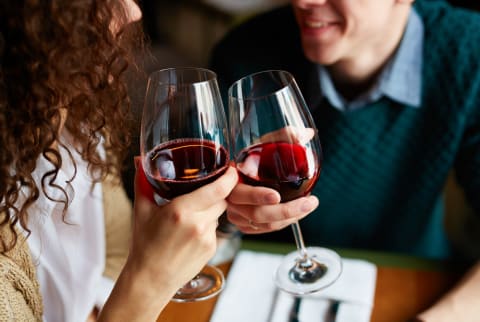 Image by shironosov / iStock
September 21, 2019
Dating is all about putting your best foot forward, right? Turns out, not so much.
A new report from dating app Plenty of Fish surveyed 2,000 single people about the pressures of modern dating and the things that make it most stressful these days. It turns out most people are primarily exhausted with trying to make themselves seem perfectly interesting and attractive on dating apps—and they're tired of having to work so hard to really get to know people beyond the idealized versions of themselves they project on their profiles.
"Singles today are craving greater transparency in dating, with the large majority of singles wanting honest, straightforward information both from potential partners, as well as in their own self-presentation," board-certified clinical psychologist Cortney S. Warren, Ph.D., ABPP, said in a news release.
A few of the report's most interesting findings:
Advertisement
This ad is displayed using third party content and we do not control its accessibility features.
1. Worrying about posting your best photos ever isn't as important as you think. 
Some of us spend a lot of time hunting for our most flattering shots to stock up our dating profiles, but in truth, 65% of people say they'd rather see more information on someone's profile than more photos. You might be tempted to leave just a solid funny one-liner in your profile description and hope that's enough to get a right swipe, but these results suggest that adding more details—giving longer answers and answering more questions about yourself—will increase your chances of people connecting with you.
2. People want to hear more about a potential date's flaws.
Not everything in your dating profile or everything you do on a first date needs to be geared toward impressing your potential partners. Just like in any healthy relationship, dating isn't just about brags and showing off the best parts of you. PoF found 84% of people would rather someone present accurate information about themselves than an exaggerated positive version of themselves. So try to fight that impulse to be on your best behavior while dating, because our flaws make us human and make you likable.
Advertisement
This ad is displayed using third party content and we do not control its accessibility features.
3. People feel most confident on their dates when they're being authentic—not when they're being impressive.
Considering how much people love to see each other's weirder and more flawed insides, it's sad news that 27% of singles have gone so far as to hide a specific hobby or interest because they're worried it'd be considered "unattractive" by potential partners.
That urge to obscure the things you actually love might even be what's actually making you seem less attractive on dates. PoF asked people what made them feel confident on dates (because we all know being attractive really stems from being confident). As it turns out, people feel most confident on dates when they're (1) doing something they're good at or (2) talking about something they love.
Why? Because when someone is doing or talking about something love, they're totally in their element. They light up, the shyness in their brain gets cleared out by familiarity and excitement, and they usually drop the facades because they genuinely have so much to say.
Advertisement
This ad is displayed using third party content and we do not control its accessibility features.
The biggest take-away? Authenticity matters.
Dating is all about getting to know someone and letting them get to know you. Playing up the things you think you "should" be and playing down all the things you really are subverts real connection—and also makes it harder for you to be confident, which is what's universally attractive to everyone.
"Singles are not interested in seeing an idealized depiction of potential dating partners through edited photos and unrealistic positive self-descriptions," Warren commented in the report. "People wish their date would 'just relax and be themselves' because that, in turn, makes them feel more comfortable and confident in themselves. If the goal is to find a long-lasting relationship, starting with a more realistic, authentic picture of who each person is will be not only refreshing but also likely lead to more meaningful connections."
Advertisement
This ad is displayed using third party content and we do not control its accessibility features.
Kelly Gonsalves
Contributing Sex & Relationships Editor
Kelly Gonsalves is a multi-certified sex educator and relationship coach helping people figure out how to create dating and sex lives that actually feel good — more open, more optimistic, and more pleasurable. In addition to working with individuals in her private practice, Kelly serves as the Sex & Relationships Editor at mindbodygreen. She has a degree in journalism from Northwestern University, and she's been trained and certified by leading sex and relationship institutions such as The Gottman Institute and Everyone Deserves Sex Ed, among others. Her work has been featured at The Cut, Vice, Teen Vogue, Cosmopolitan, and elsewhere.
With her warm, playful approach to coaching and facilitation, Kelly creates refreshingly candid spaces for processing and healing challenges around dating, sexuality, identity, body image, and relationships. She's particularly enthusiastic about helping softhearted women get re-energized around the dating experience and find joy in the process of connecting with others. She believes relationships should be easy—and that, with room for self-reflection and the right toolkit, they can be.
You can stay in the loop about her latest programs, gatherings, and other projects through her newsletter: kellygonsalves.com/newsletter